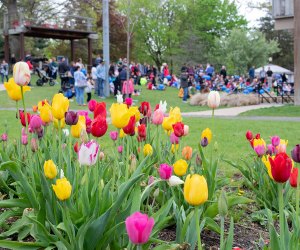 Huntington With Kids: Great Things to Do in Suffolk's Historic Village
Just an hour train ride from Manhattan, Huntington Village is a quaint, four-seasons family destination on the north shore of Suffolk. From St. Patrick's Day to the Christmas season, Huntington Village is full of parades and festivals, not to mention other year-round staples. Museums, parks, restaurants, shops and play spaces make Huntington Village a picture perfect family day trip.

For more family-friendly neighborhood fun, check out our guides to Port Washington, Glen Cove, Sayville and Port Jefferson.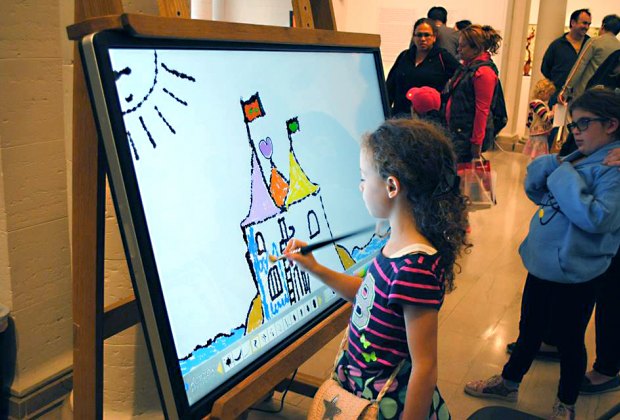 Unleash your creativity at the Heckscher Museum of Art. Photo courtesy of the museum
Things to Do
Huntington Village is home to Heckscher Park, not to be confused with Heckscher State Park, which is located in East Islip. At Heckscher Park, a town of Huntington facility, you'll find many of the town's seasonal festivals. There is also a large, gated playground with swings and play structures for younger and older children. Fountains and beautiful landscaping make a walk through the park a serene trip. There you will also find the Heckscher Museum of Art. Check out Long Island's Best, Heckscher's annual art competition that gives high-schoolers an opportunity to see their work in a gallery setting. Exhibits rotate so no two visits to the art museum are the same. The museum often hosts events for kids of all ages; check out its calendar for details.
Mill Dam Park sits alongside Huntington Harbor. Enjoy a playground, softball fields, and grass fields great for picnicking or Frisbee. Mill Dam Marina is in view from anywhere in the park. It's a wonderful spot to relax, have lunch, or let the kids burn off energy while you take in the scenic atmosphere.
RELATED: Great Things to Do With Kids in Massapequa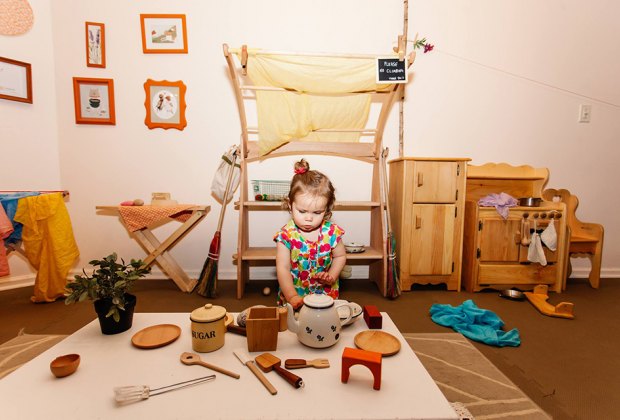 Imaginations soar at Sandbox Playspace. Photo courtesy of the play space
Parents of toddlers and preschoolers won't want to miss Sandbox Playspace. Little ones can let their imaginations soar while playing in a supermarket, teepee, gas station and more. Geared toward kids 5 and younger, parents won't have to worry about bigger kids knocking little ones down as they run around. The space is warm and cozy, with a good view of kids from anywhere in the space, making it a great play date spot to chat with other parents.
The Paramount might bring to mind concerts and comedy, but it also offers shows for the younger crowd. Recent shows include American Girl Live, Imagination Movers, and musician Laurie Berkner. Of course, you'll also find stand-up comedy, magicians, and bands. It's one of the most popular venues on Long Island, so be sure to check its calendar regularly.
History buffs will want to pay a visit to the Soldiers and Sailors Memorial Building, run by the Huntington Historical Society. The museum was created to memorialize the 40 townsmen who died during the Civil War. Visiting hours vary, so contact the society for information. The society maintains three additional properties, the Dr. Daniel Kissam House museum, David Conklin Farmhouse, and Huntington Sewing and Trade School. Kids with an interest in the Revolutionary War will want to visit Halesite, just north of Huntington's downtown. Halesite is named for American patriot and spy Nathan Hale, who was captured and later executed while on an intelligence mission for the Continental Army. A tribute to Hale sits at the intersection of Mill Dam Road and New York Avenue.
RELATED: Maritime History Comes Alive at Cold Spring Harbor's Whaling Museum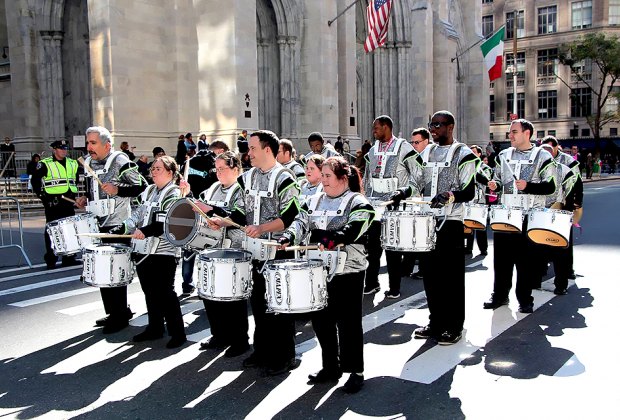 Huntington's St. Patrick's Day parade is among the largest in New York State. Photo courtesy of the parade
As the seasons change, so does Huntington Village's character. On the second Sunday of March each year, celebrate Irish heritage at the village's St. Patrick's Day parade with more than 50,000 other spectators. The family will enjoy watching drummers, floats, Irish dancers, and more as they parade down New York Avenue. The first Sunday in May brings Huntington's annual Tulip Festival with more than 20,000 flowers on display at Heckscher Park.
RELATED: Fun Things to Do as a Family in Patchogue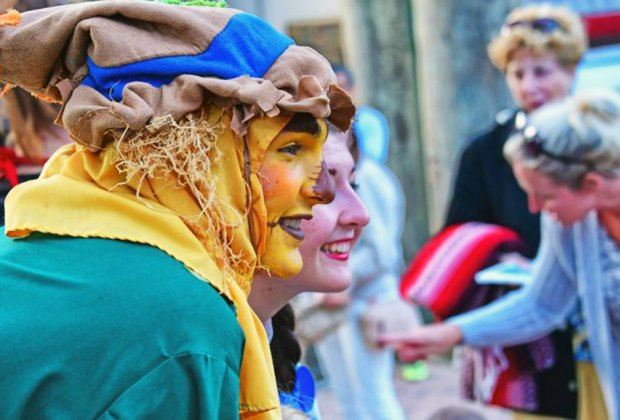 Huntington's Summer Arts Festival brings a diversity of performers to the Chapin Rainbow Stage in Heckscher Park. Photo courtesy of the festival
The Summer Arts Festival brings dancers, singers, and actors to the Chapin Rainbow Stage at Heckscher Park. The festival often hosts family nights, where kids can come early to do a craft before the performance. The Long Island Fall Festival boasts a carnival, food and retail vendors, as well as multiple stages for performances. Close out the year with Huntington's holiday festival, where kids can indulge in some hot chocolate while watching the parade. In addition to the parade, there are vendors, a tree lighting, and Santa meet-and-greets.
Ice skating is available at the town-run Dix Hills ice Rink, located a few miles south of the village. Fees are discounted for Town of Huntington residents.
Beaches
The larger Town of Huntington maintains eight beaches, including Gold Star Battalion Beach in Huntington Village. Beaches are open from 8am to 8pm from Memorial Day weekend through Labor Day. Lifeguards are on duty during the season and the town offers beach swim lessons for young swimmers. Beach access permits are available to town residents; nonresidents can access the beaches with a daily permit.

Sorbet and vegan ice cream are options at Ben and Jerry's in the village. Photo courtesy of Ben & Jerry's
Dining
A walk through Huntington Village means you'll bump into plenty of restaurants. On warmer days, stop by Ben and Jerry's for a refreshing ice cream treat. It also serves sorbet, frozen yogurt, and non-dairy vegan ice cream.
RELATED: Where Kids Can Eat Free on LI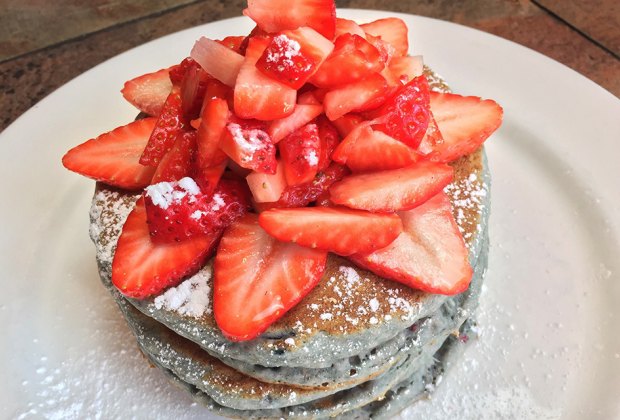 Delight the family's taste buds with a meal at Toast and Co. Photo courtesy of the restaurant
Start the day at Toast and Co., where breakfast is served through closing at 3pm (4pm on weekends). While you'll find the classics on the menu, including pancakes, eggs, sandwiches, and burgers, you'll want to check out other fun, too. Avocado brings a new take to green eggs and ham. For something sweeter, take a bite into a pumpkin waffle or chocolate-stuffed cannoli cream waffle.
Six Harbors Brewing Company is a family-friendly spot for parents to grab some local beers. This microbrewery opened in 2018, and offers selections including India pale ales, pilsners, and nitro stout. The tasting room is also dog-friendly, so be prepared to be greeted by some wagging tails.
BabaluNY offers delicious and unique Cuban cuisine. But if you prefer to eat on the go, Little Vincent's Pizza is a great spot to grab a few slices before heading to your next destination. A popular option among locals is the cold slice—a regular slice of pizza with uncooked, shredded mozzarella on top. The cheese is so delicious some even opt to get it in a cup on the side.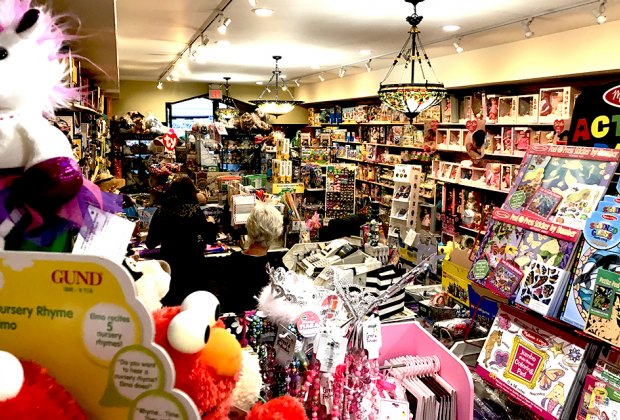 Kids little and big will love a trip to Little Switzerland Dolls. Photo courtesy of the store.
Shopping
Mourning Toys 'R' Us? Little Switzerland Dolls can help fill the void. A neighborhood staple for more than 30 years and located on Main Street, you'll find more than just dolls at this toy store. It sells everything from Melissa and Doug to Lego and Fisher Price. Don't be surprised if you leave with a few bags, and some very happy kids.
Morolay Children's Boutique is in its 20th year. It sells formal children's wear, including holiday outfits and Communion dresses, as well as pretend play outfits and costumes. It makes a great stop for little and big fashionistas alike.
Long Island's largest independent book store is right in the heart of Huntington Village. Book Revue opened its doors in 1977, and has been a must for Long Island book lovers since. Collectors will find signed novels and vintage books. Teens can dig in to the latest young adult fiction, and younger kids can cozy up in the children's corner. Check its calendar for the latest book signings and readings.
RELATED: Fun Things for Families in Centerport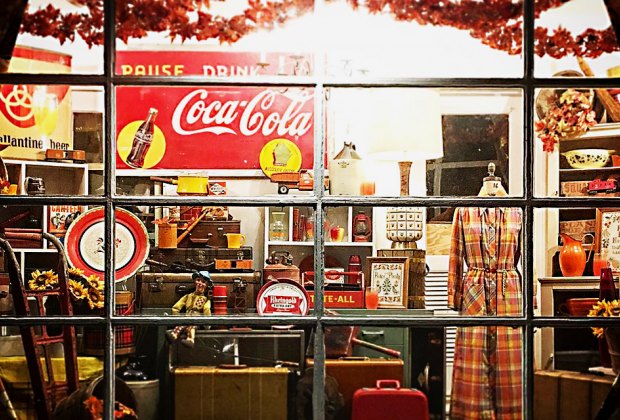 Rarities rule at Rosie's Vintage. Photo courtesy of the store
Rosie's Vintage is a unique store specializing in antique items from the 1940s to 1960s. Items come and go, so you never know what treasures await inside.
Getting there
Huntington Village lies on Suffolk's north shore, a few miles north of the Long Island Rail Road's Huntington station. If driving, take the Long Island Expressway or Northern State Parkway to the exit for Route 110 North and proceed north into the village. Metered parking exists throughout the village.