Visiting Glen Cove: Nassau County's City on the North Shore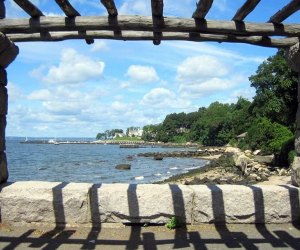 4/19/18
- By
Lisa Mancuso
Although some Long Islanders might think of Glen Cove as just another community on the North Shore of Nassau County, it is formally known as the City of Glen Cove. This year it celebrates the 350th anniversary of its founding and the 100th anniversary of its incorporation.
Once the home to famous wealthy residents including J.P. Morgan and F.W. Woolworth, you'll still find many Gold Coast mansions and estates dotting the landscape. Today, Glen Cove remains a great place for families and offers the best of Long Island, from gorgeous beaches and well-equipped playgrounds to kid-friendly museums.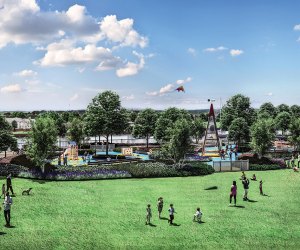 When completed, the Garvies Point waterfront project will feature acres of open space. Rendering courtesy of Garvies Point
Downtown Glen Cove is undergoing a major revitalization, and the city always has something planned for families. In the works is an ongoing billion-dollar Garvies Point waterfront project that will feature nearly 30 acres of open space, a one-mile waterfront promenade, waterfront parks, trails, bike paths, playgrounds, a boardwalk and beach, an amphitheater, and more.
With no shortage of family-friendly activities and events throughout the year, including the annual Feast of St. Rocco and this year's anniversary celebration, Glen Cove should be a must-visit Long Island community (oops, we mean city) for you. To get you started, we've rounded up some of the best of what Glen Cove offers.
Things to Do
Beginning Thursday, May 24, the community is coming out to celebrate Glen Cove's 350th anniversary at Morgan Memorial Park, where there will be music, entertainment, food trucks, fireworks, and a reunion of Glen Cove mayors. Other celebratory events, including an old-fashioned baseball game, street fair, and tours of historic mansions and neighborhoods, are scheduled throughout the weekend to commemorate the milestone.
RELATED: Visiting Port Washington: A family-friendly haven in Nassau County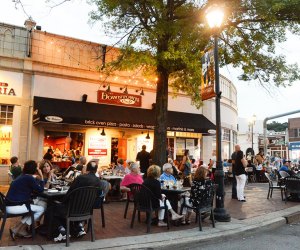 Downtown Glen Cove brims with summertime excitement. Photo courtesy of the Glen Cove Business Improvement District
The Glen Cove Downtown Business Improvement District works hard to make things happen. In the summer, there's the Downtown Sounds Concert Series, where live music and dancing are enjoyed every Friday night in July and August in Village Square Plaza. Before or after the concert, enjoy a bite to eat at one of many downtown restaurants. In the fall, you'll find the Halloween Festival complete with a costume parade and the annual Holiday Festival in November that kicks off the city's seasonal celebration.
The Morgan Park Summer Music Festival is in its 59th season of offering free concerts in July and August with the harbor and Long Island Sound as its backdrop. From big band sounds to rock tribute bands and young performers, it's the perfect way to enjoy an evening of music under the stars.
RELATED: Cold Spring Harbor for kids and families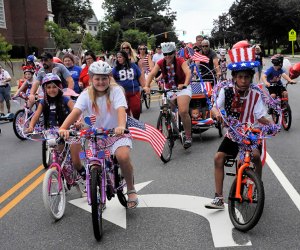 Show off your decorated bike in Glen Cove's annual Fourth of July parade. Photo by Tony Gallego
Other events for families in summer 2018 include Glen Cove Kids Play on June 9 at Pryibil Beach. This FREE event features activity areas, big trucks, performances by Jungle Bob and a magician, children's ID and photo boots, a visit from Mr. Met, giveaways, and more. A children's bike parade and bike decorating contest takes place on July 4, while the Glen Cove Police Department's National Night Out is Aug. 7. This annual event brings together the community and its police department and honors the work of individuals in public service.
Among the biggest events every summer is St. Rocco's Feast, where thousands come to St. Rocco's Catholic Church on Third Street. Known as "The Best Feast in the East," it boasts an array of Italian food and specialty items, from sausage-and-pepper heroes and homemade pasta to pastries, and more. Live entertainment, rides and games, and craft vendors abound, plus the traditional procession of St. Rocco throughout the neighborhood streets.
RELATED: Exploring Sands Point Preserve: A Nassau County oasis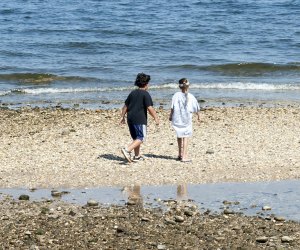 Pryibil Beach is popular with Glen Cove families eager for a day in the sun. Photo by Tab Hauser
Beaches and Parks
Glen Cove has three beaches, two of which, Pryibil Beach and Crescent Beach, are open only to residents from Memorial Day to Labor Day. There's a fishing pier, volleyball and basketball courts, a playground, concession stand, and barbecue grills at Pryibil. Crescent Beach is smaller and parking is limited; there are restrooms but no concession stand. Morgan Memorial Park Beach boasts 40 acres of land and is located at the mouth of Hempstead Harbor. It includes a picnic area, playground and a 350-foot hiking trail along bluffs overlooking the harbor.
At Stanco Park, visitors will find tennis, paddleball and handball, and basketball courts; there is a playground plus a restaurant and concession stand. There's another play area for kids at Big Ralph Park, plus a basketball and handball court. Dennis Brian Murray Park is larger, with a playground and two all-purpose playing fields.
RELATED: A day trip to Port Jefferson with kids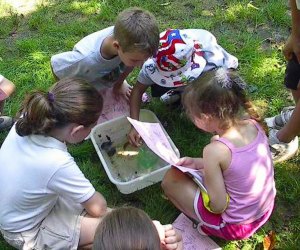 Children can experience nature first-hand at Garvies Point Museum and Preserve. Photo courtesy of the Nassau County Department of Parks and Recreation
Museums and More
Kids will love Garvies Point Museum and Preserve. In the museum, they'll find archeological and geological collections, a new Long Island Native American exhibit, and more, while the 62-acre preserve has about five miles of nature trails, plus forests, wooded areas, and a rocky shoreline to explore. Families can learn about the history of Long Island's North Shore at the North Shore Historical Museum.
For older kids, a trip to the Holocaust Memorial & Tolerance Center of Nassau County is a wonderful way to expose them to the dangers of intolerance. The museum sits on a former estate that is now home to the 200-plus-acre Welwyn Preserve, which has hiking trails, freshwater ponds, swamps, a coastal marsh, and a beautiful stretch of shoreline along the Sound.
The historic Mansion at Glen Cove, once the home of philanthropists John and Ruth Baker Pratt, is now an inn and restaurant. It's been the setting of quite a few Hollywood movies.
RELATED: Visiting the Hamptons and North Fork with kids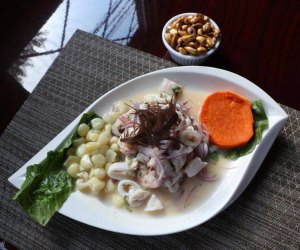 Sample Peruvian cuisine with the family at La Vicharra. Photo courtesy of the restaurant
Restaurants
There are plenty of family-friendly restaurants in Glen Cove, including LaFamiglia Restaurant & Pizzeria for Italian fare and Dominik Pizza, where Italian and Mexican food is on the menu. If your kids are more adventurous, try Peruvian food at La Vicharra; or Wild Ginger for Asian and Chinese cuisine.
The Downtown Café is known for its wings, wraps, and more, while Henry's Confectionary serves breakfast and brunch. And for dessert, stop by Sweet Agenda Café, where your family can enjoy gourmet pastries and handmade donuts.
Getting there
Glen Cove is located in north-central Nassau County. Take the Long Island Expressway to Exit 39 north, Glen Cove Road. Follow Glen Cove Road six miles into the city. The city is also served by the Long Island Rail Road's Oyster Bay Branch. Glen Cove station is located at the intersection of Duck Pond Road and Pearsall Avenue.