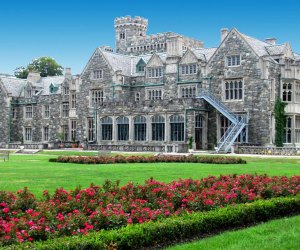 Exploring Sands Point Preserve: Dino Trail, Castles, and Hikes
Dare to compare footprints with fantastic beasts who roamed the Earth long before us at the Dino Trail at Sands Point Preserve.
It's one of six trails ripe for strolling, hiking, jogging and exploring at this sprawling Gold Coast estate turned public sanctuary. And that's not all: There's so much more to explore, including 200 acres of trails, a pond, beachfront, woods and native habitats.
There are so many sweet spots to soak up nature on Long Island. Get out and get exploring. Looking for more North Shore shenanigans? Check out our Mommy Poppins visitors guide to nearby Port Washington, a family-friendly Long Island destination.
Roll up like royalty to the cobblestone Sands Point Preserve parking lot, where the massive and medieval-looking Castle Gould—one of the few intact historic houses remaining on Long Island's North Shore—greets you. Inside you'll find the visitor's center, snack options, and bathrooms. Grab a map of the grounds and set off on a family exploration of natural and landscaped areas, woods, cliffs, lush lawns, colorful gardens and a freshwater pond. Oh my!
RELATED: Outdoor classrooms where Long Island kids will love to learn

Enjoy skill-building activities at the Phil Dejana Learning Center.
The outdoor-indoor classroom, the Phil Dejana Learning Center, is a landscaped space designed to foster developmental activities such as climbing, art, hands-on gardening, water play, and even theater on the amphitheater stage. Environmentally friendly folks will appreciate the water barrel that showcases conservation and irrigation, simplified for little ears and eyes.
The preserve's unique family nature programming includes STEM and STEAM curriculum activities and hands-on learning experiences, such as Family Butterfly Day and its annual spring celebration. Or get fit as a family during its four seasons of family yoga sessions.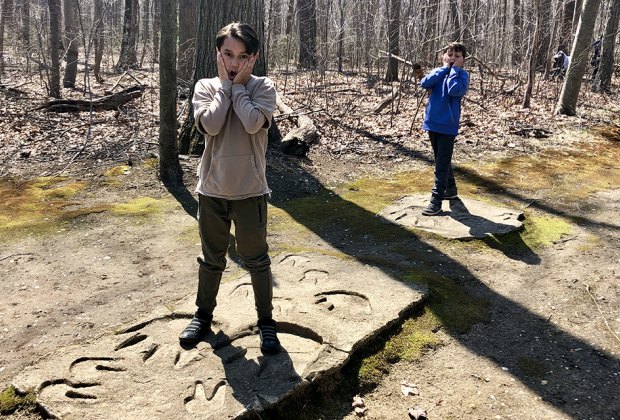 Walk in the "footsteps" of dinosaurs along the Dino Trial.
From the outdoor classroom area, hop on the quarter-mile long Dino Trail located just across a drawbridge. Complete with two agility stations and a picnic area, this is a perfect trail for little strides. A rugged-wheel stroller could also make the trek. Ride on two stationary dinos and explore bountiful nature on this clear path trail. From there, tackle one of five other looping trails from as short as a quarter of a mile. While walking Fitness Trail 4, be sure to make your way to the cliff overlook for sweeping views of Long Island Sound. You can find cliff views at the northernmost portion of the great lawn as well.
Oh and a bonus: Fido is welcome to tag along on these outdoor family explorations. Just make sure your dog is leashed at all times and remember to take care of business after he/she does their business.
RELATED: Family-friendly hiking trails on Long Island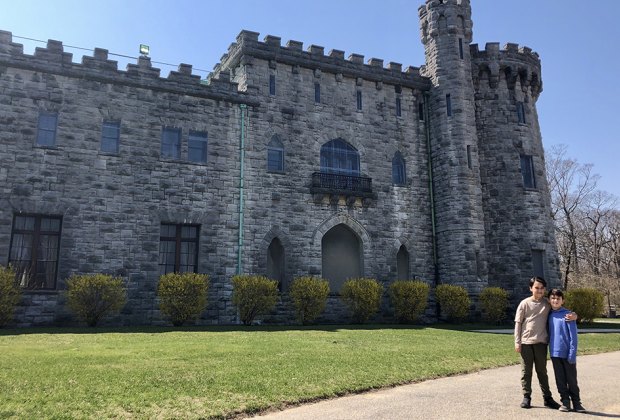 Castle Gould sits like a medieval fortress, keeping watch of Long Island Sound.
Be awestruck by the grandeur of mansion life with a guided tour of the interiors of two magnificent structures on the former Guggenheim estate—Hempstead House and Falaise. Note: Tours of Falaise are only offered May through November. Behind the Hempstead House, be sure to meander through the Rose Garden, whose 1,500 red roses are in peak bloom from May to October.
RELATED: The best parks for families in Nassau County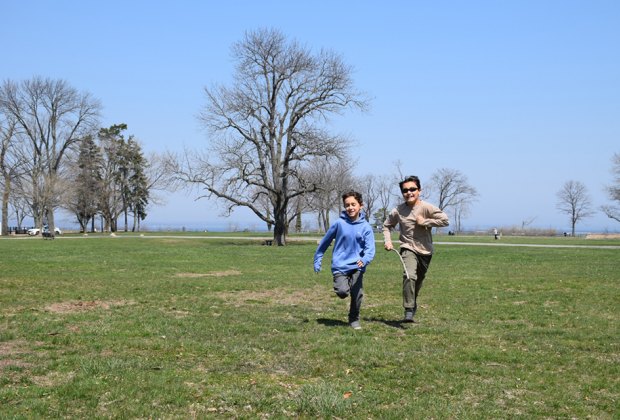 Enjoy a run along the breathtaking grounds.
Bring a soccer ball, have a baseball catch, or a even set up a slack line in between two trees for balancing fun. My boys enjoyed such simple, nature-inspired exercises as boulder climbing, running full steam down the rolling hills and mock sword fighting with their newly found walking sticks. There's plenty of open space for it all. Plan for a picnic lunch; there are plenty of tables and benches on which to take a break. Oh, and for the family who likes to document it all—photo-ops are plentiful, so bring the good camera.
Sands Point Preserve is located on Middle Neck Road in Sands Point, three miles north of the Long Island Rail Road's Port Washington station and 11 miles north of Long Island Expressway Exit 36, Searingtown Road.
Photos by the author except where noted