Outdoor Classrooms Where Long Island Kids Will Love to Learn
Here on Long Island, kids who play outside also can learn outside. A number of venues in Nassau and Suffolk counties provide children with the opportunity to experience nature in an educational environment unrestrained by classroom doors.
For the most part developed by landscape architects, these nature-friendly learning areas encourage the use of the senses to help children develop a love of the outdoors. Access is generally FREE, but check websites to ensure that regular schedules are not interrupted by special programs.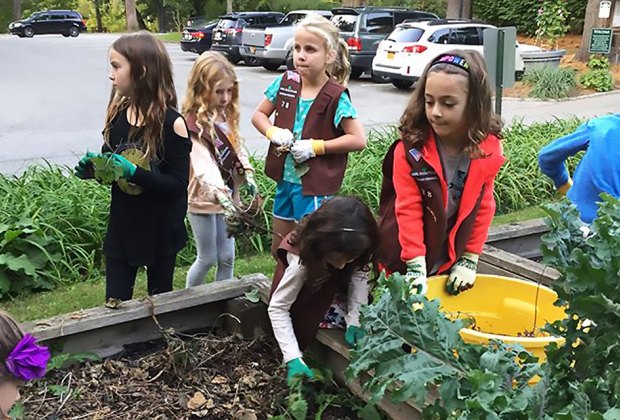 Kids can learn sustainable gardening skills at Bailey Arboretum.
Nassau
Bailey Arboretum — Lattingtown
194 Bayville Road
The Children's Habitat at Bailey Arboretum enhances a child's love of natural environments. Kids are encouraged to dig, climb, collect, indulge in music, and more. Parents and kids can enjoy guided tours, as well as other educational programs throughout the year. The Children's Habitat also hosts outdoor birthday parties, weather permitting.
RELATED: The best LI state parks to visit with kids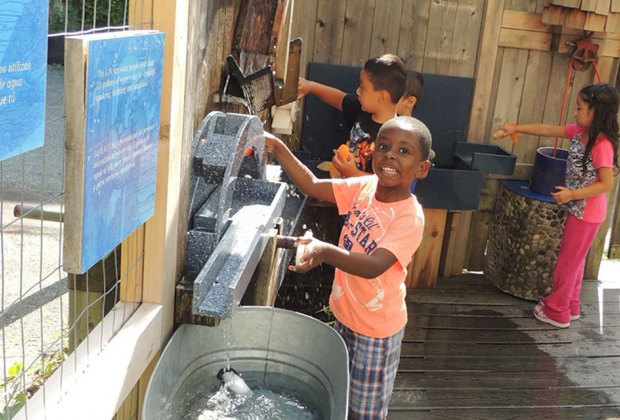 Summertime means H2Oh! fun at LICM's "Our Backyard."
Long Island Children's Museum — Garden City
11 Davis Avenue
Reopening in late spring 2018
Located in Nassau County's Museum Row, LICM's Our Backyard encourages kids to explore the relationships between plants, animals, weather, water, soil, and even themselves. Activities include sand and gravel pits, an herb garden, a strawberry maze, and sunflower house. In summer, the H2Oh! water flow and play area adds to this list of attractions.
RELATED: Nature centers sure to delight LI kids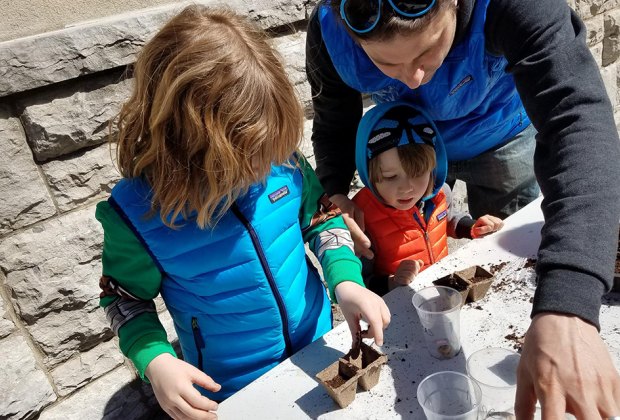 The outdoor classroom at Sands Point Preserve offers kids an appreciation of native wildlife and the nearby environment.
Phil Dejana Learning Center at Sands Point Preserve — Sands Point
127 Middle Neck Road
The Dejana classroom's mission is to foster an appreciation of Long Island's native wildlife and surrounding environment. Kids can explore 10,000 square feet of climbing, arts, and garden areas, as well as an outdoor theater, water area, specimens area, even a dinosaur trail. All of the preserve's natural resources, including trails, ponds, and other habitats are used in its educational programs.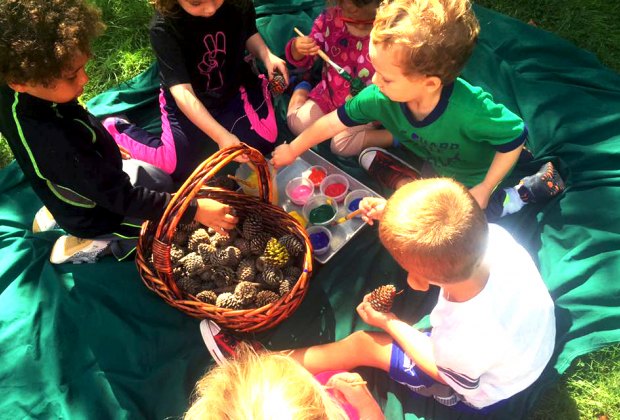 Learn through outdoor play and exploration at Little Peepers Forest School in East Islip.
Suffolk
Little Peepers Forest School — East Islip
130 Bayview Avenue
More of an open-air preschool than a true outdoor classroom, this program is located at South Shore Nature Center in East Islip. It runs three or five days each week for more than two hours daily, using the natural world to stimulate learning in science, math, art, music, and more.
Middle Country Public Library Nature Explorium — Centereach
101 Eastwood Boulevard
In 2010, Middle Country became the first library in the nation to offer an outdoor learning environment for children and families. The Nature Explorium is open May through September and offers kids the chance to interact with nature through building and climbing areas, a play stage, and digging and water areas. Kids also can enjoy a book path, Mulberry Hideaway, and tunnel of willow trees. The library boasts it invented the word explorium to describe an outdoor space linking nature and literacy.
RELATED: Family-friendly hiking trails on Long Island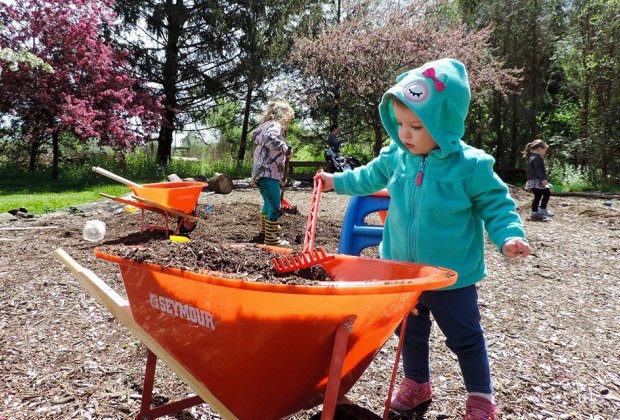 Even the youngest kids can learn in the garden at the Suffolk County Farm and Education Center.
Suffolk County Farm and Education Center — Yaphank
350 Yaphank Avenue
The Nature Explore Classroom is tucked between the farm's 50-foot-tall arborvitae row and its flowering cherry trees. Kids can enjoy climbing, building, and interactive art exploration in a working farm setting. Also enjoy a hay barn, herb garden, music and movement area, and the nearby sheep and donkeys.
All photos courtesy of the venues
This article was originally posted in 2014. It was updated in April 2018.
Places featured in this article:
---
Suffolk County Farm and Education Center