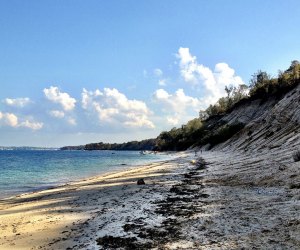 15 Long Island State Parks Worth a Visit
No matter the season, and no matter where you live on Long Island—or beyond—these Long Island state parks are just waiting for you and your family to explore them.
From hiking in the fall to snowshoeing in the winter, bird watching in the spring, and camping in the summer, these gorgeous state parks have something special to offer Long Island families year-round.
An Empire Pass gives you access to any New York state park for the year, but be sure to look at each park's website for additional vehicle or entry fees and restrictions. While Jones Beach and Robert Moses state parks are prime oceanside getaways in the summer; the parks below offer year-round entertainment.
For more family-friendly fun, see our list of 25 fall day trips, explore our suggestions for a fun weekend getaway, or check out our Long Island Event Calendar.
Note: New York State Parks are currently open. Park density limits are in effect, so plan to arrive early, or have an alternate plan ready if the park you are visiting reaches capacity. Masks are required, and social distancing guidelines should be followed. For updated information about camping and other activities, visit individual park websites and the state parks COVID-19 update website.
Family-Friendly State Parks in Nassau County
2020 update: Polo matches are canceled this year.
Perhaps best known for its world-class golf courses, this park also has great hiking and biking trails and is the starting point for the bike path that leads to Jones Beach along the Wantagh State Parkway. Families can enjoy the picnic grounds, watch a polo match from June through October, or go sledding or cross-country skiing in the winter.
This large park seems to have it all, including multiple tennis courts, playgrounds, basketball courts, horseback riding and hiking trails, and picnic areas. Three ponds for fishing—McDonald Pond, South Pond, and Hempstead Lake—are stocked with trout in the fall and other species throughout the year.
RELATED: Best Places for a Family Picnic on LI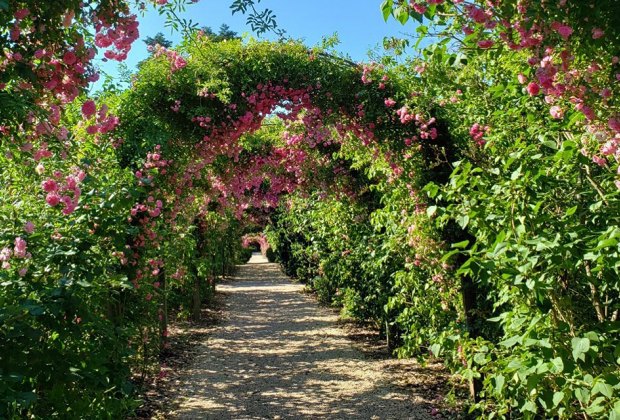 The expansive grounds of Planting Fields Arboretum attract visitors from all across Long Island.
Family-friendly events abound at this state park and nature preserve with more than 400 acres of public gardens, woodlands, and nature trails. Take a guided tour of historic Coe Hall; check out Camellia Greenhouse, which boasts the largest collection of camellias in the Northeast. There are also educational programs for kids plus a new outdoor exhibition, The Great Bird Blind Debate, which is perfect for family bird-watching expeditions.
Although smaller than other state parks, there still is plenty to do here, including picnic areas and playgrounds, plus sporting areas, including volleyball, horseshoes, and baseball. The Squirrel Nut and Hickory Nut nature trails are great ways for kids to explore the outdoors.
Family-Friendly State Parks in Suffolk County
If you frequently drive on the Southern State Parkway, you've noticed this wonderful family-friendly facility on the westbound side of Exit 38. Families can enjoy softball fields, hiking and biking trails, a bridle path with stables, rowboats and paddleboats for rent, and freshwater fishing (license required). There are also exercise and picnic areas.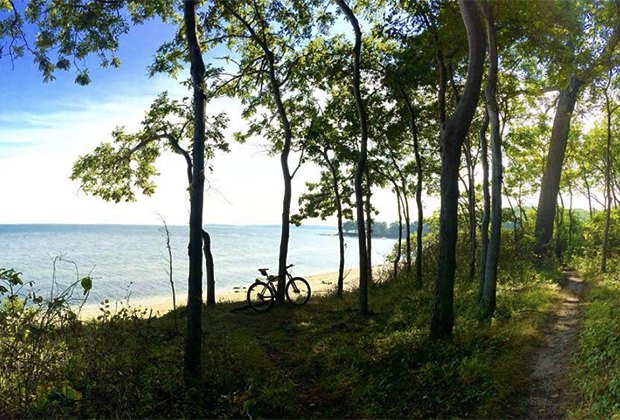 This scenic nature preserve at Caumsett State Park is has a variety of things to do for all ages.
Trails for hiking, horseback riding, running, cross-country skiing, and more can be found at this scenic nature preserve. Historic buildings house equestrian services as well as environmental education programs for kids. Fishing and scuba diving (by permit) are also available.
Visitors can enjoy hiking, bird-watching, kayaking, snowshoeing, and cross-country skiing at this state park that offers beautiful views of Cold Spring Harbor. It also marks the north end of the Nassau-Suffolk Greenbelt Trail, which leads hikers to Bethpage State Park.
RELATED: Best Beach Playgrounds on LI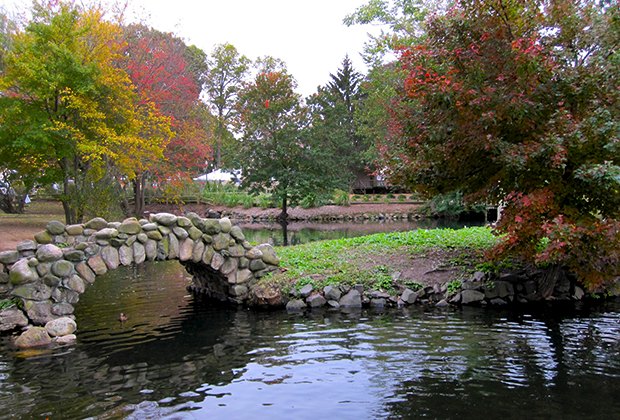 Highlights of Heckscher State Park include a series of paved hiking trails.
Situated on Great South Bay, this park offers swimming, boating, kayaking, and other water sports. There are also picnic areas, sporting fields, 4 miles of paved walking and biking trails, and 15 campsites.
There are 3 miles of beautiful, sandy beach at this Long Island Sound spot, not to mention a boardwalk, restaurant, picnic areas, and ballfields. Cross-country running trails, a greenbelt hiking trail, boat launches, and golf are also available.
Family-Friendly State Parks on the East End
There are 415 acres waiting to be explored here, including maritime forests, beachfront, wetlands, and bluffs. Trails for hiking, biking, and horseback riding, along with surf fishing (with permit), picnicking areas, and bird-watching vistas make this park a hit with families. A former World War II military base and coastal defense facility, Camp Hero is registered as a national historic site.
2020 update: Several trails are closed due to downed trees, though the beach path is open.
New in 2017, this North Fork park offers a mile-long beach along Long Island Sound, as well as hiking trails, nature walks, and plenty of spots for bird watching. More is planned, including a potential environmental center.
RELATED: Easy New York State Park Hikes for Families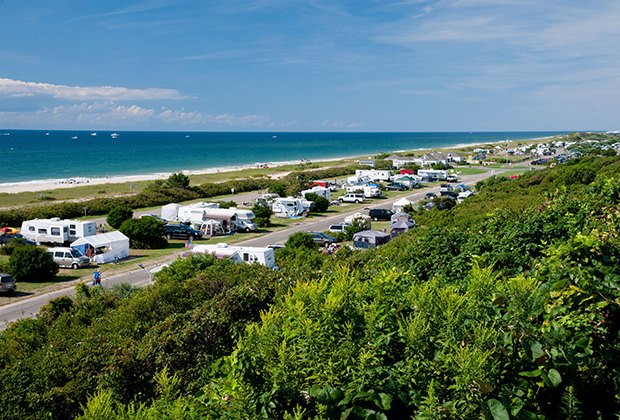 Hither Hills in Montauk is a beachfront camper's paradise.
This state park's oceanfront campground is a favorite of Long Island families. Picnic areas, playgrounds, sporting fields, and fishing add to its popularity. Walk along the dunes of Napeague Harbor and enjoy its woodlands. It also offers trails for hiking, biking, horseback riding, and cross-country skiing.
2020 update: The Montauk Point Lighthouse is currently closed to visitors, but the gift shop, grounds, and museum are open daily.
Families can enjoy beautiful views of Block Island Sound along with hiking and cross-country skiing trails. And, if you're lucky, you may spot seals sunning on the rocks. Surf fishing is also available. The Montauk Point Lighthouse, commissioned in 1792, is a short walk away.
There is plenty to explore at this national natural landmark. Along its 45,000-foot Gardiner's Bay beachfront, you'll find a maritime forest with prickly cactus, a saltwater marsh, and lots of marine wildlife. Swimming, picnicking, fishing, water sports, and more are available. Four lighthouses can be viewed in the park: Orient, Plum Island, Long Beach Bar, and Cedar Island lighthouses.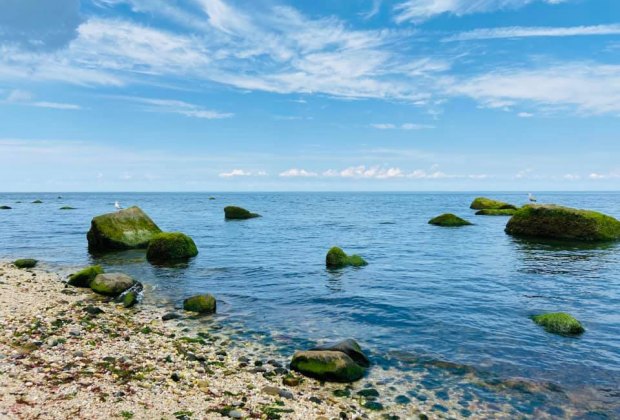 Wade in the water at Wildwood State Park. Photo by Mommy Poppins
Another popular destination for families who enjoy beachfront camping, visitors find picnic areas and playgrounds, spots for swimming and fishing, and hiking and cross-country ski trails.
This article was originally published in 2013 and has since been updated.
Unless noted, photos courtesy of NYS Parks