Best Family Campgrounds on Long Island
For generations, families have bonded over camping. On Long Island, where campgrounds offer oceanside views, hiking trails, historic landmarks, and lighthouses, happy campers can enjoy roasting hot dogs and marshmallows, making shadow animals on tent walls, chasing after fireflies, and otherwise celebrating nature.
We've compiled a list of the best camping destinations in Nassau and Suffolk counties, just waiting to host you and your family. Some are located in state parks, while others are county parks, where residency restrictions might apply. Others are private or corporately run and open to all. Regardless, camping is especially popular on Long Island from May to October, so call ahead for availability and other essential information.
For tips on other LI outdoor activities, see our Guide to Long Island Playgrounds and Parks, and find more ways to get out of town in our Long Island Getaway Guide.
Best Family Campgrounds in Nassau County
Nassau County has given campgrounds the green light to open, although there are restrictions. Campers must practice social distancing and wear masks when they're away from their campsite. No tent camping is allowed, and restrooms are closed. A max of six persons per campsite is allowed, and no guests can visit. Masks and gloves must be worn when using the dump station.
Open year-round
This campground is set amid 44 acres of dense woods and features 64 campsites ranging in length from 40-45 feet. A comfort station is equipped with restrooms and private showers. The campground also offers swings, a recreational field, a softball field, and a rally field for club group camping, along with both tent and overflow campsites.
April-November
Nickerson Beach Park totals more than 121 acres and offers a campsite surrounded by protected beach property. The campground features 74 RV sites and 13 tent sites. It also offers admission to the swimming pool, picnic area, skateboard park, concession stand, and grills. Sewer and electric hook-ups are available.
Best Family Campgrounds in Western Suffolk County
Suffolk County campgrounds are open with restrictions. No more than two parked cars are allowed per campsite. One family is allowed per campsite; no visitors. Campers must practice social distancing and wear masks when away from the campsite. Playgrounds are closed. Masks and gloves must be worn when using the dump station.
April 1-November 11
Blydenburgh is a 600-plus-acre park of forests and meadows that lies along the headwaters of the Nissequogue River. The park has 50 campsites for tents and trailers with shower and dump facilities. There is fishing and rowing on Stump Pond, a historic homestead and water mill to explore; a playground, and an extensive trail system that links up with trails in the neighboring Caleb Smith State Park Preserve.
Open year-round
Cathedral Pines is a 320-acre site situated along the headwaters of the Carmans River and adjacent to Prosser Pines Nature Preserve. Facilities include campsites for individuals, youth groups, clubs (10 or more units), and families, including 10 sites with water and electric hookups. Other interests include a playground, hiking, mountain biking, bridle paths, and picnicking.
Open April 1-October 31
Smith Point's campground offers more than 270 trailer sites and features a playground, fireplaces, grills, and a camp store. A beach restaurant offers meals, and a protected beach area is featured. Outer-beach camping is available on a first-come, first-served basis.
April 1-October 14
The Carmans River flows through this park. Southaven offers fishing, row boating, horseback riding trails, camping for tents and trailers, and picnic areas accommodating 1,000 people. On the second and fourth Sundays of summer months, attend a Long Island Live Steamers open house and ride around 8 acres of tracks on miniature model steam trains.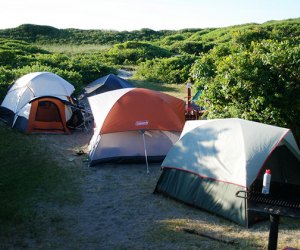 Pitch a tent near the seashore at Fire Island's Watch Hill campground. Photo courtesy of Kevin Farley
2021 update: Marina bathrooms are open and limited to one person or household at a time.
May-mid-October
Watch Hill Marina and Campground has 26 tent sites nestled among the dunes right by the beach. Each has water, picnic tables, barbecue grills, and many even have electrical hookups. There is a National Park Service Visitors Center with programs every day for kids and families. There is also a restaurant and tiki bar. Dogs are allowed on leashes.
The North Fork
2021 update: Camp store and playground are closed; bathrooms are open. Max 10 people per site.
May 4-early November
Sites are available for tents, trailers, motor homes, and pop-ups. The facilities include a swimming pool, general store, laundry, playground, and a game room. There are planned supervised activities and special events such as "Christmas in July" and "Maritime Festival" in September.
Open year-round
Indian Island County Park is a 275-acre park located at the estuarine mouth of the Peconic River. Restrooms and showers are available for campers. The park offers picnic tables, grills, benches, and views of a glistening Flanders Bay. There are 100 tent and trailer campsites. Recreational options include fishing, playgrounds, hiking trails, and a bike hostel. Dogs must be leashed.
Open year-round
This is a small, quiet, and secluded campground accommodating tents, trailers, pop-ups, motor homes, and camping vans. The campground also offers water and electricity. The 6 acres of property offer restrooms, showers, a dump station, and Wi-Fi. Contained fires and house pets are permitted.
RELATED: State Parks on LI Worth a Visit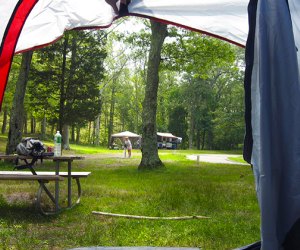 Wildwood State Park offers a host of family activities from April to October. Photo by Dennis Sitarevich/CC BY-ND 2.0
2021 update: Picnic areas are open at 50% capacity. Restrooms are open.
Open April 5-October 31
Wildwood State Park campground has 2 miles of sandy beach for swimming on Long Island Sound. It features full electric capabilities, showers, restrooms, grills, and water/sewer hookups, as well as shaded campsites and picnic areas. Movies are shown in July and August, and there is line or square dancing once a week in the evenings. Recreation options include fishing, hiking, sand volleyball, and a field for playing baseball or softball.
The Hamptons and South Fork
Open April 1-November 11
The 607-acre park, located on a peninsula just outside of historic Sag Harbor, has a shady forest, magnificent views of Gardiners Bay, and almost a mile of sandy beach. It also has a freshwater lake with canoe rentals, a playground, and walking trails. The general store and snack bar on-site offer free Saturday-night family movies, and free recreational equipment.
April 1-November 11
Cupsogue Beach County Park, a barrier beach spanning 296 acres, offers outer-beach camping for self-contained campers. There is a lifeguard on duty, a snack bar, restrooms, a first-aid center, shower, and changing rooms. Pets are allowed, but dogs must be leashed.
2021 update: Picnic areas are open at 50% capacity. Restrooms are open.
Open April 12-November 23
Hither Hills features 2 miles of ocean beachfront, a 40-acre freshwater lake to fish, and a playground. The campground has showers, restrooms, a dump station, and a general store. Hither Hills has a resort feel with movie nights, sandcastle contests, arts and crafts, and swimming.
RELATED: 100 Things to Do with LI Kids Before They Grow Up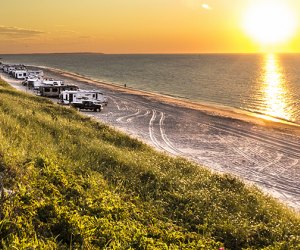 Enjoy sunset camping on the beach at Montauk County Park. Photo by Jonathan A. Neary
Open April 1-November 11
Montauk County Park offers outer-beach access and outer-beach camping for self-contained trailers with a permit. It also offers saltwater and freshwater fishing, kayaking, and canoeing. Nearby, Deep Hollow Ranch provides horseback rides to the beach for park visitors.
Open April 1-November 11
This 979-acre park offers tent and trailer camping, as well as showers, fishing, hiking, and horseback riding (with permit). Rowboat rentals are offered on freshwater Bellows Pond. The park also has a playground, abundant picnic tables, and barbecue grills.
Open April 1-November 11
This rugged, undeveloped barrier beach park includes ocean and bay beach recreation areas. Adjoining Shinnecock Inlet is known for its striped bass fishing. The park offers 100 campsites for outer-beach camping for self-contained vehicles.
This article was originally posted in 2017.
Unless noted, photos are courtesy of the parks.