Caleb Smith State Park Preserve: 5 Things To Do at This Scenic Long Island Park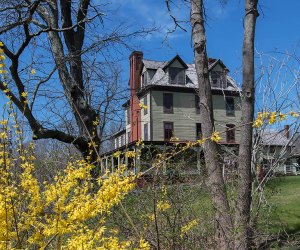 A visit to Caleb Smith State Park Preserve is a must for Long Island families, no matter the season. With more than 540 acres of freshwater wetlands, ponds, streams, the Nissequogue River, and plenty of family-friendly hiking trails, it's a beautiful destination.
Located on the North Shore, in the heart of Smithtown, it's one of only four state park nature preserves on Long Island. Originally part of the estate of Caleb Smith, the great-grandson of Smithtown founder Richard "Bull" Smith, it's a wonderful, peaceful spot to enjoy the natural beauty of Long Island.
Read on for five of our favorite things to do in Caleb Smith State Park Preserve, and find more ways to explore Long Island's all-season natural beauty, from beach walks to hiking trails and winter walks.
Editor's note: While we are trying to promote safer activities that occur outdoors or with social distancing guidelines in place, please keep your family and others safe by always wearing a mask and maintaining an appropriate distance.
1. Explore the Nature Museum and Visitor Center
Although only the two front rooms and restrooms of the on-site Nature Museum are currently open due to the pandemic, be sure to stop inside. It's housed in the majestic Caleb Smith House built in 1753 by Smith and his father, Daniel. There are many family-friendly interactive nature displays and wildlife exhibits throughout the museum, plus a display in the entry explaining the preserve's complete history.
RELATED: 15 Long Island State Parks Worth a Visit

Caleb Smith State Park Preserve provides hiking and nature trails for an easy family day trip.
2. Traverse its Trails and Paths
With 543 acres of mostly undeveloped land, the preserve offers families a host of self-guided walks and trails to explore. About 3 1/2 miles of the Long Island Greenbelt Trail cuts through the park, too. Visitors can spend a few idyllic hours meandering along ponds and streams, freshwater wetlands, and the banks of the Nissequogue River, which runs through the park. Stop by the Visitor Center, located just beyond the parking lot, to pick up a trail map and other helpful information, or download a trail map on your phone. It's a beautiful spot to enjoy the gorgeous fall foliage, and several rare plants thrive in its ecosystem during the warmer months.
RELATED: 10 Family-Friendly Hiking Trails on Long Island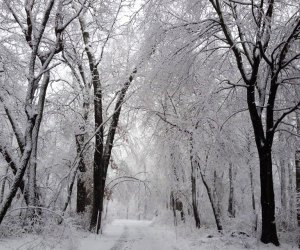 Caleb Smith State Park offers a scenic backdrop for a cross-country skiing outing.
3. Enjoy Winter Sports on the Trails
Once those trails are covered in a fresh blanket of powder, they're ripe for gliding across on cross-country skis or exploring on snowshoes. Keep your eyes peeled for the tracks of local wildlife, including white-tailed deer and plenty of flying friends. Take turns spotting nature's creatures and critters who make their home in the Preserve all year long.
RELATED: Nature Centers Sure to Delight Long Island Kids

The Preserve is a refuge for wildlife and a place for people to develop an awareness and appreciation of the natural world.
4. Participate in a Nature Program
No matter the season, Caleb Smith State Park Preserve has many fun and educational Nature Programs for kids of all ages. Upcoming programs include exploring the habits of white-tailed deer and enjoying cold-weather bird watching. The park is also participating in Passport to the Parks, a brand new NY State Park program where families explore a different state park each month. For all programs, space is limited, and reservations are required.
RELATED: 14 Fishing Holes on LI For Kids and Families to Drop a Line

Try fishing on the beautiful Willow Pond.
5. Go Fishing or Fly Fishing
From April 1 through October 31, children 15 and under are invited to fish on Willow Pond, where migrating ducks spend the entire winter. Fly fishing is allowed on the Nissequogue River over the same period annually, but a New York State fishing license and reservations are required. There is no fee for fishing on Willow Pond.

Take a step back in time at Caleb Smith State Park Preserve.
Know Before You Go to Caleb Smith State Park Preserve
Caleb Smith State Park Preserve is located at 581 West Jericho Turnpike (Route 25) in Smithtown.
Currently, capacity limitations are in effect. Once the parking lot is full, no more visitors are allowed in. Follow Caleb Smith State Park Preserve on Facebook to monitor capacity before heading out.
The park is open Wednesday-Sunday from 9am-4pm; holidays excepted.
For information and program reservations, call 631-265-1054
All photos courtesy of the Caleb Smith State Park Preserve