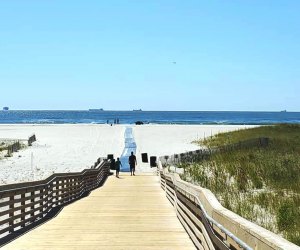 Best Beach Walks for a Long Island Family Adventure
Beach season may have gotten an extension in 2020, but Long Islanders know the best time to visit the beach is long after the out-of-towners have packed up and returned home. In fact, a beach walk could be just what you need to recharge in any season. We've rounded up 11 of the best Long Island beach walks for families to explore. Beyond beautiful scenery, these sandy shores offer some fun extras, from lighthouses to playgrounds, boardwalks, and more. So, put on some comfy shoes, gather up the kids, and hit the sand to enjoy some of our favorite beaches with a peaceful stroll.
Don't forget to pack a picnic, and bring some shovels and pails. It's always sandcastle season. Find more shore-inspired fun in our Beaches, Pools, and Water Playgrounds Guide.
RELATED: Top Beach Playgrounds on Long Island

Take a long, leisurely family walk at Jones Beach State Park. Photo courtesy of NYS Parks
Best Beach Walks in Nassau County
One of Long Island's most iconic and popular beaches, Jones Beach State Park is the perfect spot for a family beach walk. And with more than 6 ½ miles of shoreline and a 2-mile boardwalk, there's plenty of room to explore. Bicycles are also allowed.
This is a great boardwalk for walking or running, pushing a stroller, and biking. There are several entrances to the beach along the way, so kids can veer off the boardwalk and hop onto the sand to start digging.
Although this beach is small (about .5 miles long), there is plenty to look at as you walk along the sand, including federally protected birds and grasses. It's an excellent spot for kids to explore nature.
This smaller, more intimate beach in Hempstead offers beautiful views and plenty of bird-watching opportunities. A new boardwalk makes for a leisurely stroll.
RELATED: 10 Family-Friendly Hiking Trails on Long Island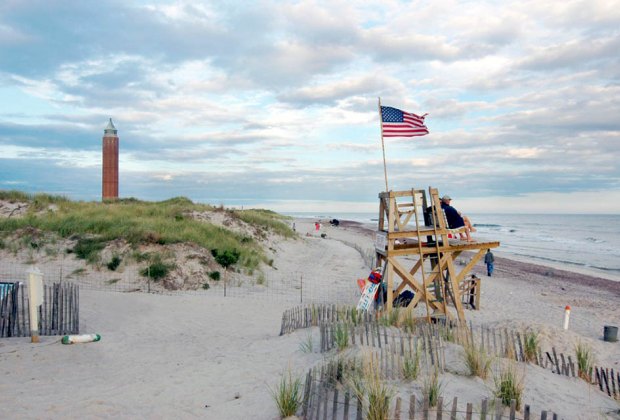 Robert Moses State Park has about 5 miles of oceanfront for families to explore.
Best Beach Walks in Suffolk County
You could say this is the Jones Beach of Suffolk County. There are five fields and nearly 5 miles of gorgeous beach to explore. The boardwalk on Field 5 takes you to the newly reopened Fire Island Lighthouse via a wonderful, meandering walk where kids are sure to spot some friendly critters.
This Long Island Sound beach has 3 miles of shoreline and some stunning North Shore scenery beyond. There's also a boardwalk with benches and observation spots along the way.
A perfect beach for families, Cedar Beach has a fishing pier and a small playground. There's also a nature walk that includes a paved path through wooded areas and a pavilion that overlooks the sound.
It may be small, but this Town of Huntington Beach is no less beautiful than other Long Island beaches. Kids love the rocky shoreline, and parents appreciate the gorgeous sunsets. There's a short boardwalk and a playground right on the beach.
RELATED: Jones Beach: A Family Staycation at LI's Kid-Friendly State Park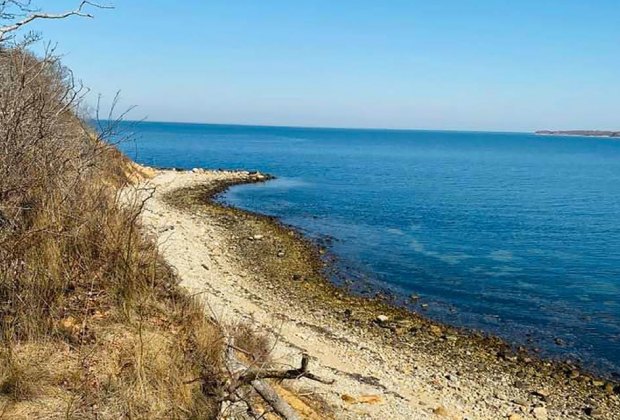 Take a hike along the water at Hither Hills State Park. Photo courtesy of NYS Parks
Best Beach Walks on the East End
A large, scenic park perfect for families. Hither Hills State Park includes a beautiful, sandy beach as well as a campground. Be sure to hit the "walking dunes" of Napeague Harbor, a self-guided nature trail, where you'll learn the meaning of their name (Hint: Strong winter winds cause them to move in a southeast direction by about 3 ½ feet each year.)
This beach is located on the Eastern tip of Long Island's North Shore. Walk along the rugged coastline and let kids go on a scavenger hunt for some cool-looking rocks.
There are nearly 300 acres of white, sandy beach to walk upon at Cupsogue Beach, which means there's plenty of space for the whole family to breathe in some fresh, saltwater air.