Long Island Day Trip: 5 Things to Do at Orient Beach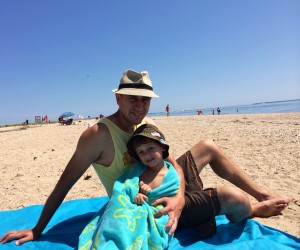 There's plenty to do and see on this island of ours, and just because summer has come to an end, the weather is still nice enough for a little day trip to the end of Long Island. No, we're not talking about Montauk. Orient Beach State Park is located on the eastern tip of the North Fork of Long Island and boasts sweeping views of Gardiner's Bay. From beach to boats, this park offers up day-long adventures and fun for the entire family. If you already have an Empire Pass, entry is free, otherwise there's a vehicle use fee. The park opens at 8am for you early risers.
For more fun day trips, check out our Day Trip to Greenport post for a must-do list. In addition, peruse our Hamptons & North Fork Family Guide for more ideas on how to enjoy life on the East End.
Pack a Picnic - Picnic tables and coal-burning BBQ stations are located directly behind the beach (some are even near the playgrounds for easy oversight of little ones playing nearby). Bring sandwiches or fire up the BBQ for some flame-grilled foods. But don't leave food unattended for even a second as brazen sea gulls will swoop in, steal and feast on your munchies nearby. If you forget the coal (or sunblock, first aid, etc.), a small beach store nearby sells it all. It's open through Columbus Day weekend.
Playground Fun - Orient Beach Park offers two playgrounds, one for ages 2-5 and another for ages 5-12. Both have a sea life theme, including an octopus seesaw and tugboat climber. A swing set is also on premise. Soft sand lines the ground, so kids can play sans shoes. Shaded benches nearby offer parents respite from the sun or double hanging swings overlook the bay near the playgrounds as well.
Fun in the Sun - While only a short distance of swimming area is allowed at this beach, you can walk all 45,000 feet of the shorefront. We recommend water shoes--the coastline is very rocky. There aren't too many waves, as the beach fronts Gardiners Bay and not the ocean. But the water is clear and much marine life can be viewed, so try to bring goggles, too. Lifeguards are not on duty after Labor Day, so swimming is at your own risk.
Start a Rock Collection - While the rocky shoreline might be rough on little feet, it makes for a great rock scavenger hunt. Have your kids arrange them in the sand to create their initial and collect some to take home as a souvenir.
Water Sports - A kayak and canoe rental stand is open through October. Call Eagle's Neck at 631-765-3502 to reserve a guided tour.
Visit the Orient Beach State Park website for more information.