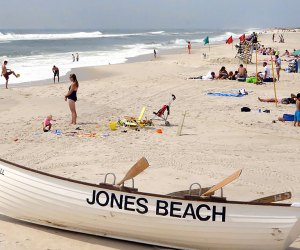 Jones Beach: A Family Staycation at LI's Kid-Friendly State Park
The jewel of Long Island state parks, Jones Beach is a popular beach day destination. And with a whopping 6 million visitors each year, it's the second most-visited state park in New York state (after Niagara Falls).
Many Long Islanders have fond memories of spending time at Jones Beach with family and friends, walking the boardwalk, taking in a concert, or enjoying the surf and sand. A visit to this beach feels like being on vacation without ever leaving the Island. It's so much more than a beach, and we've got the rundown on what to do, see, play, and even eat at Jones Beach to get the most out of your visit.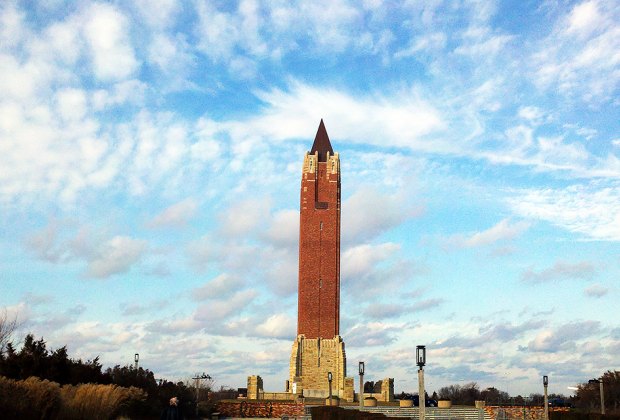 The water tower stands as a beacon, welcoming visitors to the beachside park. Photo by Gail Frederick via Flickr
Of all the beaches on Long Island, Jones Beach has the longest stretch of sand on which to build castles, collect seashells, and get your daily dose of vitamin D. The park was created as a public works project in the 1920s by legendary planner Robert Moses. Moses named the park after Maj. Thomas Jones, a local whaler and militia officer whose life captured Moses' imagination. The park was designed on the theme of an ocean liner, which is still evident in some of the decor found throughout, including a ship's mast, marine flags, and large funnels that hide the trash bins. Moses spared no expense when he designed the water tower, which can be seen from afar and continues to provide all of the water to the park. While the project was met with opposition by local residents then, the park has stood the test of time to become one of the most popular summer destinations in the state. After nearly 90 years the park is getting some much-needed updates, some of which are available to enjoy now.
What to do
Besides the main attraction—6½ miles of soft sand beach and ocean waves, the park offers many activities to engage the whole family. Of course, you probably want to see the main attraction first, and it's a good idea to arrive early in order to avoid traffic on the parkways, find parking, and get some prime towel real estate. Check online for real-time parking availability as you get closer to the park.
After staking out your spot on the sand with an umbrella and a few towels, start your adventure at the Central Mall. This is the hub of Jones Beach and is easily walkable from Parking Fields 3, 4 and 5. Up for some competitive fun? Try a round or two of miniature golf. This old-fashioned course has great views of the ocean, and in the summer it's open until 11pm, making it a fun option after the sun goes down. For a small fee, equipment for other games, including table tennis, corn hole, and bocce ball, can be rented from the concession area. Paddle ball and shuffleboard are also available for a nominal fee and equipment deposit.
RELATED: Paddleboard, kayak, and canoe rentals on Long Island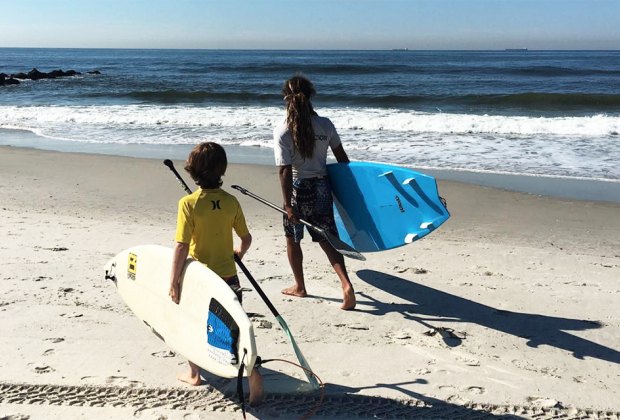 Learn to surf and paddleboard at Skudin Surf at Field 10. Photo courtesy of Skudin Surf
Jones Beach has plenty to offer those who enjoy water sports. Both adults and kids can enjoy paddleboarding and kayaking. Bring your own equipment or rent from Skudin Surf at Field 10. The shop offers lessons as well as paddleboard yoga. And when the wind is up, surfers and windsurfers can catch some decent waves. The west end of the beach tends to be less crowded and most areas are safely away from swimmers.
RELATED: Super water parks and slides for kids on Long Island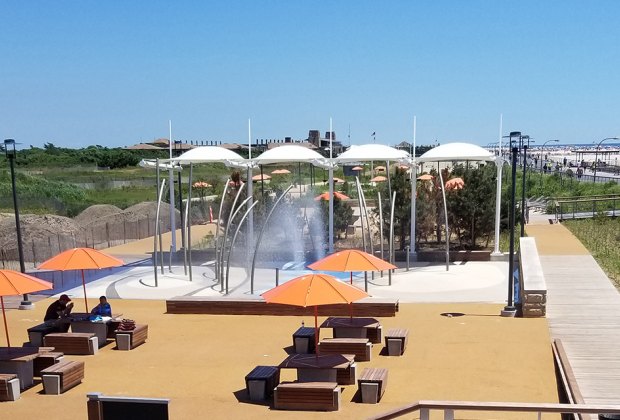 The newly opened splash pad sits near the Boardwalk Café. Photo by Rebekah Yahoves
Among the newest additions is the splash pad across from the Boardwalk Café. Kids will delight in controlling the sprinklers while little ones can enjoy the water bubbling up from the ground. Close by is a playground, where kids can continue the fun. There's also another fairly large playground accessible by Field 2.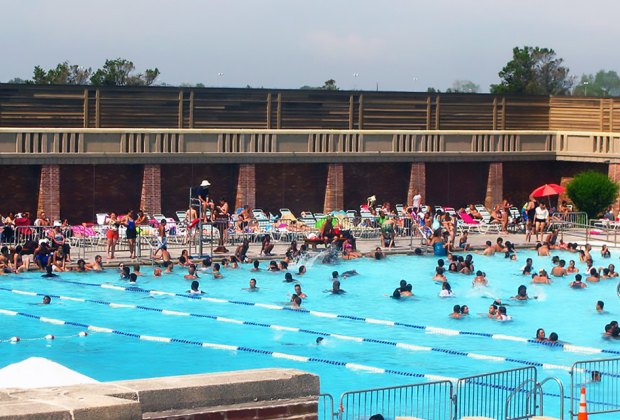 The Olympic-size pool at the West Bathhouse is a worthy alternative to ocean swimming. Photo courtesy of Jones Beach State Park
There's nothing like running into the ocean surf on a hot summer day. Swimmers can frolic in the endless waves, body board, and play catch in the shallows. For families with little ones, try the beach at Zach's Bay, where the water is calmer. And for those who prefer pool swimming, Jones Beach has an Olympic-sized pool located at the West Bathhouse. Pool admission is $5 for adults and $3 for kids 5 and older.
Explore nature
Since Jones Beach is a state park, the land surrounding the beach is protected from development. This provides many opportunities for learning about the area. The Jones Beach Nature Center is a wonderful spot for families to experience nature close up and hands on. Kids can touch marine animals in the touch pool, view a shipwreck, and even dig up buried whale bones. Take a walk along the center's boardwalk to view species living among the sand dunes. The center offers nature programs for all ages.
Spring and fall are the best times for bird watching at Jones Beach. More than 30 species of shorebirds can be seen along the tidal flats as well as visiting osprey, hawks, and falcons during migration season. In the summer, walk farther east or west of the crowds to find the best spots for bird watching. It helps to have a pair of binoculars but many birds can be spotted with the naked eye. Although not birds, prehistoric horseshoe crabs can be spotted by the thousands during the month of May as they crawl from the ocean to breed.
RELATED: Where kids can drop a line and fish on Long Island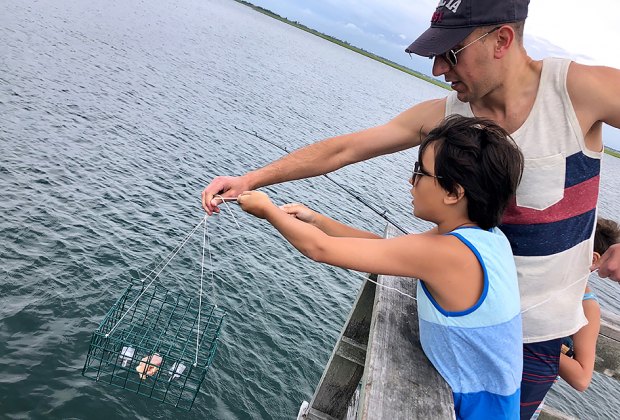 Crabbing and fishing can be found at Field 10. Photo by Jaime Sumersille
If you're feeling lucky, grab your fishing rod and cast a line off the pier at Field 10. There's also a bait and tackle shop located nearby. Crabbing is another way to have fun and catch your dinner, and does not require a permit.
RELATED: FREE outdoor concerts for Long Island families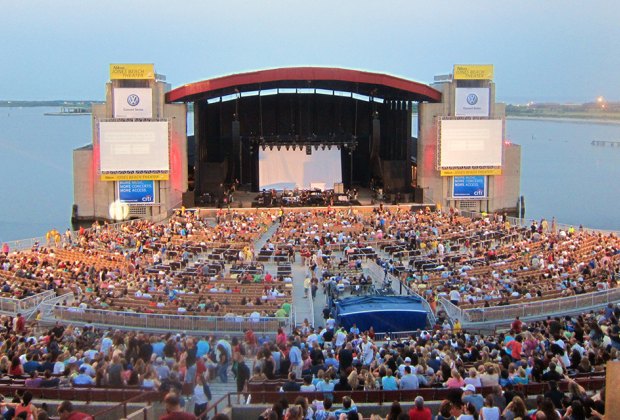 Entertainment options abound at the state park. Photo courtesy of Jones Beach State Park
Entertainment
The iconic band shell at Jones Beach has hosted countless concerts through the years. The summer concert series is FREE and music and entertainment are presented almost every night from late June through August. Families can also take in a FREE movie under the stars during the summer at the band shell. Northwell Health at Jones Beach Theater hosts crowd favorites in an atmosphere that can only be described as music heaven.
On Memorial Day, visitors to Jones Beach look to the sky for spectacular winged performances. The Bethpage Air Show is the first big event of the summer and it's FREE—just pay for parking. From stunt flyers to air force squadrons ready to show off their skills, this is the show for adults and kids alike. You'll want to arrive early and bring earplugs as it does get loud.
RELATED: Great outdoor dining spots for kids on Long Island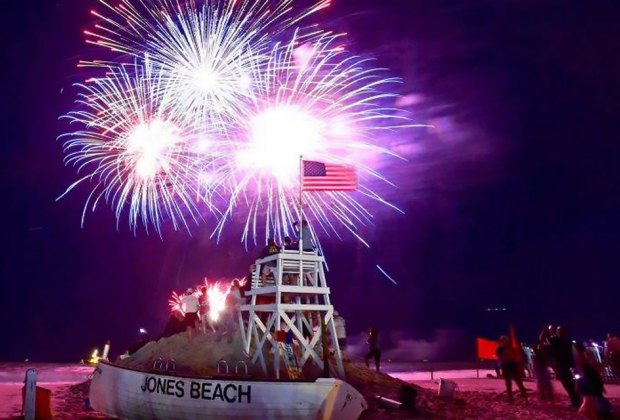 Fourth of July fireworks at the beach is a Long Island tradition. Photo courtesy of NY State Parks and Historic Sites
What is July Fourth without fireworks? Thousands flock to Jones Beach for this annual extravaganza of colorful lights and music. Celebrate Independence Day with a day of surf and sun capped off by an impressive fireworks show.
Dining
If you weren't lucky enough to catch your lunch at the fishing pier, there's no need to worry as Jones Beach has several dining options. Not to be missed is the new Boardwalk Café at the Central Mall. Built as part of the park revitalization project, the café offers casual dining to either eat in or take back to your spot on the beach. Enjoy items such as tacos, salads, rice bowls, and the usual beach concession fare such as burgers, fries, and ice cream. Some menu items are made with ingredients sourced from local New York area farms and producers.
Craving pizza? Now you don't have to leave the beach to get a slice or even a whole pie. Cheese, sausage, and pepperoni are right at your fingertips from the West Bathhouse and Central Mall concessions.
For a sit-down meal that's a bit more sophisticated, visit The Landing at the West Bathhouse. Seafood, steaks, salads, and pasta are all on the menu, but the biggest draw could be the stunning view from the patio and even from inside the restaurant. This makes for a spectacular backdrop for weddings and special events, which the restaurant hosts.
Getting there
Less than 20 miles from New York City, Jones Beach is accessible by car and public transit. Driving from the west, take the Grand Central Parkway / Northern State Parkway east to the Meadowbrook State Parkway south (Exit 38), then follow the signs for Jones Beach. From the east, take Sunrise Highway west to Robert Moses Causeway, then follow Ocean Parkway west to Jones Beach. Visitors can also take the Long Island Railroad to the Freeport stop and catch the N88 bus directly to the beach.
Summertime traffic to Jones Beach, especially on weekends, is notorious. Give yourself plenty of time. Parking is $10 per car or purchase an Empire Pass for $80 to park at most state parks during the season. However you get there, a trip to Jones Beach is the quintessential summertime experience.