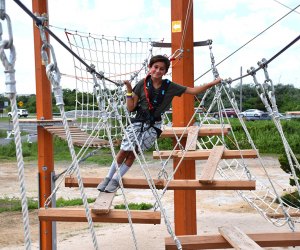 Thrill to Zip Line, Ropes Courses, and More at Jones Beach's New Adventure Park
WildPlay, an adventure park featuring ropes, bridges and tunnels, as well as a 700-foot zip line that runs parallel to the Atlantic Ocean, opened in July at Jones Beach State Park. Whether you're conquering your fear of heights or challenging your physical abilities, there's an activity for every level of intensity. In fact, the whole experience makes for a terrific parenting lesson. Read on for our review of Jones Beach's newest attraction.
There are plenty more thrill-seeking destinations on Long Island. Check out these spots for little (and big) adrenaline junkies in your house. Or visit another state park on Long Island and embark on an adventure of your own.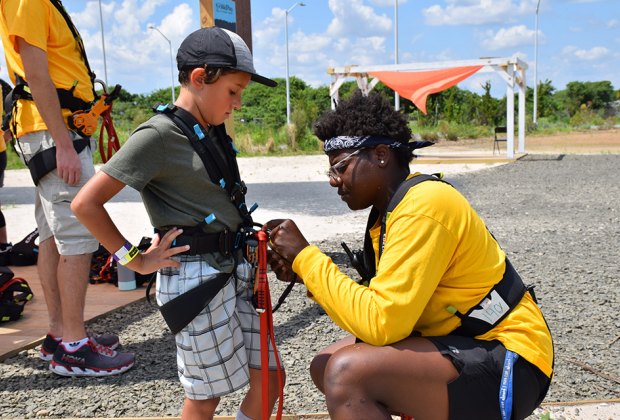 Parents take note: It's safety first at WildPlay Jones Beach.
WildPlay is situated at Field 4 in the East Mall. Visitors first must head to the office to fill out a quick digital form and then head to the ground-level tent to get geared up in a harness. The fitting process was quick and easy, and both my 8 1/2-year old and I felt completely safe. Plus, staff ushers complete safety rechecks as they move you from station to station.
RELATED: Our Guide to Long Island Amusement Parks and Water Parks

Test your climbing skills at WildPlay's rope, bridge, and tunnel courses.
The $1.5-million project includes three rope/bridge/tunnel courses, a 700-foot long zip line (minimum age 7) and a 40-foot perch jump.
The minimum age for all rope courses is 5. The Classic Course includes three levels of adventure with zip lines and aerial games, while the the Extreme Course has the highest zip lines and aerial games. Guests must be at least 4-feet, 8-inches tall to attempt either. The Kids Course is built for children who are at least 3-feet-9. However, adults can brave it as well — and I did!
And while I considered feigning a fainting spell to be hoisted down by a crane, my motherly courage made me forge on, keeping up with my son. We completed the course of crawling, climbing, balancing, etc. in about 45 minutes. Our harnesses were attached to a carabiner in a continuous loop around the course, providing easy individualized maneuvering. We quickly were able to slide them into place, leaving no room for becoming detached. The satisfaction of completion for us both was astouding. A bonus: The entry pass includes two course completions if you have the stamina, of course (wipes brow just thinking about a second go-around).
RELATED: Awesome Arcades for Kids on Long Island

The zip line towers 40 feet in the sky, allowing for unobstructed views of the beach.
Afterward, we walked over to the zip line, which sits 40 feet in the sky, giving you a clear view of the beach and ocean — a prime selfie taking spot! An adventure park guide once again checked our gear, and my son and I mounted a platform before gliding through the sunny sky side by side. Up to four guests can ride the zip line simultaneously. Hang on for dear life or go Superman style, there's nothing for you to do during the ride except enjoy it. There's even a hard-brake contraption at the end to stop you, with your feet landing right in the sand. This was quick for sure, but worth it.
WildPlay also offers a What's to Fear Jump from a 40-foot perch, while attached to a bungee. The minimum age for this activity is 5. If you have a fear of heights, jumping off this deck is quite the feat. We saw a few guests even back down — no judgments as we never attempted it.
A few suggestions: Wear a form-fitting hat, as there is no respite from the sun as you climb around the apparatus. Do not wear sunglasses or carry a phone, unless it's zipped away. Have your family or friends follow you from below for support and photo-ops. I definitely needed confidence-building cheering-on as I neared the end and my arms felt like wet noodles.
You can purchase triple-play bundles ($69.99 as of August 2019) and do-it-all deals ($84.99), or order a la carte, depending on your willingness and ability.
RELATED: Mini-Golf Courses on Long Island for Great Family Fun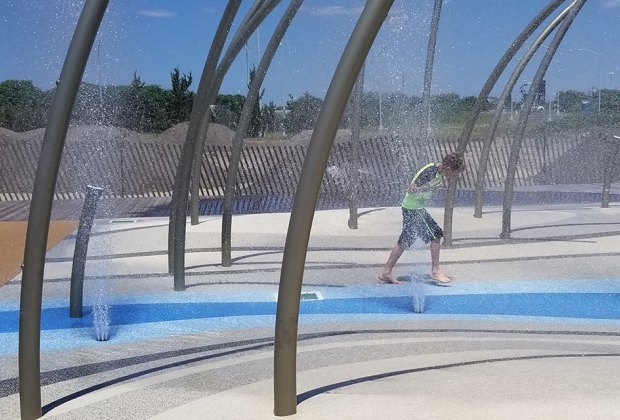 The Jones Beach splash pad is an alternative to an ocean cool-down. Photo by Rebekah Yahoves
Explore More at Jones Beach
There's so much else to do while at Jones Beach. Just outside the adventure park area is the new(ish) Splash Pad, which provides the perfect cool down, post-adventuring. Hit the waves, walk or bike the boardwalk, dine at a number of seaside spots, or watch a family-friendly movie at the Bandshell, play mini golf, basketball, ping pong, or more. You can also scale the playground at Field 4, fish at Field 10 or swim at the West Bathouse pool, and much more.
Getting to Jones Beach
Less than 20 miles from New York City, Jones Beach is accessible by car and public transit. Driving from the west, take the Grand Central Parkway / Northern State Parkway east to the Meadowbrook State Parkway south (Exit 38), then follow the signs for Jones Beach. From the east, take Sunrise Highway west to Robert Moses Causeway, then follow Ocean Parkway west to Jones Beach. Visitors can also take the Long Island Rail Road to the Freeport station and catch the N88 bus directly to the beach.
Summertime traffic to Jones Beach, especially on weekends, is notorious. Give yourself plenty of time. Parking is $10 per car or purchase an Empire Pass for $80 to park at most state parks during the season. Our local library lends out the Empire Pass for free, so it's worth checking out if yours does the same.
Unless noted, photos are by the writer.