7 Long Island Boardwalk Gems Kids Will Love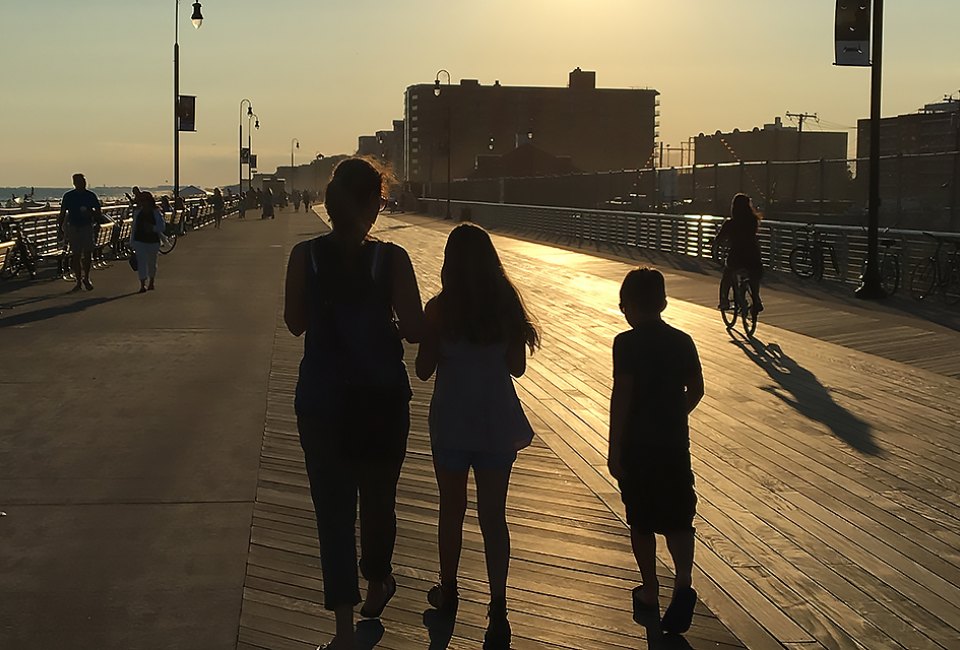 7/1/18
- By
Jaime Sumersille
The best part of the beach isn't always sand and water. Sometimes, it's a quaint stroll along the boardwalk. And Long Island has plenty of these planked paths dotting its shores.
Gone are the splinter fears and potential pitfalls of yesterday; most Long Island boardwalks have been refurbished with less flammable, sustainable woods. These boardwalk spots offer something special for kids and adults alike. Best of all, besides a nominal parking fee for some, these are FREE.
Here are a half-dozen of our favorite Long Island boardwalks, including a few you might not immediately associate with the ocean. From Nassau County to Suffolk and the East End, they are yours to explore.
For more seasonal fun, be sure to see our Summer Fun Guide, our list of the best beaches, water parks, and sprinkler parks and perhaps even our guide to LI beach playgrounds and outdoor music.
And for FREE summer fun, check out our list of 50 FREE things to do with Long Island kids this summer.
Family-Friendly Boardwalks in Nassau County

Enjoy the ocean breeze and beautiful views while scooting along the boardwalk at Jones Beach. Photo by Jaime Sumersille
Jones Beach State Park Boardwalk —Wantagh
1 Ocean Parkway, Wantagh
Strolling along the boardwalk at Jones Beach is fun for young and old alike. But the real ticket is seeing the children's shows at the boardwalk band shell. (Use Parking Field 4 to shorten the walk). From family-friendly movies to music under the stars, there are plenty of activities for those with toddlers in tow. The two-mile boardwalk also features miniature golf, a corn hole, ping pong, shuffleboard, and children's playgrounds with swings and slides. Note: Parking is $8 per car, increasing to $10 when the beach is open.

Surf lessons are offered just off the boardwalk at Long Beach. Photo by Bob Arkow
Long Beach Boardwalk — Long Beach
700 Magnolia Boulevard
Rebuilt after superstorm Sandy, the boardwalk at Long Beach is ideal for running, biking and walking. New parents might agree: Few things are more refreshing than a stroller walk or jog with your child lulled to sleep by the salty ocean air. Underneath the boardwalk, at the corner of West Broadway and Magnolia Boulevard, is the Magnolia Boulevard Playground, which offers picnic tables and a variety of playground equipment. Family members will enjoy the opportunity to rent bicycles via the city's SoBi program (app download recommended) and ride them along the boardwalk. Long Beach charges an admission fee for the beach, but the boardwalk is FREE. On-street parking is available.
RELATED: The best Long Island water parks and amusement parks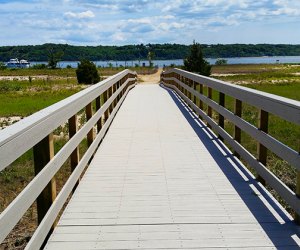 Eel Creek Boardwalk connects the Sagamore Hill environmental areas with the Roosevelts' "Summer White House."
Sagamore Hill —Oyster Bay
20 Sagamore Hill Road
Sagamore Hill, Theodore Roosevelt's New York home and the "Summer White House" from 1902 to 1908, is full of history and charm. The former president was an early environmentalist, who advocated for preserving the natural beauty of Long Island and America. He and his second wife raised six children in the house, and it is now home to a Junior Ranger program that teaches kids about nature, geography, and local ecology. When you head out for a nature walk behind Old Orchard Museum, stroll down to the 366-foot Eel Creek Boardwalk and enjoy expansive views of Centre Island and Lloyd Harbor. The price tag for all of this beauty? FREE.

Stroll along the pristine boardwalk and glimpse amazing nature scenes on Fire Island. Photo by Jaime Sumersille
Family-Friendly Boardwalks in Suffolk County and the East End
Fire Island Lighthouse — Fire Island
Long Island's tallest lighthouse tower is 168 feet high, but you first need to traipse along the mile-long boardwalk to reach the perpendicular destination. A quick, flat trek, this planked walkway boasts panoramic views from the bay side to the ocean side. Park at Robert Moses Field 5 and walk to the buildings. Curious deer will not hesitate to approach you, but quickly admire and move along. Once at the buildings, learn about history, climb the 182 steps to the top, and peruse the gift shop for a treasure to mark your trip. The calm, flat bay side is perfect for barefoot exploration. You can, however, climb only to the lower balcony and the service room. Note: Children must be at least 42 inches tall to climb the tower.
Lakeland County Park Boardwalk — Islandia
176 Johnson Avenue
Your little ones will love the horses—there's horseback riding here—and scenery lovers will relish the bucolic beauty of the nature-trail boardwalk. Long Island's six-mile long Connetquot River delivers views of wetland vegetation and waterfowl. The park is fully accessible, making it an easy visit for all.
Norman Klipp Park Beach — Greenport
Manhanset Avenue
Norman Klipp Park Beach, aka Gull Pond Beach, is a great spot to take kids for their first snorkeling adventure. The small boardwalk offers a picnic area with grills, a playground, and comfort stations. Head west a bit into the village of Greenport, which boasts a bustling village, marina, sprawling waterfront park, and an antique carousel that is open daily during the summer and on weekends during the offseason. Rides cost $2 and children can attempt to grab brass rings for a free re-ride. Parking fees for non-Southold Town residents apply.
RELATED: Greenport with kids: Fun things to Do in this Quaint North Fork Village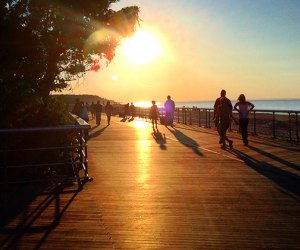 Sunset creates a postcard setting along the Sunken Meadow State Park boardwalk. Photo by Cindy Stiefleind, courtesy of Discover Long Island
Sunken Meadow State Park — Kings Park
Route 25A and Sunken Meadow Parkway
The boardwalk at Sunken Meadow State Park is among the most peaceful on Long Island. Stretching three-quarters of a mile along a stretch of Long Island Sound, the walk offers pristine views of Connecticut and plenty of space for kids to run around. Parking is $10 daily, and the park features three playgrounds. The open nature of this boardwalk makes it an ideal place to teach your rookie cyclist how to ride.
This article was originally published in 2016 and was updated in July 2018.
Main photo by Heather Randell
Sign up for the Mommy Poppins Newsletter today!