Top Beach Playgrounds on Long Island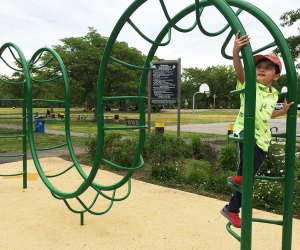 7/19/19
- By
Thien August
Long Island beaches offer the opportunity for memory-making experiences. Some of the best include time frolicking on the playground to the soundtrack of crashing summer waves. We've rounded up some of the best beach spots with playgrounds in Nassau, Suffolk, and the East End. So pack a lunch and plan to spend the day enjoying these destinations. Make sure to snap pictures of the smiles from a fun day in the sun.
The Best Beach Playgrounds in Nassau County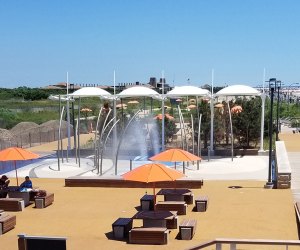 Check out the cool splash pad and Boardwalk Cafe at Jones Beach State Park. Photo by Rebekah Yahoves
Jones Beach State Park — Wantagh
Jones Beach is New York's most-visited state park and one of the most popular beaches during the summer. Enjoy warm days on 6½ miles of white-sand beach on the Atlantic. Its newest addition is the Wildplay Adventure park, which includes zip lines for kids and adults as well as aerial adventure courses. A large playground is located at Zach's Bay near Fields 5 and 6, which faces the bay. There are picnic tables, grass, and trees all around. Parents can listen to the music from the band shell as kids enjoy the "Boardwalk Playground" located east of Field 2. And a new splash pad is located next to the Boardwalk Café. The daily fee for parking is $10.
RELATED: Super Sprinkler Parks forKkids on Long Island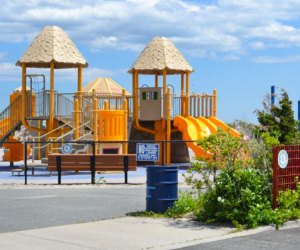 Nickerson Beach's family fun zone offers playground entertainment for kids of all ages. Photo by the author
Nickerson Beach — Lido Beach
Nickerson Beach, managed by Nassau County and stretching along the Atlantic Ocean, features a family fun zone that includes two pools, a skate park, and a playground for kids. Parking is $14 for Nassau Leisure Pass holders and $35 for nonresidents or residents without passes.
North Hempstead Beach Park — Port Washington
North Hempstead Beach Park, which features 34 acres of beach and recreational area, has a concession stand, basketball courts, and picnic areas, as well as a playground for kids. Restrooms and parking lots are located close to the beach for an easy walk with little ones. The park is operated by the Town of North Hempstead; nonresidents are allowed, but parking fees are higher.
The Best Beach Playgrounds in Suffolk County
Cedar Beach — Mount Sinai
Cedar Beach, which is managed by the Town of Brookhaven, is a popular spot for North Shore residents. The beach features a playground, fishing pier, marina, and bathrooms. There are many other things to enjoy at this park, which overlooks Long Island Sound, including basketball courts and walking trails. A season ticket for Brookhaven residents is $15.
Corey Beach — Blue Point
This sea-inspired beachfront playground made our list of best Long Island playgrounds of any variety. Swings, slides, and climbing fun is all in store for kids, but it's the boat-shaped section that usually thrills them the most. Kids can climb in and out, duck behind the walls, or pretend to steer safely homeward. Sun-blocking screens offer a touch of shade, and the rest of the park has plenty of benches. This is also a Town of Brookhaven beach.
Robert Moses State Park — Babylon
Robert Moses State Park, which overlooks the Atlantic Ocean and features miles of oceanfront, has a concession stand, bathrooms, a pitch-and-putt golf course at Field 2, and a playground at Field 5 ideal for kids. Admission is $10 per vehicle. Field 5 is the gateway to Fire Island.
Short Beach — Nissequogue
Short Beach is managed by the Town of Smithtown and overlooks Long Island Sound. It features a playground in the sand, as well as bathrooms, showers, and a concession stand. Camping is also available; nonresident parking is $12 per day.
Smith Point County Park — Shirley
Smith Point County Park, the county's largest oceanfront park, features miles of beachfront, a concession stand, and a playground with picnic tables overlooking the Atlantic Ocean. The park boasts white-sand beaches and a nationally recognized team of lifeguards to keep visitors safe.
RELATED: Best Places for a Family Picnic on Long Island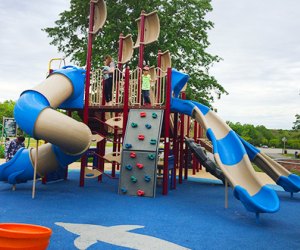 Adventures await aboard Sunken Meadow State Park's playground pirate ship. Photo by the author
Sunken Meadow State Park — Kings Park
A seafaring theme offers kids a pirate ship and even a drawbridge, where they can "walk the plank" or just run amuck. There are slides, climbing structures, and even a small separate jungle gym for tots. You'll find the playground in Field 1. After a morning romp, find the walkway to the boardwalk and beach area to enjoy the rest of the day. Admission is $10 per vehicle to enter the state park during the summer season.
RELATED: Inclusive Playgrounds for Long Island Kids with Special Needs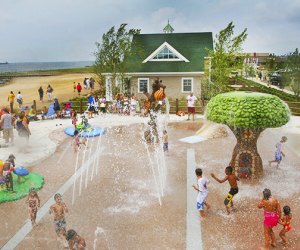 Enjoy water fun and more at Tanner Park in Copiague. Photo courtesy of the Town of Babylon
Tanner Park – Copiague
Ok, this is actually a sprinkler park with sprayers, a water slide, and more splash pad fun, but it's one of our favorites, and right on Great South Bay. There's an adjacent skate park for big kids, a Beach Hut for snacks, a fishing pier, and of course, a sandy beach. There are even outdoor concerts in the summer, making it a true destination playground. This is a Town of Babylon residents-only beach. Fees vary, but generally are between $15 and $25 per vehicle to park.
Webby's Beach — Center Moriches
Webby's Beach is a hidden gem in the Town of Brookhaven. The beach, which overlooks Moriches Bay, features a playground area in the sand, as well as a beachfront ideal for little ones. Slides and several climbing areas provide fun for kids. The beach is accessible for FREE.
West Meadow Beach — Setauket
​Another Town of Brookhaven beach, West Meadow has two playgrounds. The newer playground has a nautical theme with multiple slides and climbing areas as well as swings. On the other side of the building that houses the bathrooms is a sprinkler park and toddler swings. Although this play area has seen better days, it is fenced in and serves its purpose as a fun way for little ones to splash around in the water safely. Visitors can also enjoy beach volleyball, checkerboard tables, and environmental programs for all ages.
The Best Beach Playgrounds on Long Island's East End
Meschutt County Park — Hampton Bays
The calm waters of this low-key beach on Peconic Bay are well-suited for families with little ones. The concession stand offers everything from burgers to ice cream, and there is a playground for kids with slides, climbing bars, and more.
RELATED: 16 Long Island State Parks Worth a Visit

Grab the brass ring and get a free re-ride at the antique carousel in Mitchell Park. Photo by Jaime Sumersille
Mitchell Park — Greenport
This beautiful park on Greenport's marina is a must-see for families. Enjoy the restaurants and shops in the harbor and finish the day with a ride on the antique carousel. A small beach sits a few hundred yards west of the carousel, near the Shelter Island Ferry terminal.
RELATED: 50 Great Things to Do With Kids on the East End of Long Island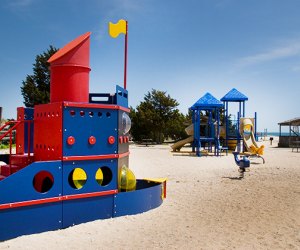 The ship-themed playground is a signature attraction at Orient Beach State Park. Photo courtesy of the park
Orient Beach State Park— Orient
This whimsical North Fork playground offers traditional play equipment, including a small climbing section with slides, plus little ride-on animals that spring back and forth. But the favorite item is the ship. Kids can climb to the top of it or peek out from the lower deck of the red and blue boat-shaped play equipment. Located on the sand, the playground is popular year-round and before and after a day on the Sound. There's hiking in the park, of course, and picnic tables and pavilions for lunch. Admission is $8-$10 per car, depending on the season.
Town Beach — Southold
Overlooking the Sound, this beach has a picnic area and playground. Lifeguards are on duty throughout the summer. Both residents and nonresidents must purchase parking permits at the town clerk's office in Southold Village.

This article was originally published in 2014.
Writers Kimberly Chacon and Lisa Mancuso contributed additional reporting.