35 Things To Do on Long Island this Summer: Summer Fun Guide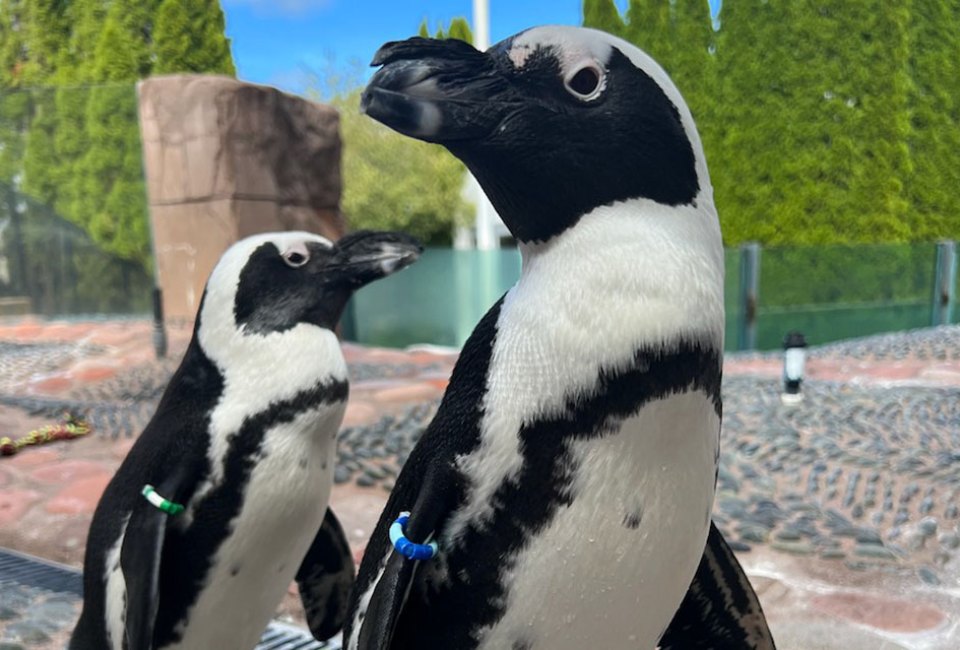 6/11/23
- By
Jaime Sumersille
2. Peep Pop-Up Art
Gallery North's Annual Wet Paint Festival celebrates outdoor painting at Old Field Farm June 17-18, 2023.
3. Get Crafty
Michaels stores across Long Island are once again offering free instructor-led classes via their Camp Creatology from June 19 through July 14, 2023.
RELATED: Guide to Summer Fun for Long Island Families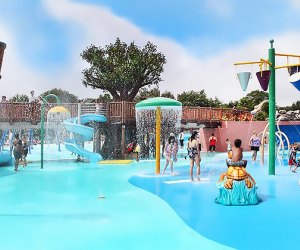 Geiger Lake Memorial Park's spray area offers more than 20 play elements. Photo courtesy of Stalco Construction
4. Find Big Fair Fun
The Empire State Fair descends upon Nassau Coliseum for several days of action-packed fun with fair food, rides, games, and more.
5. Head East
Plenty of fun awaits on Long Island's East End, and we've found dozens of things to do with kids in the Hamptons and on the North Fork.
6. Enjoy Pick-Your-Own Farm Fun
Blueberries, blackberries, and even strawberries can be had fresh from the farm this summer. You can also attend a strawberry festival in Mattituck or Massapequa, or visit the family-fun fields (and more!) at Riverhead's Garden of Eve.
RELATED: Super Fun Water Parks, Slides, and Pools on Long Island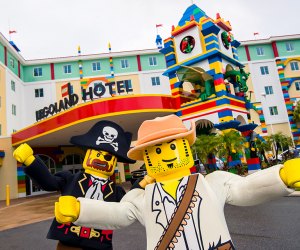 Everything is awesome in Goshen, where the sprawling Legoland New York welcomes visitors. Photo courtesy of Legoland
7. Go West
There's always something fun to do in NYC with kids. You can venture a bit further, though, and head upstate for an epic day trip at Goshen's Legoland New York theme park.
8. Take to the Streets
Enjoy themed nights every Friday through mid-September in the heart of Garden City Village, when it closes to traffic and opens up for fun. Additionally, Riverhead's walkable downtown closes along Main Street on select Fridays in July and August for a street fair that includes live music, vendors, food, entertainment, and more. Babylon hosts a Block Party on multiple Thursdays throughout the summer as well. Massapequa Park hosts Park After Day events monthly this season too.
9. Spend a Day in the Life of a Pond
An interactive pop-up exhibit at SoFo allows visitors to explore the grounds in a whole new way. Held on the first Sunday of every month through September.
10. Become a Sand Castle Queen or King
Each week this summer, Hither Hills State Park hosts a weekly sand castle contest that is open to all ages.
11. Enjoy Songs and Science Under the Stars
The Science Museum of Long Island is hosting biweekly Live at Five events at the Leeds Pond Preserve. Swing and sway to tunes and indulge in food truck fare as you explore the outdoor grounds.
12. Catch a Concert by the Sea
Swing and sway under the stars along the waters at Jones Beach Theater during Kidz Bop on July 15, 2023. This family-friendly live concert features pop hits from Taylor Swift, Lizzo Harry Styles, and more.
RELATED: Drive-In Movie Theaters and Pop-up Outdoor Movie Nights on Long Island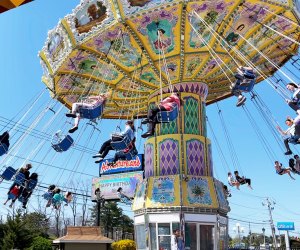 Go on a thrilling ride at Adventureland in Farmingdale, one of our favorite local amusement parks. Photo courtesy of Adventureland
13. Go for a Wild Ride
Get an adrenaline rush at one of Long Island's amazing amusement parks. Celebrating more than 60 years in business, Adventureland is a great place to spend the day.
14. Take a Dip
Cool off at one of these public pools that are open to everyone.
15. Dine Outdoors
Pack a picnic and visit one of these charming local picnic spots. Or, if you prefer, dine at one of these great, kid-friendly outdoor restaurants.
RELATED: Ultimate Summer Play List: 100 Fun Activities for Kids

Rent a kayak and set off along the Peconic River. Photo by Jaime Sumersille
16. Row, Row, Row Your Boat
Spend some time on the water in a kayak, pedalboat, or canoe. Or join the Race to Save the Sea Turtles Paddle Battle LI along the Peconic River on Saturday, July 29, 2023.
17. Climb and Swing
You can't go wrong with a visit to a playground or a state park to keep kids busy and happy. You can even make it a beach day with one of these awesome beach playgrounds on Long Island. Or notch up the thrill level at Wildplay or The Adventure Park at Long Island.
RELATED: Water Parks Near NYC For Family Thrills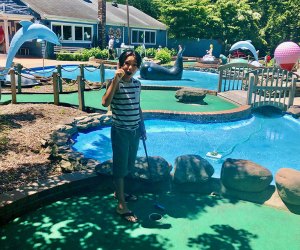 Go for a hole-in-one at one of the mini-golf courses around Long Island. Photo by the author
18. Hit the Links
Whether you want to play miniature golf or take on a par-3 course, Long Island's got options. On a rainy day, Monster Golf or Glowgolf is your best bet!
19. Choo Choo Through a Forest
The Long Island Live Steamers offer free public run days throughout their season. Typically, run days are scheduled for the second and last Sundays of each summer month.
RELATED: LI Boardwalks Perfect for a Family Stroll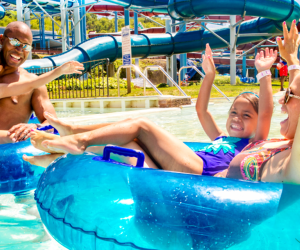 Cool down with the family this summer at Calverton's Splish Splash Water Park. Photo courtesy of the park
20. Slip and Slide
Make your kids' day with a trip to a water park on Long Island where kids—and grown-ups—can cool off and have a blast.
21. Hit the Beach
The beach is synonymous with summer on Long Island; here's our rundown of the best beaches for families on Long Island, as well as our picks for the best beach gear and hacks.
22. Enjoy an Old-School, Drive-In Movie
The pandemic brought about a revival of drive-in movie theaters across Long Island, and the fun continues this summer. North Hempstead, Islip, Farmingdale, Oyster Bay, and other municipalities are hosting outdoor movie nights. On a rainy day, don't forget about the Regal Summer Movie Express, which is showing $2 family-friendly flicks twice weekly all summer long.
23. Take a Hike
There are many family-friendly LI hiking trails to explore. Or, try a bike trail. We're having loads of fun on the lovely waterfront Ocean Parkway Coastal Greenway extension these days.
RELATED: Family-Friendly Boat Rides for Kids on LI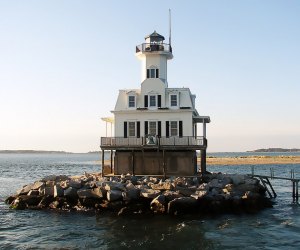 "Bug Light," near Greenport, is one of only a handful of offshore lighthouses that allows visitors. Photo courtesy of the East End Seaport Museum
24. Light it Up
Experience living history by visiting one of Long Island's beautiful, historic lighthouses.
25. Pitch a Tent
Sleep under the stars at one of these local LI campgrounds, or try your hand at backyard camping for a night you won't forget.
26. See Art After Dark
On four evenings this summer and fall, downtown Riverhead transforms into a walkable art-after-dark experience.
RELATED: Nature Centers Sure to Delight LI Kids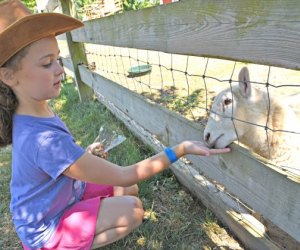 Interact with the residents of Harbes Family Farm in Mattituck. Photo courtesy of the farm
27. Feed the Animals
Petting zoos on Long Island are wonderful places to interact with animals and even feed some of the "residents."
28. See a Summer Concert Under the Stars
Grab a lawn chair or beach blanket and enjoy a family-friendly concert outdoors with your neighbors at Hoyt Farm, Harborfront Park, or Eisenhower Park. Concerts at the Jones Beach Bandshell have also returned.
29. Race a Cardboard Boat
Compete in the annual Riverhead Business District Cardboard Boat Race on August 5, 2023. The event, held along Peconic River in downtown Riverhead, features vessels made exclusively from cardboard, duct tape, and paint.
30. Go Old School
Show your kids video games from the past during a visit to the Long Island Retro Gaming Expo held at the Cradle of Aviation on August 11-13, 2023. Check out the Cradle's retro, playable Arcade Age exhibit while you're there.
31. Visit Summer Exhibits at LICM
Our Backyard, an outdoor water-based play experience, is only open during the summer months. Be sure to check out their latest indoor exhibit, Hoops and Loops, too!
32. Check Out a "Thing"
Several libraries across Long Island have created their own Library of Things. These items–from baseball pitching machines to oversized lawn games to sand toys–are free for patrons to rent.
33. Plan the Ultimate Staycation
Our 3-day itinerary will have you exploring the island from its tips to its shores and more.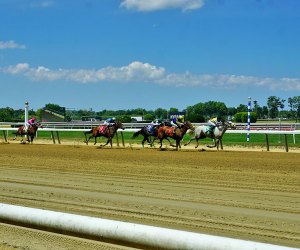 Belmont Park makes for a charming destination for an old-fashioned family-friendly day trip.
34. Spend a Day at the Races
Belmont Park makes for a charming destination for an old-fashioned family-friendly day trip.
35. Eat ALL the Ice Cream
Bonus: Send them to camp. It's not too late to sign up for a camp on Long Island. Whether your kids are into sports, science, or art, there's a summer camp on Long Island for almost any interest.
This article is updated annually.
Sign up for the Mommy Poppins Newsletter today!