Jenkinson's Boardwalk and Point Pleasant Beach: Top Tips for a Family Trip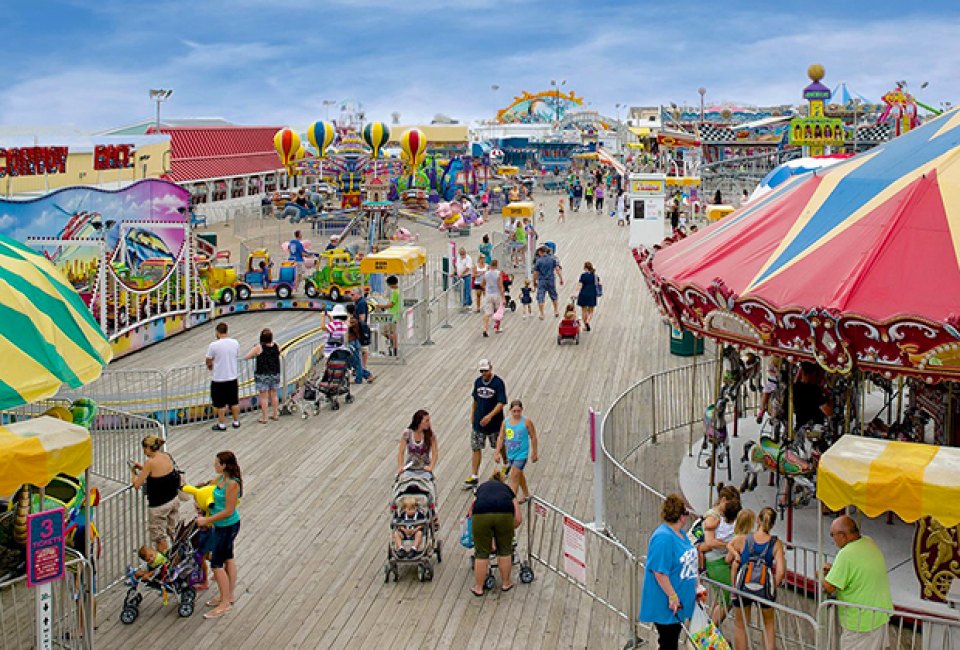 8/14/22
- By
Margaret Hargrove
Jenkinson's Boardwalk and Point Pleasant Beach have long been popular family-friendly Jersey Shore destinations. About an hour's drive from New York City and Philadelphia, this picturesque stretch of shoreline lies between the beaches of Monmouth County and the craziness of Seaside Heights. The boardwalk plays host to many kid-friendly attractions, including an aquarium, arcades, mini-golf courses, a ropes course, and an amusement park with a whole section that's just right for toddlers and preschoolers.
I spent many summers here in my youth, and with my own little one in tow this summer, I headed down to Exit 98 to spend the day at this popular Shore spot.
Looking for more warm-weather fun? Check out our Summer Fun Guide and Jersey Shore Family Guide for ideas.
Subscribe to our newsletters to get stories like this delivered directly to your inbox.
Best Things To Do at Point Pleasant Beach
The convenient location of Point Pleasant Beach makes it well worth the entrance fee. Kids under 5 are always free; ages 5-11 are $4 during the week and $5 on weekends. Adults pay $12 during the week and $13 on weekends. Beach chairs and umbrellas are available for rent, but a majority of beach-goers come prepared with beach carts fully loaded for the sand and surf.
The crowd is friendly and full of families with young children, with the occasional sun worshipper in the mix. The soft sand here is perfect for digging and building sand castles, so make sure to bring your kids' beach buckets. Lifeguards are on duty from 9:30am-5:30pm, and swimming is prohibited when lifeguards are not present.
After an hour of basking in the sun, we rinsed off our feet and headed to the boardwalk.
RELATED: Best Jersey Shore Beaches for Families: Sandy Hook to Cape May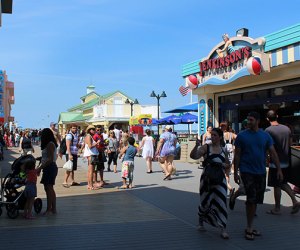 Jenkinson's Boardwalk features an aquarium, arcades, mini-golf, and more. Photo by Shinya Suzuki/CC BY-ND 2.0.
Kid-Friendly Attractions at Jenkinson's Boardwalk
Jenkinson's Boardwalk is just what you'd expect from the Jersey Shore. The 1-mile stretch is short and easily walkable. The middle to north end of the boardwalk is where you'll find all the action, and it's jam-packed with souvenir shops, arcades, and games of chance lining the way.
Step right off Jenkinson's Boardwalk into Jenkinson's Aquarium, an aquatic oasis featuring sharks, penguins, alligators, seals, and plenty of fish. An interactive touch tank allows kids to get hands-on with sea stars and sting rays, and you can also observe the daily feedings of sharks, seals, and penguins. Once you pay ($10 for kids 3 and up, $16 for adults), your hand is stamped—so you can leave, bounce around the boardwalk, and return throughout the day.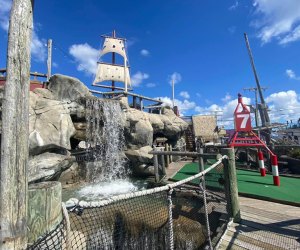 Castaway Cove Mini Golf is open daily at 12pm, weather permitting. Photo courtesy of Castaway Cove
If you have a young golfer on your hands, check out the two mini-golf courses on Jenkinson's Boardwalk. Kids will go crazy for Castaway Cove, complete with pirates and shipwrecks. Lighthouse Point, on the quieter, south end of the boardwalk, offers two 18-hole courses with fun water hazards, real sand traps, a waterfall cave, and a lighthouse replica. Games are $9 per child and $12.50 for adults.
Arcades & More
Kids can try their luck at one of four arcades located along Jenkinson's Boardwalk, featuring skeeball, basketball games, video games, and more. There's also a Fun House that's a maze of mirrors, lights, twists, and turns, as well as batting cages and a thrilling, two-level adventure ropes course where kids can zip-line, "walk the plank," and climb up to the 36-foot lookout peak for stunning beach views.
The highlight of any trip to Jenkinson's Boardwalk, at least for your kids, is most definitely the amusement park. The rides open at noon—and prepare for long lines at the ticket booth. Long gone are paper tickets; now, credits are loaded onto a card that gets scanned at each ride. The card is reusable and comes with a handy wristband, so hold on to it for future visits. You can also purchase unlimited ride wristbands or packages that bundle several attractions, like the beach, aquarium, fun house, and mini-golf course.
A majority of the rides at Jenkinson's are geared toward toddlers and preschoolers. Since we entered the park almost as soon as it opened, wait times were nonexistent, which was perfect for my impatient child. As soon as I loaded up our card, my daughter made a beeline for the carousel. Rides here seem to last longer than usual, so you'll definitely feel like you're getting your money's worth.
Other popular toddler attractions feature flying elephants, helicopters and airplanes, racing motorcycles, fire engines and boats, and dizzying dragons and swings that go round and round. Luckily, my tiny thrill seeker was able to ride everything solo, which helped her ride credits stretch–but keep in mind that parents need to pay to accompany their little ones on a ride, so plan accordingly when purchasing tickets.
A new roller coaster called Shark Escape had the longest lines of the day. This double vortex thrill ride is themed to replicate an underwater buried treasure adventure that takes you along a bright yellow track at speeds up to 15mph. My adventurous daughter rode it twice. Older kids will find the familiar bumper cars, Tilt-A-Whirl, Moby Dick, and Super Himalaya at this end of the park.
We capped off our day with a ride on Jenkinson's historic train. Kids and adults alike will enjoy this vintage red locomotive that slowly travels around the perimeter of the kiddie rides twice, allowing you to sit back, relax, and take in the amazing views of the beach and boardwalk.
RELATED: Wildwood, New Jersey: A Summer Weekend Getaway with Kids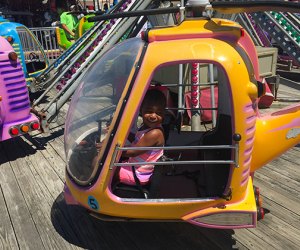 The majority of rides at the amusement park are geared toward young children.
Where to Eat at Jenkinson's Boardwalk
Worked up an appetite? Pizza, ice cream, and funnel cake are just some of the yummy treats you'll find on the boardwalk.
When it's time for lunch, Little Mac's serves up huge slices of pizza, meaty cheese steaks, and classic sausage-and-pepper sandwiches, with picnic tables outside for al fresco dining.
For a sit-down meal, head upstairs to Boardwalk Bar & Grill for a meal with a view.
Feed your sweet tooth at Jenkinson's Sweet Shop, the go-to place for homemade fudge and saltwater taffy. The sweet shop's fresh-squeezed lemonade was a hit with my thirsty toddler after an hour on the rides, and she refused to leave the boardwalk without a soft-serve cone—with rainbow sprinkles, of course!—from the popular Kohr's Frozen Custard.
Best Jenkinson's Boardwalk Events for Families
Summertime is full of activity at Jenkinson's Boardwalk.
Kiddie Beach Shows, featuring a lineup of kid-friendly comedy and magic shows, are held right in front of the amusement park on Monday nights. There are fireworks every Thursday night at dusk. Bring a blanket to enjoy a free family-friendly flick on the beach Tuesdays at dark.
Watch a mermaid swim underwater at the aquarium during the Magical Mermaids show on Wednesdays at 5:30pm and 6:30pm. There's also Princess Storytime Fridays at 6pm on the beach in front of the Aquarium. Christmas in July, is a 2-day event when Santa takes a break from his vacation to stroll the boardwalk and take pictures with kids. Hot Halloween invites everyone to parade down the boardwalk in their favorite costume.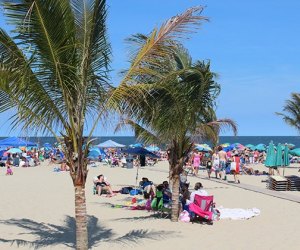 Point Pleasant Beach is a favorite spot for families with young children. Photo courtesy of Point Pleasant
Getting to Point Pleasant Beach
Only minutes off Exit 98 off the Garden State Parkway, Point Pleasant Beach is an hour south of New York City, an hour north of Atlantic City, and about an hour and 15 minutes from Philadelphia.
You'll find four paid parking lots located nearby on Ocean Avenue between Broadway and Arnold Avenue, and a large metered lot on Arnold Avenue. On weekdays it's $2.25 per hour; $3 per hour on the weekends. You have to pre-pay for parking at the parking meter and display the ticket on your car's dashboard. Lots fill up fast, and generally by noon, parking is at a premium. There's also a valet lot just steps from the boardwalk, but it will cost you $25. You have to arrive pretty early to snag the very limited on-street parking in the neighborhoods off Ocean Avenue, but make sure you are parking in a legitimate spot to avoid a parking ticket.
If you don't want to deal with traffic and parking, take the train! New Jersey Transit's Point Pleasant Beach station on the North Jersey Coast Line brings you practically to the beach. It's a four-block, 10-minute walk from the station to the boardwalk.
Know Before You Go
Coolers larger than 13 inches in width, length, or height are not permitted on Point Pleasant Beach. And all coolers will be checked before accessing the beach.
Tents and pets are also not allowed on the beach.
Top photo courtesy of Jenkinson's. Unless otherwise noted, photos by the author.