Monmouth County Highlights: Beaches, Forests, Play Spaces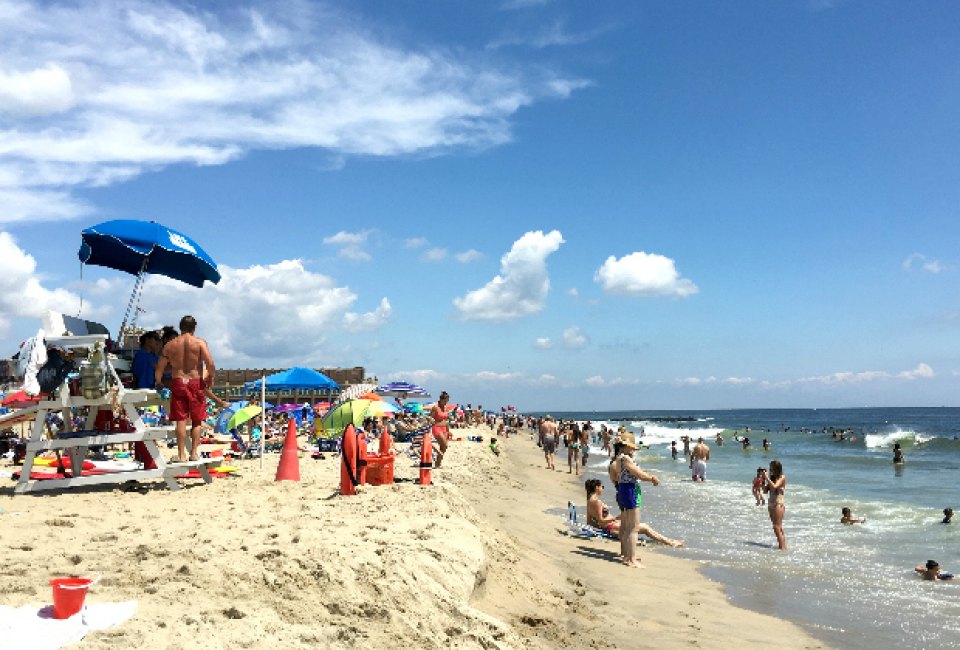 1/1/16
- By
Kristen Haas
The northernmost county of the Jersey Shore, Monmouth County is home to more than 50 miles of beautiful ocean and bay beaches, including Long Branch, Sandy Hook, and Asbury Park, plus sprawling parks and woodlands, fantastic restaurants, unique coastal culture and much more. It is the perfect place for New Jersey kids and families to have fun—year-round! Here are some of our top picks to get you started with exploring this great county. And for even more shore fun, check out our Jersey Shore Family Guide.
Arts and Culture
Get artsy at one of these cultural gems with your NJ kids in Monmouth County!
The Monmouth Museum, Lincroft, NJ
Monmouth Museum touts itself as the "rainy day solution" for parents. They offer the "wonder wing" for kids six and under, which takes your children on a "magical undersea" adventure. The Becker Children's Wing for school-aged children seven to 12 years old is presently featuring an exhibit called "Changing Climate: Changing Weather." Exhibits offered in the other galleries are great for teens and adults. You can also have parties and events at the museum. Monmouth Museum Members are always free, as are Brookdale students and staff. 732-747-2266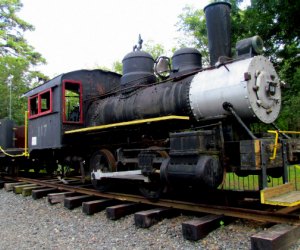 Visit the Pine Creek Railroad to see or ride an old-fashioned train. Photo by bobistraveling via Flickr.
The New Jersey Museum of Transportation, Farmingdale, NJ
Located in Allaire State Park, this museum houses the Pine Creek Railroad, which is "one of the oldest continually operating narrow gauge steam preservation railway exhibits in the country." Buy a ticket at the authentic station and take a ride on the train. Plus, enjoy special events like "Easter Express" in April and the "Railroader's Weekend Celebration" in September. 732-938-5524
Count Basie Theatre, Red Bank, NJ
The Count Basie Theatre opened in 1926 and has been a favorite to starts like Tony Bennett and Art Garfunkel. The theatre is host to many different types of events. From Opera, to "An Acoustic Evening with LeAnn Rimes," to free film nights, to benefits and events, to dance recitals, the Count Basie Theatre has something for everyone. 732-842-9000
Algonquin Arts Theatre, Manasquan, NJ
Located on Main Street, in the cute seaside town of Manasquan, the Algonquin is a great place to introduce kids to theatre. Join them for productions like "A Year with Frog & Toad", "Fish Face", "Cinderella" and much more! Ticket prices vary per show, so check the website for more information. 732-528-9211
The Historic Village at Allaire, Farmingdale, NJ
Offering events year-round including Sherlock Holmes, 19th Century Spring Festival Auction, tours, flea markets and more! Step back in time at The Historic Village at Allaire. Don't forget to tour the historic buildings and visit the Museum Shoppe. 732-919-3500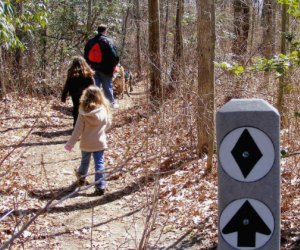 Monmouth County isn't all beaches. Check out the hiking trails at Shark River Park for some woodland fun. Photo by Ted Kerwin via Flickr.
Playgrounds and Parks
Monmouth County offers some wonderful places to get outside and in touch with nature! Check out these outdoor spaces to run and have fun.
Sandy Hook National Seashore, Sandy Hook, NJ
The best thing about this National Park – it's a beach! Drive onto the seven-mile stretch of beach and sun yourself, play in the sand, fish, bike, hike, picnic or visit the Sandy Hook Bird Observatory. 732-872-5970
Allaire State Park, Farmingdale, NJ
This 3,199 acre state park is home to Historic Allaire Village and Pine Creek Railroad. It also boasts a nature interpretive center, fishing, camping, hiking picnics, camping, kayaking, bird-watching, horseback riding, playgrounds and more! 732-938-2371
Shark River Park, Wall, NJ
This 946-acre park is located on Shark River. It allows for beautiful hiking trails in the summer and great ice-skating ponds in the winter. Jump around on the playground, fish for trout in the river or use an on-site grill and picnic. 732-922-4080
Manasquan Reservoir, Howell, NJ
This park is the "most visited site in the Monmouth County Park System" with over 1 million visitors each year. Manasquan Reservoir boasts 1,204 acres of land and water with nature trails, a playground, fishing, kayaking and rowboats. This is the perfect place to have an active day outdoors with the whole family. 732-919-0996
Seven Presidents Oceanfront Park, Long Branch, NJ
This beach park has something for kids of all ages. The beach is ready for some fun in the sun with surfing areas, a snack bar, sheltered eating areas, volleyball, showers and more. Take the kids over to Tony's Place, the large and unique playground or the Skateplex, which features a rink for inline skating and a skatepark for skateboarding. 732-229-0924
Must-Visit Shops and Good Eats
There are so many possibilities in Monmouth County, but here are family favorites that you shouldn't miss!
Sickles Market, Little Silver, NJ
This infamous gourmet market is so much more than just a store. Sickles has been family-owned and –operated since 1908. The quality and selection of their food is unparalleled. Order one of their famous gourmet gift baskets, grab some of their prepared foods for your next party or simply go for a gourmet grocery shopping trip! Don't miss their events like Sickles' Girls Night Out or Sickle's Spring Fling Tea. 732-741-9563
Delicious Orchards, Colts Neck, NJ
The first thing I will say is…PIE! The selection of pies at Delicious Orchards is, well, delicious. But, this place is so much more than just baked goods. From catering, to events, to their gourmet market – this place is a NJ gem. Don't forget to watch their bees make honey right before your eyes! 732-462-1989
Asbury Park, NJ
This is one of our favorite Jersey Shore boardwalks, because of the great eats, including food trucks, but also kid-friendly entertainment like the impressive splash park located right along the boardwalk, mini golf, a pinball arcade museum, a great Fourth of July celebration, the beach, of course, and plenty more kid-friendly fun.
The Circus Drive-In, Wall, NJ
I remember so many "wild animal" burgers and "hot diggidy dogs" eaten in the back of my mom's car at the Circus Drive-In. This Jersey Shore staple has been around since 1954 and is a great place to bring the kids for a meal that's out of the ordinary. The menu is simple, but extensive and it's all cooked to order. Drive on up and park for curbside service or go inside and eat under the big top. This place is sure to please even the toughest kiddie-critic! Now open year-round. 732-449-2650
Surf Taco, Multiple Locations, NJ
With locations in Belmar, Long Branch, Manasquan, Red Bank and more in Ocean County, this shore favorite is the ultimate in "beach food." The food is simple "coastal cuisine" featuring a "unique blend of Surf Mex Tacos, burritos, wraps and salads." The prices are great, also! Plus, this place is low-key and very family-friendly. Coming off the beach and craving some tacos? This is the place to stop!
Pete & Elda's, Neptune, NJ
This place is famous for its thin-crust pizza, and the free t-shirt you get if you eat a whole one by yourself! This fun, family-friendly restaurant has been serving up pizza for more than 50 years. But they aren't just a pizzeria--the menu is extensive and features a large selection of appetizers, Italian entrees and sandwiches. 732-774-6010
Activities and Places to Play
There are plenty of places to play in Monmouth County, NJ! The beaches alone offer endless fun.
The Beaches of Monmouth County, NJ
What better place to play than the beach? Monmouth County offers some of the most beautiful beaches at the Jersey Shore, including the aforementioned Asbury, Long Branch, and Sandy Hook. Before Memorial Day, these beaches are usually free. During the summer, they all vary in cost, so check out this link for a complete listing. Remember that Keansburg bay beaches, Highlands river beaches and Union bay beaches are all free!
Keansburg Amusement Park, Keansburg, NJ
Take the family for a day of fun with rides, games, arcades at the amusement park. Plus, check out Runaway Rapids Waterpark, one of our favorite NJ water parks, which offers more than 18 slides, splash zones, a kiddie lagoon, a toddler play area, a crazy lazy river and more! 732-495-1400
Gymboree
With locations in Howell, Ocean and Red Bank, Gymboree offers classes and fun for kids newborn to five years. Registering for a class gives you access to "open gym time," which allows you to come and play during designated times in the stimulating gym-like environment. This place is ideal on a rainy or chilly day!
Pump It Up, Freehold, NJ
This "inflatable party zone" offers large inflatable-filled arenas and private party rooms. Drop by for pop-in playtime. 732-409-4748

Top photo: The beach at Asbury Park gets crowded at high tide, but there's always plenty of boardwalk fun to be had. Photo by Mommy Poppins.
This article was first published in 2012 but has since been updated.