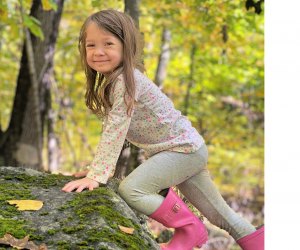 25 Things to Do With Kids in Litchfield County
With tons of open space, charming New England towns, and a healthy dose of arts and culture, your family can explore more in Litchfield County. Although it's the Nutmeg state's largest county, the northwestern corner of Connecticut has the lowest population density in the state. This makes it an ideal location to plan a family "getaway" without spending hours on the road.
From farms and flowers to skiing and skating, Litchfield County is the perfect spot to take a deep breath, recharge your batteries, and make some family memories.
2020 note: Several attractions will have or could implement reduced hours or capacity restrictions due to COVID-19, and many annual festivities and events are postponed to 2021. Be sure to check in with each venue before visiting.


Strawberry picking. Photo courtesy of Ellsworth Hill Orchard
1. Farms Around Litchfield County
Litchfield County definitely has a farm that is perfect for you! You can take your pick from apple picking at scenic Averill Farm in Washington Depot, finding your pumpkin at Angevine Pumpkin Patch in Warren, picking your own strawberries and blueberries at Ellsworth Hill Orchard and Berry Farm in Sharon, or spending a Saturday afternoon go for a farm tour at the lovely Arethusa Dairy farm in Litchfield.
You can walk through and experience a replicated Algonkian Village at the Institute of American Indian Studies. Check out one of their scheduled events to truly watch history come alive. If you are up for a bit of a challenge, check out the Wigwam Escape escape room.
The Sharon Audubon Center protecting more than 2,100 primarily forested in Northwestern Connecticut. With raptor aviaries, pollinator gardens, butterfly house, and a working sugarhouse, guests can enjoy nature year-round.
Local sculptor Denis Curtiss displays hundreds of pieces of sculpture around 3 acres of gardens. Visitors are welcome to stroll the gardens and see if they can get a sneak peek of the artist at work.
Located in Woodbury, Flanders Nature Center offers 2,100 acres of open space to hike, cross country ski, or just enjoy. Make sure to check out the Flanders Nature Center's Sugar House where you can learn how maple syrup was discovered and see how it is made
These decadent chocolates are equally beautiful as they are delicious. Get hot cocoa and a morsel of chocolate at Kent Coffee and Chocolate in Kent.
Salisbury is home to Satre Hill, aka Connecticut's only ski jump. During the annual Jumpfest, visitors come from all over to watch ski jumpers fly into the sky at the Salisbury Ski jumping event.
Check out the latest movies at the quaint Art Deco Bank Street movie theater in New Milford and then take a walk across the street to a great toy store - PLAY.
9. Ice Skating
When the temps go down, it's time to strap on your skates and go ice skating during open skate at The Gunnery, Kent School, and or South Kent School.

Mohawk Mountain. Photo by Ally Noel
Connecticuters know that Mohawk Mountain is the perfect spot to learn how to ski. Goggles the Yeti is known to frequent the mountain during family-friendly events.
Visit a model solar system that scans six miles built to scale at the John J. McCarthy Observatory in New Milford.
Located in 4,000-acres of the White Memorial Foundation the White Memorial Nature Center offers camping, hiking, and year-round programs like family hikes, special events, and a wide variety of children's programming.

Laurel Ridge daffodils. Photo by Ally Noel
You can't predict nature, but usually, sometime in April, daffodils make their appearance on Laurel Ridge. Make sure to pack your camera for picture-perfect vistas filled with these beautiful blooms.
Even beginner paddlers can spend a day rafting down the scenic Housatonic River with Clarke Outdoor River Guides. Clark Outdoors has a variety of rafts, canoes, and kayaks to pick from. Once you have completed your 10-mile journey down the Housatonic, they will come to pick you up.
Go on a drive-through safari where you may drive your vehicle through a 50 acre fenced in exotic wildlife park at Action Wildlife. Keep an eye out for zebras and buffalos.

Lake Waramaug. Photo by Ally Noel
I challenge you to find a Connecticut lake that is quite as scenic as Lake Waramaug. This pristine spot really shines in the Fall when the foliage is mirrored in its calm waters. In summer, you can rent a kayak or canoe and paddle around 680 acres of Lake Waramaug.
Sit on the sprawling lawn and listen to Jazz during the Litchfield Jazz Festival. The festival has been bringing music to the Litchfield hills since 1996. Enjoy music from new and upcoming musicians as well as
Kent Falls is probably one of Connecticut's most well-known parks. Popular for its waterfall, most visitors enjoy the easy hike up to the top of the falls. The trail up is well established and provides several viewing platforms of the 250-foot waterfall.
Eric Sloane was an artist, author, illustrator, and a collector of Americana - specifically hand tools. Guests can visit a replica of a pioneer cabin as described by Eric Sloane in a journal dating back to 1805. Works of art by Sloane are also on display.
Splash in the East Aspetuck River at Pratt Nature Center in New Milford. This 205-acre wildlife preserve encompasses a mountain, meadows, woods, wildlife, gardens, farm animals, a stream, a pond, and wetlands. With lots of opportunities for outdoor fun, you can spend the day hiking, bird watching, or partaking in one of the many family programs the center offers
Hike up to the lookout tower and enjoy the view at Mount Tom State Park and then jump in for a swim at the sandy beach on Lake Tom.
Relax, and take a step back in time in a restored vintage 1920s train coach while taking a scenic 20-mile round trip ride on the Naugatuck Railroad. Hop aboard the Easter Bunny Express, the Northern Lights Limited, or even indulge in a sweet treat in the Chocolate Decadence Express, the seasonal events at the Railroad Museum of New England are sure to make a memory or two.
This art deco gem is a little piece of Connecticut history. Built in 1931 by Warner Brothers Studios, Torrington's Warner Theater is often described as "Connecticut's most beautiful theater." After a full restoration in 1983, the theater reopened as the performing arts center it is today.
Nothing is quite as "New England" as covered bridges. Take a trip over the Cornwall covered bridge while riding an electric bike. Drivers need to be 18 or over, but kids can ride along on a cargo bike. Take a ride down the Housatonic and enjoy views.