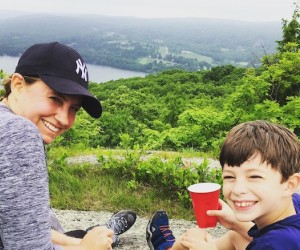 52 Things to Do With Kids in Litchfield County
Our family loves exploring and finding cool outdoor things to do as well as great educational outings in Litchfield County. Here is my bucket list of things I want to do with my children before they grow up. It's organized by season. Feel free to add to the list in the comments section below...
FALL
1. Go apple picking at scenic Averill Farm in Washington Depot. It's a family farm, which has been operated continuously by the Averills since it was purchased in 1746 from the holdings of Chief Waramaug.
2. Go experience a replicated Algonkian Village at the Institute of American Indian Studies
3. Meet friendly costumed animal characters along the Enchanted Forest candlelit trail during this non-scary event at the Audubon Society in Sharon

4. Join in on a Costume Parade at Audubon Sharon Kids' Day after finding your way through a hay bale maze.
5. Relax, and take a step back in time in a restored vintage 1920s train coach while taking a scenic 20-mile round trip ride on the Naugatuck Railroad from
Thomaston.Railroad Museum of New England
6. Go see a show at the art deco
Warner Theater
in Torrington built in 1931.
7. Create a wooden sculpture in
Village Center for the Arts
in New Milford's Drop In Artist Studio. Clay building and paint-your-own pottery is also available.
8. Go for a mellow scenic 10 mile family bike ride starting at the
Kent Boarding School
, winding along an Indian Reservation and the Appalacian Trial before reaching Bulls Bridge, one of the few working covered bridges in CT. Check out the beautiful and powerful waterfall while there.
9. Find your pumpkin at
Angevine Pumpkin Patch
in Warren
10. Go for a scenic drive and enjoy the sculptures in
Kent
then pick up an ice cream cone at Annie Bananie.
WINTER
11. Learn how maple syrup was discovered and see how it is made at Flanders Nature Center's Sugar House.
12. Enjoy some indoor play at The Children's Movement Center in New Milford. They have a ball pit, toddler zone, surf machine, climbing wall, bouncy houses, a trampoline, and more.
13. Create a gingerbread house from scratch at the Silo Cooking School at Hunt Hill Farm.
14. Go videogaming at Digital Network Arena where they have FIVE 51" High Definition Televisions, Multiple Playstation 2's, Xbox360, Gamecube, and Nintendo Wii gaming consoles, along with twelve state-of-the art gaming computers and a very extensive library.
of games. They offer a safe environment for children and teenagers.
15. Travel on a journey to Santa's Train Workshop where Santa will board and greet everyone during your hour and quarter ride on an antique coach. There is a festival of light displays inside and outside the train. Railroad Museum of New England.
16. Get hot cocoa and a morsel of chocolate at Kent Coffee and Chocolate in Kent.
17. Watch ski jumpers fly into the sky at the annual Salisbury Ski jumping event.
18. Visit a Neopolitan Creche that was made in 1720 at the The Abbey of Regina Laudis in Bethlehem.
19. Take a look at restored carrousel horses in Bristol at the The New England Carousel Museum.
20. Gorge yourselves on candy at the nostalgic Sweets Shop in New Preston.
21. Check out the latest movies at the quaint Art Deco Bank Street movie theater in New Milford and then take a walk across the street to a great toy store - PLAY.
22. Go ice skating during open skate at The Gunnery, Kent School and or South Kent School.
23. Go skiing or snowboarding at Mohawk Mountain.
24. Go snow tubing at Woodbury Ski Area.
25. Go horse and sleigh riding in Stockbridge in January.
26. Take your 4-7 year old to a yoga class at the Woodbury Yoga Centre.

SPRING
27. Visit 21 different birds of prey at Audubon Sharons' Raptor Center including a bald eagle and great horned owl
28.Visit a model solar system that scans six miles built to scale at the John J. McCarthy Observatory in New Milford.
29. Go geocaching at the Little Pond Loop Trail at White Memorial Nature Center.
30. On a Saturday afternoon go for a farm tour at the lovely Arethusa Dairy farm in Litchfield.
31. Take the little ones to story hour at the Litchfield Hills Farm Fresh Market and then shop at this comprehensive outdoor market for local fresh produce along with local jams, granola, salsa, bread etc.
32. Visit the daffodil display in Litchfield in April.
33. Walk a 7-circuit labyrinth at the Wisdom House in Litchfield
34. See a live snake habitat and fluorescent rock cave in the children's room at White Memorial Nature Museum and then take a hike along a boardwalk trail though a wetland environment.

SUMMER
35. Visit more than 50 Alpacas and their new babies in July at Southwind Farms in Watertown during the Daylily Alpaca Fest
36. Spend the day rafting down the scenic Housatonic River with Clarke Outdoor River Guides
37. Go on a drive-through safari where you may drive your vehicle through a 50 acre fenced in exotic wildlife park at Action Wildlife. Keep an eye out for zebras and buffalos.
38. Feed a baby lamb milk from a baby bottle at Action Wildlife's petting zoo.
39. Go on horseback trail ride or pony ride at Lee's Riding Stables in Litchfield
40. Race go-karts and play phazerball at the family entertainment center R&B Sportsworld in Winsted
41. Picnic on a hillside while watching race cars speed by at Lime Rock Park; touted as "The Road Racing Center of the East".
42. Rent a kayak or canoe and paddle around the scenic 680 acre Lake Waramaug.
43.Sit on the lawn at the Kent School and listen to Jazz during the Litchfield Jazz festival.
44.Hike up to the top of Kent Falls and swim at the top.
45.Visit a replica of a pioneer cabin as described by Eric Sloane in 1805 at the Sloane-Stanley Museum & Kent Iron Furnace.
46.Take a ride on a vintage 1927 wooden roller coaster at Lake Compounce, the nation's oldest, continuously operating amusement park.
47.Take your kids to splash in the East Aspetuck River at Pratt Nature Center in New Milford.
48.Hike up to the Lookout Tower and enjoy the view at Mount Tom State Park and then jump in for a swim at the sandy beach on Lake Tom.
49.Go spelunking at Tory's Cave in New Milford.
50.Check out the thousands of sunflowers at Waldingfield Farm in Washington.
51.Volunteer for a day at Judea Garden, a garden grown for the community, in Washington.
52.Pick your own strawberries and blueberries at Ellsworth Hill Orchard and Berry Farm in Sharon.