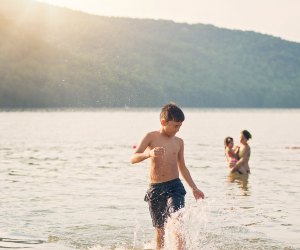 Best Swimming Ponds and Lakes for Connecticut Kids
Connecticut is home to great water parks and more than 20 beaches, but some families are partial to the many ponds, lakes, and freshwater areas—some 3,000 across the state!—where kids can swim in calm waters. Here are our recommendations for swimming ponds and lakes where families can cool off and enjoy beautiful vistas. For more aquatic adventures, be sure to check out our Beaches and Water Fun Guide.
Bantam Lake - Morris
The only beach open to the public on Bantam Lake, Sandy Beach offers a shaded picnic area, concession stand, and lifeguards during summer hours. Extend your time in the picturesque Litchfield area by camping here, or enjoy water sports, boating, and fishing. An entrance fee applies.
Candlewood Lake - Danbury
Sink your toes in refreshing water or sprawl on soft sand. Have a feast at the nearby picnic tables, grab a sweet treat at the concession stand, make memories at the playground, or row away from the boating dock. Entrance fees apply.


Lake McDonough has lifeguards, changing rooms, a picnic area, and more perks. Photo courtesy of The Metropolitan District Hartford, CT
Lake McDonough - Barkhamsted
Featuring wheelchair accessibility, bathhouses, a boathouse, and picnic areas, this lake area is an ideal destination to enjoy pristine beauty. Swimming at East Beach is allowed only Thursday through Sunday. (As of 2019, West Beach and Goose Green Beach are currently closed to the public.) Fees apply.
Burr Pond State Park - Torrington
Enjoy swimming, boating, fishing, hiking around the pond, grilling in the shaded picnic area, or indulging in something from the concession stand. No entrance fee for state residents.
Squantz Pond State Park - New Fairfield
Marked by year-round beauty, Squantz Pond features swimming, picnicking, fishing, boating, hiking, and scuba diving. No admission charge for state residents.

Mt. Tom State Park - Litchfield
Go swimming, enjoy a picnic, and hike to the stone lookout tower for panoramic vistas. The lake offers fishing, scuba diving, and non-motor boating. The parking area is limited and does fill out quickly, so plan on arriving early. No entrance cost for state residents.
Lake Waramaug State Park - Kent
Enjoy a scenic picnic and go swimming in one of the most beautiful lake surfaces in the state. Spend the night at one of the 70+ campsites or enjoy a different water view from a canoe. Residents pay camping fees, but no park access fees.
Bordered by a shady picnic ground, Indian Well State Park is free for Connecticut families. Photo courtesy of Connecticut Office of Tourism
Indian Well State Park - Shelton
Hike to the park's scenic waterfalls and play in the splash pool at the bottom of the falls. The shaded picnic grove on the water's edge offers respite on a hot day, while the sandy beach is a perfect spot to relax and recharge. No fee for state residents.

Day Pond State Park - Colchester
Stone walls will remind you of the Colonial era when water from the pond was used to power a nearby sawmill. Bordered by a sandy beach, the pond is now a refreshing swimming destination and also a great spot to go trout fishing. Hiking and picnic facilities also available. Free entrance for state residents.
Hop Brook Lake - Middlebury
This beach and swimming area are popular given the natural beauty surrounding the area. Tables and grills are available for picnics, and the lake and its feeder streams are stocked with brown, brook, and rainbow trout. Fishing here will also yield bass and panfish. All park users pay a flat day-use admission fee.