Top 15 Swimming Pools for Families in Connecticut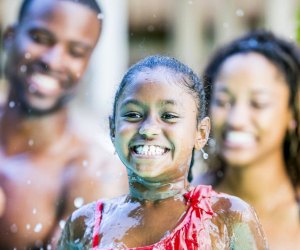 7/3/22
- By
Jennifer Coe
Kids plus swimming pools are what summer dreams are made of, and the Hartford area has plenty to offer. We've rounded up our favorite outdoor pools where you and the kids can take a refreshing dip during the summer months around Connecticut. So read on for the top 15 swimming pools for families in Connecticut.
Find the right swimming pool for your family, whether that's one with an adjacent playground or an inexpensive day pass. A number of these spots offer kiddie pools, but you can also check out our list of awesome splash pads in the area, too. We've also put together a guide to the 10 Best Ponds and Swimming Lakes for Connecticut Kids.
One thing's for sure: There are plenty of ways to get wet and stay cool this summer in Connecticut!
Top 15 Swimming Pools - Around Hartford County

Fernridge Pool features a splashpad, payground, and more. Photo courtesy of TLB Architecture
Fernridge is a great place to visit, with lovely, natural grounds, a huge playground, a splash pad, and a pool. The pool is 25 yards long and has a zero-depth area. The public is welcome to swim Monday through Friday, from lunchtime through the early evening.
Here are two great pools with different amenities. Goslee is a full-size pool but has outdoor showering and a nearby splash pad for the younger set. Welch's large pool has a diving board and a fenced-in toddler pool that is 1.5 ft deep for littles trying to get used to the water for the first time. Recreational swimming is during the afternoons.
Open to residents and non-residents alike, Grange Pool opened on June 14 for swimming. It's a large pool with public bathrooms and picnic space. Depth is 3 feet to 10 feet. The pool is open for public swimming from 1 pm-5:30 pm, Monday through Friday. Don't forget to try out the water slide.

Churchill Park Pool is fun for kids of all ages. Photo courtesy of Newington Parks and Recreation, Facebook
Come and see Mill Pond Park, a lovely, scenic place to swim with a huge playground and outside, outdoor pool, fishing, and more. Recreational swimming times are usually in the afternoon hours. Churchill Park Pool offers a large swimming area and open swim times.
This is a great and well-maintained facility. Public swim hours begin at the end of June and go from lunchtime through early evening. On the weekends, the cost of a day pass is slightly higher. Children 2 and under always swim free.

Summer is meant for fun with friends! Photo courtesy of Simsbury War Memorial Pool/Facebook
Memorial Pool is open daily for public swimming. The cost for a dip is only a couple of bucks. Kids will enjoy the low diving board, kick-boards, and playing with friends in the water. A plus is the toddler wading pool right nearby, where little can get wet and have fun with peers.
The pool is open from 1 pm-4:45 pm on weekdays. Children 5 and under are FREE! Also, check out Willow Brook Pool. It has a big splash pad with free admission.
Come down and swim at Pesci Park's large pool. Depth starts at 2 feet 6 inches. Open swim is Monday through Friday. Daily passes can be purchased for .50 (for kids!) and $1.00 for adults. Swimmers under the age of 14 must be accompanied by an adult.
Top 15 Swimming Pools - Around Fairfield County
Wolfe Park Pool was beautifully renovated in recent years and is situated in a park so great, that we devoted a large portion of a Day Trip post to it.
Nestled in Sandy Hook, Treadwell park has an eight-lane, 25-yard pool, with a diving "L" and a wading pool. Locker facilities are available.
The Riverbrook YMCA has several ways to get wet in the summer, and all of them can be accessed with a day pass. Day passes include the use of a 50-meter outdoor pool, a beach at Kiwanis Pond, and a children's summer splash pool.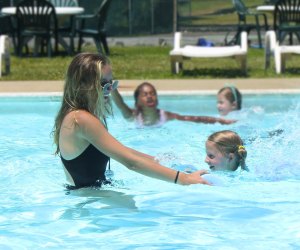 Swimming pools combine outdoor activity and family fun. Photo courtesy of the Lakewood Trumbull YMCA
The Family Outdoor Center of the Lakewood Trumbull YMCA is located on 47 acres of land. There are lots of possibilities for outdoor fun, relaxation, and exploration. Spend the day and unwind near one of their three outdoor pools.
From late spring through the end of summer, guests can purchase a guest pass to use this ​outdoor heated pool. Lifeguards are on duty daily.
Top 15 Swimming Pools - New Haven and Eastern Connecticut
The Cheshire Community pool is technically indoors, but during the summer months, they keep the large garage doors open. Every day at noon, the inflatables come out for the kids to play on! There is also a kiddie pool, lap lanes, and a 4ft section with games like basketball.
For 45 minutes, your family (up to 6) can reserve two half lanes of the Madison Racquet and Swim Club's outdoor pool. This small club is located in a natural setting in this charming shoreline town.
This post was originally published on 6/14/2019.