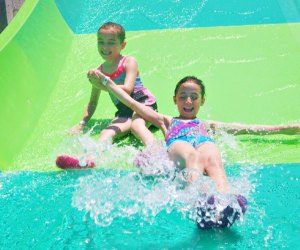 Outdoor Water Parks in Connecticut for Kids and Family Fun
Lake Compounce Family Theme Park - Bristol
Lake Compounce is the oldest continuously-operating amusement park in North America. Among other famous attractions, Lake Compounce is home to Boulder Dash, which has been voted the world's #1 wooden roller coaster, as well as Connecticut's largest water park. The water park is the perfect size—not too big. It has water cannons and slides; Mammoth Falls, a high speed family raft adventure; Lake Plunge, a slippery tube slide into the lake; the Wave Pool & Pirate Ship; and Tunnel Twisters, which are three twisting and turning tunnel slides. There is no separate water park-only fee here, but children under three are free.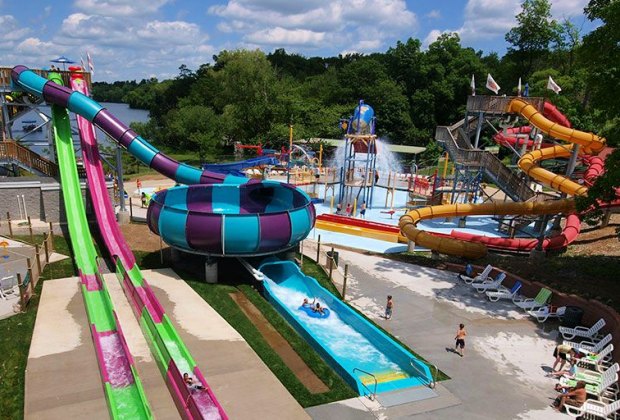 Colorful water slides are at the center of Quassy. Photo Courtesy of Quassy Amusement Park​
Quassy Amusement Park - Middlebury
Quassy Beach & Saturation Station is the interactive family water play area at Quassy Amusement Park. From cascading fountains to water cannons and bucket waterfalls, Saturation Station provides fantastic interactive water play fun for all ages. At center stage of the multi-tiered complex is a huge tipping bucket that sends more than 300 gallons of water onto the guests below. Challenge kids to conquer the gigantic "Tunnel Twister" waterslide, the newest addition to "Saturation Station," which includes 400 feet of twisting, turning water action. When you need to take a break from all the water park excitement, you can relax and take a dip in cool, refreshing Lake Quassapaug. Changing areas and lockers to store your personal items are available. Lifeguards are always on duty.

Ocean Beach Park - New London
If what you are looking for is less amusement park and more low-key beach vibe with some splashing mixed in, then check out this half-mile of pristine "sugar-sand" beach, which gives you plenty of room to spread out and enjoy your day in the sun before visiting the sprayground area. Along with a nature trail, a picnic area, amusement rides, an arcade, mini golf, and a playground, Ocean Beach Park has a 50-meter, Olympic-sized pool, a triple water slide, and a sprayground that's great for little kids. The price of parking includes park admission for everyone riding in the car; many attractions require a small fee but the sprayground is free.
Brownstone Exploration and Discovery Park - Portland
This is a water park of a different style. Located on a natural body of water, Brownstone has a lot of different things to do, many of them in the water. Are you a water skier? Check. Do you love inflatable water slides? Check. There are dozens of inflatable obstacles for all levels available for a day's worth of play. And don't forget the "extreme" rope swing into the water. Day passes and season passes are available. A "Web Adventure Pass" gets you access to the rope swing, scuba diving, water slides, cliff jumping, and zip lines.
Originally published August 1, 2011