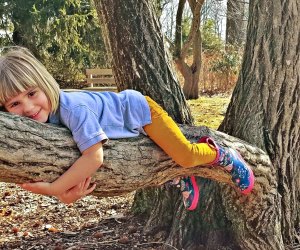 50 Fall Things to Do in Connecticut with Kids
2020 update: Due to the evolving nature of COVID-19, events can be changed or canceled and attractions could close at any time, so be sure to check with event organizers and venues before heading out for the day.
1. Visit Mystic; it's fun anytime of the year. The sea lion show at the Mystic Aquarium is particularly entertaining. 2020 note: Timed tickets are mandatory in 2020.
2. Experience a replicated Algonkian Village at the Institute of American Indian Studies.
3. Take in some nature as the leaves turn at one of the Connecticut Audubon Society locations.
4. Sample some fresh cider and other fall treats at Cider Saturday in New Canaan.
5. Wave to some Jack-O-Lanterns from your car in Pumpkintown, USA—it's drive-thru style this year!
6. Explore New England's woodland environment at Roaring Brook Nature Center.
7. Close out the drive-in movie season with at the Southington Drive-in.
8. Enjoy a concert at the Ridgefield Playhouse – check their website for a list of performers.
9. Check out the exhibits at the Children's Museum in West Hartford. 2020 update: Purchase timed tickets this year.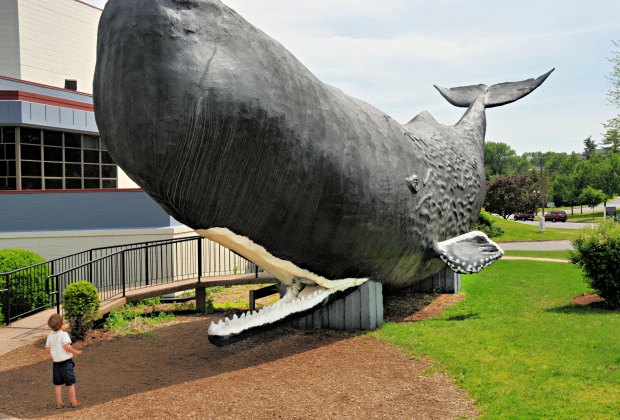 Get greeted by the giant whale at the Children's Museum in West Hartford. Photo courtesy of Visit CT
10. Go for a mellow scenic 10 mile family bike ride starting at the Kent Boarding School, winding along an Indian Reservation and the Appalachian Trial before reaching Bulls Bridge, one of the few working covered bridges in CT. Check out the beautiful and powerful waterfall while there.
11. Take one last ride of the year and enjoy fall food and music at Quassy's Oktoberfest.
12. Take a orchard tour of Connecticut at these best places to pick apples across the state.
13. Take a hayride on the farm to see animals, pick pumpkins, or even get some Halloween thrills.
14. See how cider is made and sample some of Connecticut best doughnuts at B.F. Clyde's Cider Mill.
15. Southington's annual apple fest may be canceled this year, but you can still pick local apples at Karabin Farms.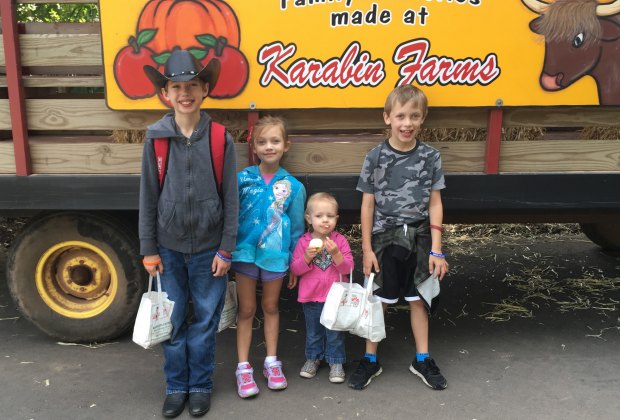 Apples, animals, pumpkins and more are waiting to be discovered at Karabin Farms.
16. Visit the Danbury Railway Museum which offers history lessons, train rides (seasonal) and hands on learning. Fun for train fanatics and their parents! 2020 update: At press time, the museum was temporarily closed but expected to reopen: Check website for updates.
17. Take a driving tour and visit some of our Connecticut's very own lighthouses, or go on a lighthouse cruise.
18. Take the kiddos to IT Adventure Ropes Course to burn off some steam from school.
19. Enjoy pumpkin season and a hayride at Warrup's Farm in Redding.
20. Take your preschooler for a short hike, and enjoy the smiles of pride when you reach a peak or the end of your loop.
21. Learn about fall butterfly migration (and maybe even tag a specimen before its long trip) during Magical Monarchs week.
22. Visit a family-friendly vineyard for lovely walks, tastings, and food.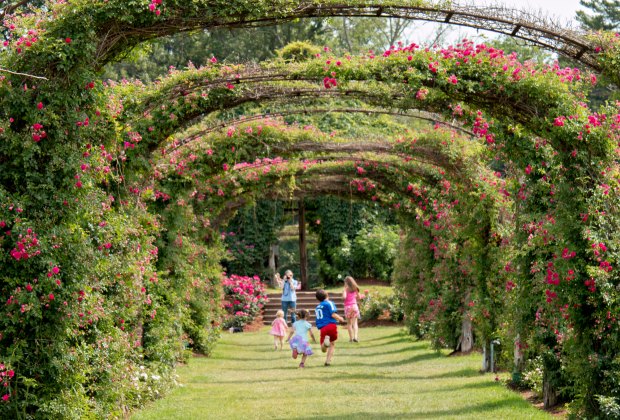 Stop and smell the last roses of 2020 at Elizabeth Park. Photo courtesy of Connecticut Office of Tourism
23. Smell the early-fall roses at Elizabeth Park's rose garden.
24. Go pumpkin picking at Scott's Yankee Farmer in Gales Ferry.
25. Let your imagination run wild at the Imagine Nation Museum. 2020 update: Museum Studios are closed at press time, but the Early Learning School is operating.
26. Spend the day playing in the Treehouse Arcade while the parents win cash at Foxwoods Casino. 2020 update: The resort is limiting visitors to 25 percent capacity to allow for social distancing.
27. Learn about the prehistoric times at Dinosaur State Park.
28. Go to Beardsley Zoo, Connecticut's only zoo!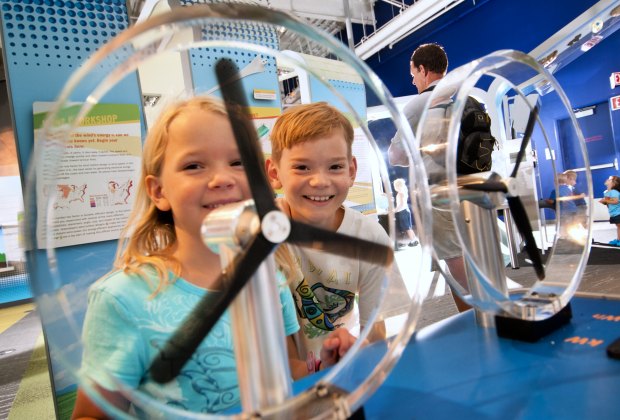 Connecticut Science Center is all about hands-on learning. Photo courtesy of Connecticut Office of Tourism
29. Check out a fun exhibit at the Connecticut Science Center. 2020 update: Timed tickets are required.
30. Take a hike and check out these scenic waterfalls.
31. Enjoy the fall colors (and some exercise) on a Rail Bike along the Essex Steam Train Route.
32. Try not to get lost in one of Connecticut's awesome corn mazes.
33. Make a weekend trip to one of New England's prettiest towns in the fall.
34. Gaze at the amazing (14 acres!) sunflower maze at Buttonwood Farm.
35. Take a ride in the Nutmeg state to see the amazing fall foliage.
36. Learn all about Connecticut's most famous author at the Mark Twain Museum in Hartford.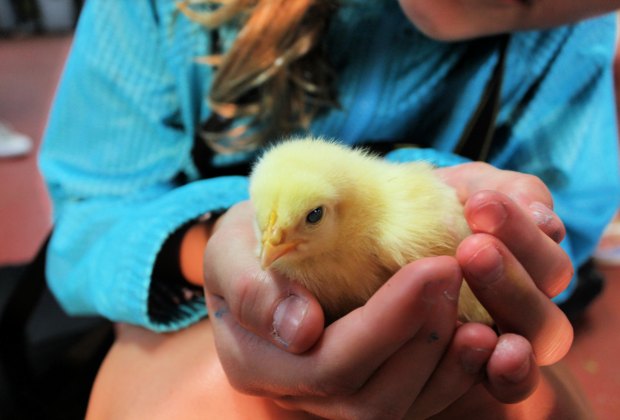 You can get close to baby animals, courtesy of Flamig Farm.

37. See the chickens (lots and lots of chickens) and the other animals at Flamig Farm. 2020 update: Guests are asked to make reservations for visits.
38. Check out touch tanks and take a water taxi tide at the Connecticut Maritime Heritage Festival.
39. Take in the fall colors and warm up around the campfire at a Connecticut campground that's fun for families.
40. Venture beyond the neighborhood to one of Connecticut's best playgrounds.
41. Go apple picking at Lyman Orchards and then bake up some healthy apple muffins for school (or homeschool) breakfasts
42. Take a trolley ride along the Connecticut shoreline.
43. Steal away for a quiet, outdoorsy family weekend in New Hampshire's White Mountains.
44. Create a family masterpiece at Muse Paintbar.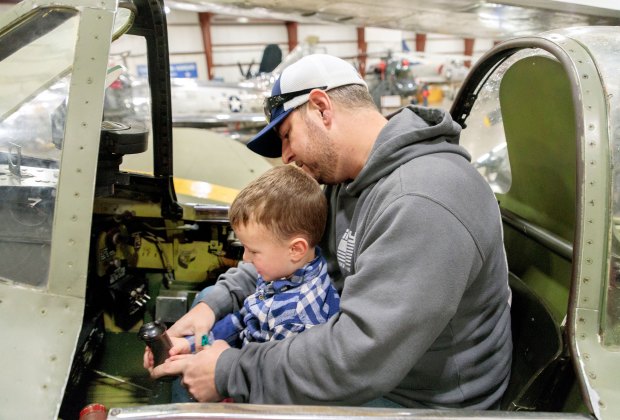 Take a "ride" on Cockpit Day at New England Air Museum. Photo courtesy of the museum
45. Take your little pilot to the New England Air Museum to check out the amazing historical airplanes.
46. Jump in a boat with the whole family with Collinsville Canoe.
47. Ride a trolley to the pumpkin patch at the Connecticut Trolley Museum. 2020 update: Buy tickets online before heading out.
48. Scream. laugh, and see some cute animals at a Haunted Petting Zoo.
49. Take a Halloween Hike under a full Blue Moon this year.
50. Pick out apple pie, pumpkin bread, or Thanksgiving dinner ingredients fresh from a farmer Stamford Museum and Nature Center Farmers Market, Downtown Bridgeport Farmers Market, or Harbor Point Farmers Market.
Originally published September 3, 2016