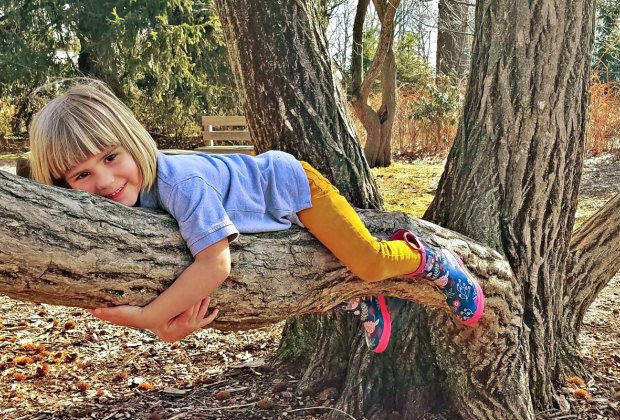 50 Fun Things to Do This Fall in Connecticut
Taking hikes, picking apples, exploring corn mazes, going to a fall festival, finding that perfect pumpkin, and celebrating all things spooky and sweet on Halloween...there's so much fall fun in Connecticut! Here's a list based upon our ever-popular 100 Things to Do with Kids in Connecticut Before They Grow Up, but themed around busy, beautiful autumn. It's filled with great places to visit and fun things to do for families all over the state. For even more ideas to make the most of the season, check our Connecticut Fall Fun Guide.
1. Visit Mystic; it's fun anytime of the year. The sea lion show at the Mystic Aquarium is particularly entertaining. While in the area make sure to hit up the fun shops in Olde Mistick Village.
2. Experience a replicated Algonkian Village at the Institute of American Indian Studies.
3. Take in some nature as he leaves turn at one of the Connecticut Audubon Society location. Each one is different!
4. Relax, and take a step back in time in a restored vintage 1920s train coach while taking a 20-mile round trip ride on the Naugatuck Railroad from Thomaston Railroad Museum of New England.
5. Go see a show at the art deco Warner Theater in Torrington built in 1931.
6. Explore New England's woodland environment at Roaring Brook Nature Center.
7. Create a wooden sculpture in Village Center for the Arts in New Milford's Drop In Artist Studio. Clay building and paint-your-own pottery is also available.
8. Enjoy a concert at the Ridgefield Playhouse – check their website for a list of performers.
9. Check out the exhibits at the Children's Museum in West Hartford.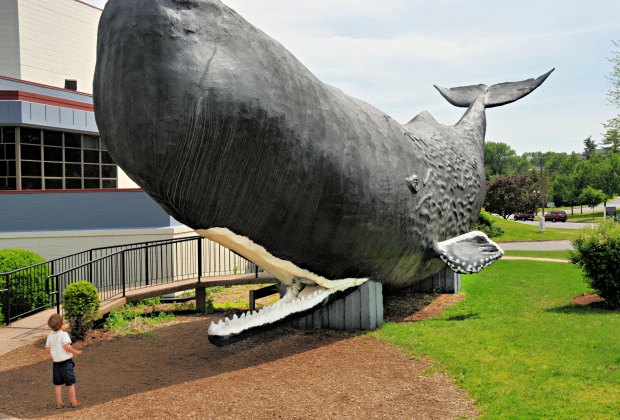 Get greeted by the giant whale at the Children's Museum in West Hartford. Photo courtesy of Visit CT
10. Go for a mellow scenic 10 mile family bike ride starting at the Kent Boarding School, winding along an Indian Reservation and the Appalachian Trial before reaching Bulls Bridge, one of the few working covered bridges in CT. Check out the beautiful and powerful waterfall while there.
11. Find your pumpkin at Angevine Pumpkin Patch in Warren.
12. Pick your own apples at Beardsley's Cider Mill and Orchard in Shelton, CT. and one of these other great orchards.
13. See one of the amazing productions at the Bridgeport Theatre.
14. Snuggle into a cozy chair at one of these awesome tea rooms all across Connecticut.
15. Go apple picking at Karabin Farms.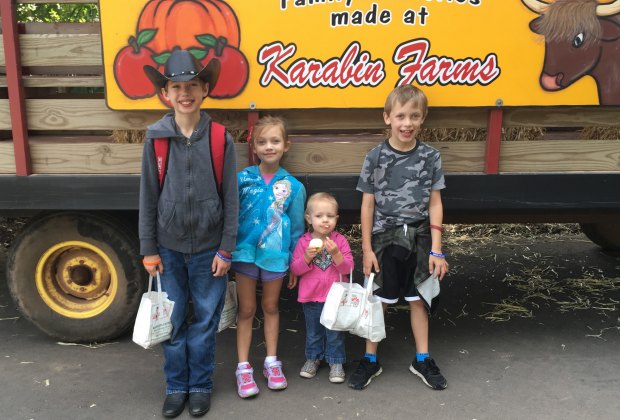 Apples, animals, pumpkins and more are waiting to be discovered at Karabin Farms.
16. Visit the Danbury Railway Museum which offers history lessons, train rides (seasonal) and hands on learning. Fun for train fanatics and their parents!
17. Eat apple fritters at the Southington Apple Harvest.
18. Take the kiddos to IT Adventure Ropes Course to burn off some steam from school.
19. Enjoy a hayride at Warrup's Farm in Redding.
20. Head to Bridgeport to check out the PT Barnum Museum. Learn about the famed circus, its creator, and many of its famous performers.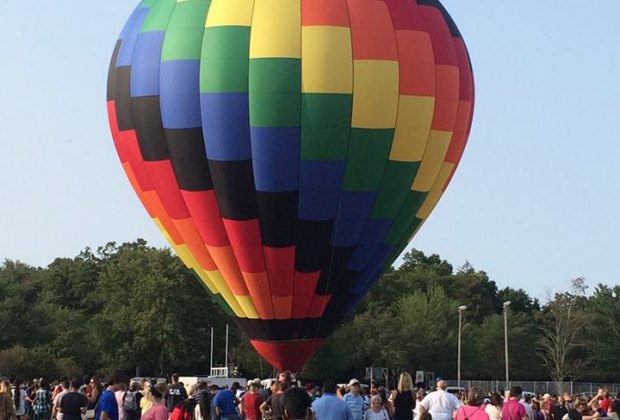 Plainville is home to an annual Hot Air Balloon Festival.
21. Gaze in awe at the Hot Air Balloon Festival.
22. Dress up and enjoy a show at the Bushnell Memorial Theater.
23. Smell the early-fall roses at Elizabeth Park's rose garden.
24. Go pumpkin picking at Scott's Yankee Farmer in Gales Ferry.
25. Let your imagination run wild at the Imagine Nation Museum.
26. Spend the day playing in the Treehouse Arcade while the parents win cash at Foxwoods Casino.
27. Learn about the prehistoric times at Dinosaur State Park.
28. Go to Beardsley Zoo, CT's only zoo!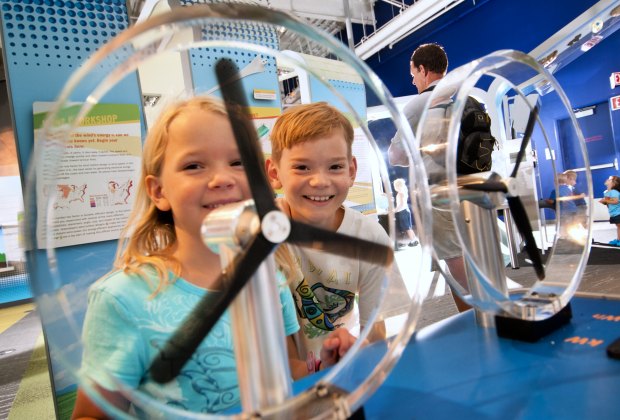 Connecticut Science Center is all about hands-on learning. Photo courtesy of Connecticut Office of Tourism
29. Check out a fun exhibit at the CT Science Center.
30. Take a hike and check out these scenic waterfalls.
31. Get your pumpkin at the absolutely unforgettable Pumpkintown U.S.A.
32. Try not to get lost in one of Connecticut's awesome corn mazes.
33. Enjoy some not-so-scary Halloween fun in Fairfield or Hartford.
34. Gaze at the amazing (14 acres!) sunflower maze at Buttonwood Farm.
35. Take a ride in the Nutmeg state to see the amazing fall foliage.
36. Learn all about Connecticut's most famous author at the Mark Twain Museum in Hartford.
37. See the chickens (lots and lots of chickens) and the other animals at Flamig Farm.
38. Explore what is in a pond in the autumn at the Pond Exploration at the Conn. Audubon.
39. Go bounce off the walls at Launch Trampoline Park.
40. Attend a Friday night Nerf Battle at AMParkour in New Britain.
41. Go apple picking and then apple baking with apples from Lyman Orchards.
42. Enjoy a corn maze or a hay maze at the Fair Weather Acres Corn Maze.
43. Take an art class at Connecticut Art School in South Windsor.
44. Create a family masterpiece at Muse Paintbar.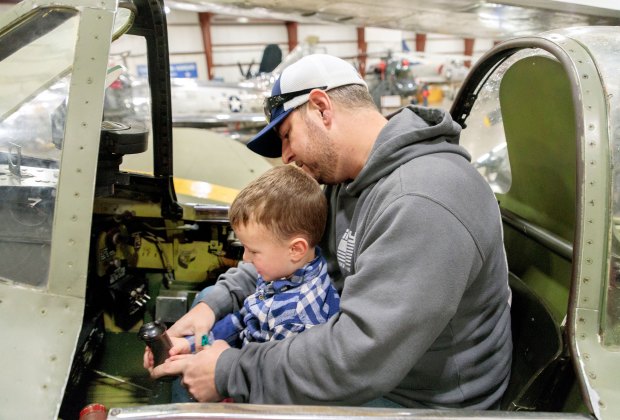 Take a "ride" on Cockpit Day at New England Air Museum. Photo courtesy of the museum
45. Take your little pilot to the New England Air Museum to check out the amazing historical airplanes.
46. Jump in a boat with the whole family with Collinsville Canoe.
47. Take in the amazing world of the Connecticut Native Americans at the Mashantucket Pequot Museum.
48. Close out the drive-in movie season with at the Southington Drive-in.
49. Take a fall trolley ride and pick out your favorite pumpkin too at the Connecticut Trolley Museum.
50. Take a driving tour and visit some of our Connecticut's very own lighthouses.
Originally published September 3, 2016