Best Family Hikes in Connecticut To Take with Kids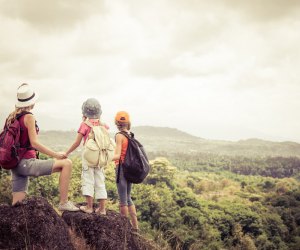 7/4/17
- By
Makayla O'Keefe
Have you ever planned a perfect day of hiking with the kiddos only to hear whines ranging from "I'm bored," to, "I have to go to the bathroom," to, "Are we there yet?" I have definitely been there and feel your pain. You've packed the perfect picnic lunch to be enjoyed alongside a babbling brook after you've spent your morning becoming one with nature but your kids have lost interest after finishing their Nature Valley granola bar 10 minutes into the hike. Sigh.
Well, have you considered climbing a mountain? We have rounded up some hikes across the state that are sure to keep the kid's interest as you scale mountain tops, discover giants, castles, and maybe a hobbit house or two.
Mount Tom - Litchfield
If you seek lofty views with little effort, this short hike is for you. The trail to the summit begins in Mount Tom State Park and follows yellow-marked trail blazes through oak woodlands, reaching the summit after about 1 mile. For older children, quiz their tree knowledge by asking them to identify different types of trees and rocks along the trail.
Route 202, Litchfield 06759
Jones Mountain Preserve - New Hartford
With beautiful views, carriage roads and stone bridges, this 158-acre preserve is a great place for kids. A structure known as the "foam dome" channels some serious Planet of the Apes vibes or could perhaps pass for a hobbit house. There are several miles of trails that pass through the old homestead once known as "The Woodlands."
161 Steele Road New Hartford 06057
Gillette Castle Railroad Trail - East Haddam
The fairy tale grounds of Gillette Castle offer beautiful stone bridges and an old railroad bed. Navigating down an easy series of trails, children can follow the path where visitors like President Calvin Coolidge and Albert Einstein once rode on the "Seventh Sister Short-line" — William Gillette's miniature railroad. With stunning views, a rock turnaround, and a cool train tunnel throughout three miles of trails, your kiddos will love discovering what's hidden along the hike. And, kids can see the train engine that once ran over the grounds in the visitors center. The castle is on Geer Hill Road off Route 148.
67 River Road East Haddam 06423
Sleeping Giant – Hamden
From a distance, you can see the sleeping figure of a giant in the hills straddling Hamden and Cheshire. But rest assured, once inside Sleeping Giant State Park, you'll only find trickling streams, rocky outcroppings, and maybe some Quinnipiac students. The one and a half mile trail will offer panoramic views of Long Island Sound and the New Haven area at the peak of Mt. Carmel. Bonus: there's a great Looney-Toons themed letter-boxing series hidden along the orange and white trails.
200 Mt. Carmel Ave Hamden 06518
Bear Mountain – Salisbury
With an elevation of 2,316 feet, Bear Mountain in Salisbury is Connecticut's highest peak. The moderately trafficked Bear Mountain Trail loop intersects the Appalachian Trail at the highest peaks. Head to the top of "Lion's Head" for a stunning panorama of the state.
Rt 44 Undermountain Trail Head Salisbury 06068
Lantern Hill – North Stonington​
From its craggy granite and white quartz summit, visitors of Lantern Hill can see the Atlantic Ocean, Long Island Sound, Fishers Island, Long Island, the hills of Connecticut, Rhode Island, Massachusetts and two nations — the Mashantucket Pequot and Mohegan tribal nations. Pick up the Lantern Hill Trail loop for a gradual climb. On the steepest side of the hill, there's a place known as "the Sachem's seat" where Pequot chiefs would scan their territory in search of enemy tribes and, later, English ships at sea.
266 Indiantown Rd. Ledyard 06339
Pachaug State Forest Chapman Area – Voluntown
Inside Pachaug State Forest are some of the rarest places to be discovered in the state. Head to The Rhododendron Sanctuary to check out one of the state's eight National Natural Landmarks. Only a short scenic walk, you'll discover a grove of rhododendrons growing in the heart of a rare Atlantic white cedar swamp. For your young adventurers, head to the top of Mount Misery, but we assure you, it will not be miserable. A visit to the top of the 441 foot high Mount Misery is only about a mile loop.
Spaulding and Dow Roads Voluntown 06384
Bear Mountain – Danbury
Lions, Tigers, and Bears...we're kidding, there won't be lions or tigers. No promises on the bears. Bear Mountain is a reservation tucked in between suburban neighborhoods and nestled alongside Candlewood Lake. Probably the most strenuous, the red trail loops around the Bear Mountain property running through open fields, narrow walkways, and over small hills while the orange trail offers spectacular lake views.
17 Bear Mountain Rd, Danbury 06811
Photo courtesy of Shutterstock