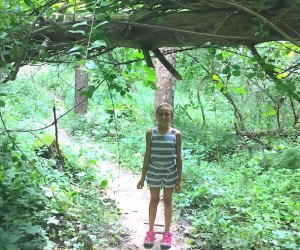 Hiking with the Family in Hartford County, CT
Getting out into nature serves us all well. Going out on a family hike is a wonderful thing to do with the kids. Most of the hikes listed are easy enough that even your little ones can join in. Get your sneakers on, head outdoors and enjoy some of New England's beautiful foliage along the trails in Hartford County. And for a change of pace, check out some of these family friendly hikes in Fairfield County.
West Hartford Reservoir- West Hartford, CT
The reservoir has 3,000 acres of beautiful forest land with more than 30 miles of paved and gravel roads for hikers, bikers and joggers. 1420 Farmington Ave. West Hartford, CT 06107
Hillstead Museum- Farmington, CT
The outdoor area of the Hillstead Museum consists of over three miles of trails that range from easy flat surfaces to more difficult steep rocky terrain. Check the museum's website because they often have special nature walk events throughout the year.
OUR LATEST VIDEOS
35 Mountain Rd. Farmington, CT 06032
Farmington River Trail, Canton, CT
This trail is an 8.5 mile excursion along the scenic Farmington River, with a gateway that emerges in historic Collinsville ending the trail.
Stratton Brook State Park- Simsbury, CT
The park offers 1.2 miles of walking trails so you can work up an appetite before enjoying a picnic in this beautiful state park.
149 Farms Village Rd. Simsbury, CT
Vernon Rails to Trails-Manchester/Vernon, CT
A pretty trail of over 5 miles that overlooks the ravines and streams and passes between scenic rock walls.
Phoenix St and Vernon Ave. Vernon, CT
Originally published 3/24/12.