Visiting Golden Gate Park with Kids: Everything You Need To Know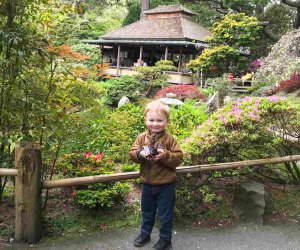 3/12/23
- By
Nicole Findlay
Golden Gate Park, the crown jewel of San Francisco, has over 1,000 acres to explore—all packed with things to do with kids! With row boats on Stow Lake, hikes up Strawberry Hill, museums, carousels, Ferris wheels, and botanical gardens—where is a family even supposed to start? With this guide to all the best things to do in Golden Gate park, you can plan an itinerary for one day or many.
Locals and tourists alike won't want to miss favorite activities, like visiting Claude, the albino alligator, at the California Academy of Sciences, searching for butterflies on Strawberry Hill, and digging into a burger and fries at Beach Chalet.
While planning your visit to Golden Gate Park, check out this list of free museum days for kids in San Francisco. And for more great ways to explore the city, check out our list of fun things to do in San Francisco this weekend with kids.
Must-Do Activities for Families at Golden Gate Park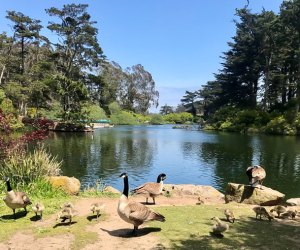 Explore wildlife at Stow Lake by foot or boat.
Stow Lake
Walk around the paved path or cross one of the two stone bridges to the inner circle at Stow Lake. The inner ring can be muddy on wet days, but it's worth the dirty shoes to see the Chinese Pavilion and walk past the waterfall. From the inner path, venture up to the top of Strawberry Hill to find breathtaking views (on a non-foggy day) of the San Francisco Bay, the Pacific Ocean, the Golden Gate Bridge, and the city streets below.
If you'd rather travel by boat than foot, try one of the many pedal or row boats at the lake. Available to rent from the boat house, kids can get an up close and personal look at the lake's wildlife, including ducks, geese, turtles, and herons.
San Francisco Botanical Gardens
Get a map from the check-in counter and explore the 55 acres of blooms at the San Francisco Botanical Gardens. There are over 8,000 different types of plants from all over the world! From wide paved paths to skinny dirt trails, families can climb hills, relax by the pond, and search for their favorite flowers.
Japanese Tea Garden San Francisco
The tranquil Japanese Tea Garden San Francisco has an arched drum bridge kiddos love to play on, stepping stone paths, native Japanese plants, and beautiful koi ponds. After trekking the 5-acre garden, relax at the tea house. Situated in the middle of the Japanese Tea Garden, you can sample a variety of teas and popular Japanese refreshments.
Buffalo Paddock
The Buffalo Paddock can be found at the park's western end. Sit and relax on a nearby bench or step right up the fence. The herd of American bison surprises many people who stumble upon them grazing and resting.
RELATED: 100 Things To Do in San Francisco with Kids Before They Grow Up

Installations will surprise and delight the little ones.
New JFK Promenade
This car-free route down John F. Kennedy Drive from Stanyan Street to 19th Avenue is riddled with things to do with kids. Some offerings include interactive games (like corn-hole), Adirondack chairs for relaxing, public pianos, installations, street art, food trucks, live music performances, and public events for holidays.
Spreckels Lake
For families that love boats, or model boats, to be precise, this is the perfect spot. The San Francisco Model Yacht Club holds events at the lake to showcase model boats, including tugboats, wooden boats, and steam power boats. Gather around the water, watch them glide, or hike around the little lake. The loop around Spreckels Lake is a little less than half a mile and is perfect for strollers.
RELATED: Top 25 Indoor Playgrounds and Play Spaces in San Francisco

Don't forget the cardboard! Koret Playground photo courtesy of MIG
Koret Playground
The largest playground in Golden Gate Park, Koret Playground offers a giant concrete slide that most kids go down sitting on a piece of cardboard. There are separate play structures for smaller guys and bigger kids, a large blue wave sculpture, a towering rope tower to climb, and a carousel. And there's also a little food kiosk nearby to stock up on water or indulge in a coffee while watching the kids explore.
Smaller but equally exciting playgrounds are all throughout the park. Most of the children's play areas in Golden Gate Park include accessible features. For a detailed guide to all accessible features throughout the park, check out this list of all the accessible children's play areas.
The Music Concourse and Skystar Observation Wheel
See San Francisco from above! With views from the Pacific to downtown San Francisco, the enclosed private gondolas on the Skystar Observation Wheel in Golden Gate Park's Music Concourse will thrill little ones (and everyone) for the entire 12-minute ride. This is America's biggest traveling observation wheel, and families can enjoy it until March 2025.
The Music Concourse, bordered by the Skystar wheel, the de Young Museum, and the California Academy of Sciences, offers free concerts on Sundays in the summer. It's the perfect spot to throw coins in fountains, check out the weekend art displays, and look for fairy doors at the bottoms of tree trunks.
Skatin' Place at Golden Gate Park
Skatin' Place is on JFK Drive near 6th Avenue. It's available for roller skating every day, but on Sundays, it's super special. Between noon and 5pm, Skatin' Place is packed with people of all ages skating to groovy music.
Favorite Museums for Kids at Golden Gate Park
de Young Museum
The de Young Museum allows families the opportunity to explore beautiful artwork and get creative through hands-on programs, discovery guides, and videos to learn more about the art. On Saturdays, stop by the free drop-in program for families. Explore the collections and learn new art-making techniques with de Young's team of teaching artists.
Another great feature at the De Young Museum is the observation tower. This spectacular space offers 360-degree views of the city and is a can't-miss feature of the museum.
RELATED: Free Museum Days for Kids in San Francisco

Say hi to Claude and enjoy wonders of the water. Photo by Gayle Laird, courtesy of the California Academy of Sciences
California Academy of Sciences
There are so many things to do with kids at this science museum, which includes an aquarium, a planetarium, a rainforest, and a natural history museum—all within the walls of Golden Gate Park's California Academy of Sciences. Smaller kids love the colorful wall puzzle in the new Curiosity Grove, and the outdoor Wander Woods is a great place to have a snack and explore the natural world. Don't forget to say hi to Claude, the albino alligator who lives with his friends, the sea turtles.
Conservatory of Flowers
This living museum and historical landmark is magical. Families can find colorful and unique tropical plants from the lowland tropics to the highland tropics, as well as aquatic plants, potted plants, and unique plants, in the special exhibits area of the Conservatory of Flowers. The iconic white building, the oldest building in Golden Gate Park, is just as beautiful on the outside as it is on the inside.
Golden Gate Park Restaurants Kids Love
Beach Chalet & Park Chalet
Beach Chalet offers beautiful views and delicious food. With loads of fresh fish on the menu, the fish & chips are a certain kid-pleaser!
Park Chalet, Beach Chalet's more casual sister, and downstairs neighbor, offers garden views. Although you can't see the beach, you can still sit outside and enjoy the ocean air, classic coastal eats, and an extensive kids' menu. For parents, both spots have up to eight brews on tap. For kids, specialty drinks include Roy Rogers or Shirley Temples.
Stow Lake Café
The café at the Stow Lake boathouse offers casual lake-side dining. Try the cooked-to-order burgers, hot dogs, salads, wraps, or one of the vegan options. Coffee, beer, and wine are also available. The historic boathouse is a great place to relax and enjoy the scenery while fueling up.
Annie's Hot Dog Stands
Love hot dogs? Looking for food on the go? Annie's Hot Dog Carts to the rescue! With a wide selection of gourmet sausages, cold drinks, and treats, these hot dog stands are spread throughout the park and open Friday through Sunday from 10:30am - 4:45pm.
You can find Annie's at the Carousel at Koret Playground, the Conservatory of Flowers, at JFK and Tea Garden Drive, behind the Golden Gate Bandshell, and at Spreckels Lake.
de Young Café
The Barbro Osher Sculpture Garden Terrace is home to the de Young Café, where parents can sit and chat while the kiddos run around the enclosed grass area. Menu options include grab-and-go items like salads, snacks, and sandwiches, as well as a Café menu with soup, flatbread, and quiche.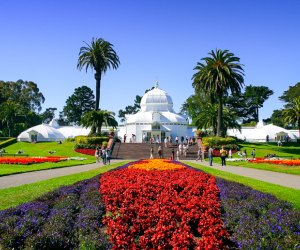 So much beauty to explore. Photo courtesy of the San Francisco Recreation and Parks Department
What To Know Before Visiting Golden Gate Park with Kids
Golden Gate Park Hours
Golden Gate Park is technically open 24 hours a day, but hours differ for each attraction. Check attraction websites for updated hours for each location.
Getting To & Around Golden Gate Park
The easiest way to get to Golden Gate Park is by car. Street parking is available, and there is also an 800-space parking garage at the Music Concourse. It's open seven days a week from 7am-7pm. There are an estimated 4,700 parking spots available throughout the park; so it's never too hard to find a place near where you want to be.
Public transportation is also a great way to get to the park. Between Muni and bus lines, there are plenty of easy ways to make the trip. Check out the SFMTA's trip planner to find the best routes.
Once inside the park, choose how to explore. Walking is certainly the easiest way, but the park is massive, so some may find the Golden Gate Park free shuttle useful. It's available seven days a week to take visitors to and from some of the park's most popular destinations. Also, bikes are available for rent at the park.
With all the open space, Golden Gate Park is super stroller friendly, so bring the babies!
Restrooms at Golden Gate Park
Public outdoor bathrooms are available throughout the park and inside the main attractions. (Hint: the ones inside attractions are often the best stocked and cleanest; the de Young museum restrooms are my family's favorite.)
Attractions Near Golden Gate Park
Golden Gate Park is the largest green space in San Francisco and is bordered by the Richmond District to the North and the Sunset District to the South. Both have delicious dining options, cute coffee shops, and unique stores. Wander over and check them out! A few family-friendly favorite spots include Pacific Catch, Green Apple Book Store, and Cinderella Bakery & Café.
And at the foot of the park is beautiful Ocean Beach. After a long day exploring Golden Gate Park, what could be better than snuggling up on the sand with your family and watching the sunset?
All photos courtesy of the author unless otherwise indicated.