25 Top Indoor Playgrounds and Play Spaces in San Francisco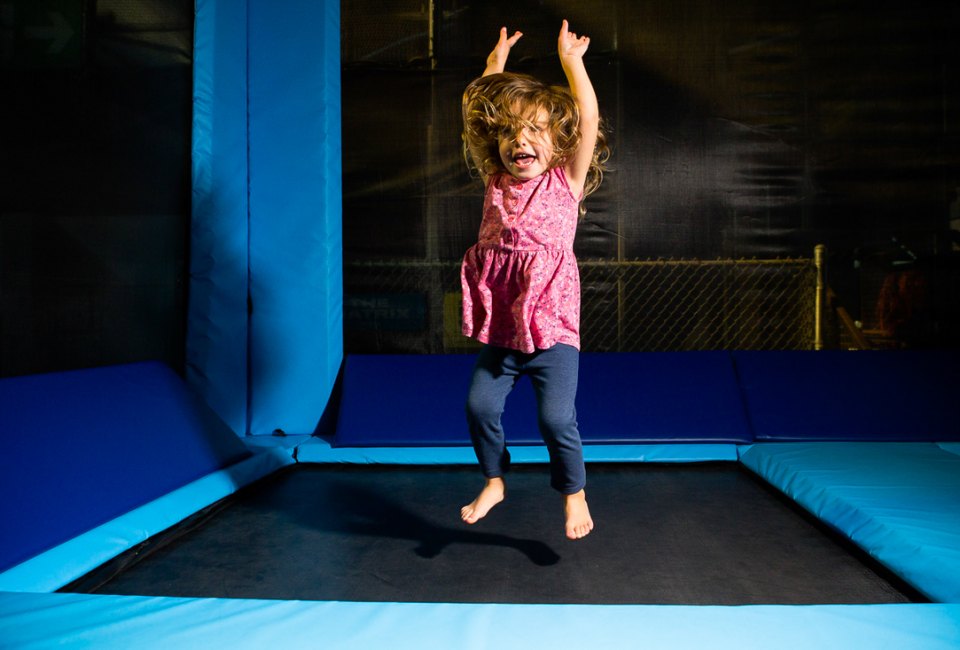 1/15/23
- By
Sandra Lee
Indoor playgrounds and play spaces are always an option to keep in the back of your mind when you need something entertaining for the kids.
It's news to no one that the Bay Area has some of the best outdoor weather. It's perfect for little ones who need to burn some energy, soak up that Vitamin D, and be out in nature instead of in front of a screen. While that's usually easy to do 99% of the time, there are those days, as rare as they are, when the weather just isn't on the same page. With our recent rain party hitting us all this month, families are looking for things to do inside with kids. If you're getting those stir-crazy vibes from the mini-me's, we've rounded up the best indoor playgrounds to check out that are guaranteed to help burn off that pent-up energy. From trampolines to LEGO creations, these indoor playgrounds and play spaces are sure to be a hit on a rainy or hot day.
Don't feel like leaving the house but still need to occupy the kids? Get them moving with these indoor exercises and activities, and scroll through to find tons of ideas when kids are bored. Plus, check out our at-home guide for families.
Subscribe to our newsletters to get stories like this delivered directly to your inbox.
Indoor Playgrounds in San Francisco
With walk-in play offered at all times, this San Francisco indoor playground has three levels of play structures and areas for different age groups so everyone can have fun. Older kids can test their skills at the Ninja Fitness Course with obstacle courses, zip lines, swings, and more. Babies and toddlers (zero to three years old) can play safely in an area with age-appropriate structures. While kids play, parents can catch up on work with free WiFi and chat with other parents.
Located in West Crissy Field in the Presidio, this trampoline park lets kids of all ages fly, jump, and bounce to their heart's content. Three to six-year-old kids can jump on the mini trampolines and not worry about getting bounced off by older children. Kids who want even more fun can participate in an ongoing dodgeball game or join a league. Note that the playspace is closed on Tuesdays.
RELATED: Explore San Francisco's New Presidio Tunnel Tops with Kids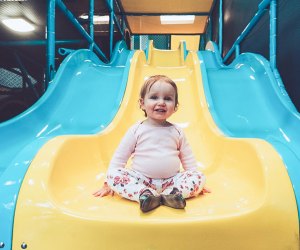 Slide into all the indoor fun. Photo courtesy of Imagination Playhouse
Little ones up to eight years old can work on their fine motor, cognitive, social, and emotional development at this playground made especially for them. Open play is available for kids to roam and explore, and for an affordable price, it's a great way to spend a rainy or unbearably hot afternoon. There is even a drop-off play for up to four hours, perfect for parents who need to run a few child-free errands. Note that socks are required in order to play and are available at the front desk if you forget. They are also closed on Thursdays.
This ocean-themed playground has a three-story obstacle course featuring slides, tunnels, and a massive ball pit. We love that there is a separate section for babies and toddlers with age-appropriate structures and soft foam floors for little bodies. Walk-in open play is available on weekdays and weekends, making it a great last-minute trip on a rainy day. Keep in mind that socks are required to play.
RELATED: "I'm Bored, What Should I Do?" 100 Things To Do When Kids Are Bored

This mini golf course is a hole-in-one. Photo courtesy of Urban Putt
5. Urban Putt — Mission District
This one goes out to the older kiddos who want to find an indoor activity when the weather isn't ideal. Though, we'll admit that the weather doesn't have to be an excuse for an enjoyable afternoon pent here. Urban Putt is an indoor mini golf course in the heart of San Francisco's Mission District featuring themed, high-tech, 14-hole obstacles for families. Food and drinks are available for purchase, and kids can partake in all the fun until 8pm when it becomes a 21 and older spot.
East Bay Indoor Playgrounds
Babies, toddlers, and kids up to six years old can play in this beautiful space just for them. Cook pretend food in a play kitchen, climb up a mini rock wall, go down some slides, and play on the train table. On the hunt for something more structured? Mod Kids has paint and play, crafts and play, and the much welcome "Parents Time Off", so you can work, chat or bask in some quiet time.
East Bay's most spacious, soft indoor playground is a parent favorite. The Creative Zone has a play ice cream truck, hair salon, mini market, and doll house to spark creativity and imagination through play. Energetic kids (up to 12 years old) who like to run and jump will love the play zone. It has tunnels, slides, and obstacle courses to help wear the kids out. There is also a separate baby and toddler area with a ball pit and other age-appropriate structures for them to explore.
The large, 3,000 sq. ft. indoor play area is designed for babies, toddlers, and preschoolers to explore and develop those fundamental fine motor skills through play. With an art room, light room, water play, sensory play zone, and a music area with instruments, there is no shortage of activities for little ones. Bonus, there's a quiet area for infants and pre-walkers and a nursing room for mamas. Closed on Tuesdays, and open early at 10am.
RELATED: 30 Exercise Games and Indoor Activities to Get Kids Moving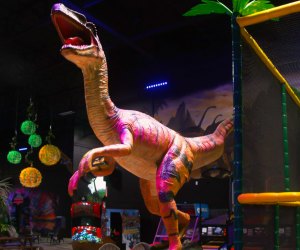 The fun won't go extinct here. Photo courtesy of Lost World's Adventures
Kids can enter a prehistoric world at this 27,000 sq. ft. space for kids of all ages. With activities like black light mini golf, laser tag, mini bowling, a ninja agility obstacle course, a giant ball pit, and so many slides and tunnels, this is a go-to spot to expend all that energy. If the kids need a break, they can check out the arcade for some skeeball or grab some snacks at the cafe.
A welcoming space on a rainy day, this Oakland play area is designed for crawlers to ten-year-olds to play freely. Kids can enjoy a playhouse, a two-story play structure with tunnels, slides, and swings, a LEGO wall, and fun crafts and activities. Parents can pour a complimentary Keurig cup of coffee or tea and catch up on work or appreciate some time not needed to chase the little ones around.
This indoor playground in Castro Valley has all the slides, tunnels, swings, and climbing structures for kids to burn off that energy, but what sets this place apart are the programs and activities. With "Parents Night Out" on Fridays, "Kids Drop Off" Tuesdays-Thursdays, special events like Paw Patrol Meet and Greet, and half-price open play on Tuesdays, it's a fun spot with lots of incentives and promotions.
Indoor Playgrounds in Peninsula
The giant undersea-themed indoor playground has the whole family in mind. A climbing wall, sports court, interactive sketchbook (called Magic Brush), and a separate toddler/baby area mean that the play space has something for everyone. Parents can relax in the lobby with complimentary WiFi, and kids can grab a snack while the playhouse is cleaned, inspected, and sanitized (a feature we love).
RELATED: 65 Indoor Activities for Kids on a Rainy Day

Dive into the foam pools. Photo courtesy of Rockin' Jump Trampoline Park
Rockin' Jump takes exercise to new heights and encourages kids (and adults) to jump, dive into soft foam pools, and try flips and summersaults. Special age-appropriate events like "Neon Nights", evenings of glow-in-the-dark goodness, are not to be missed. Mandatory Rockin' Jump socks are required to play at this unique indoor play space and can be purchased at the front desk.
During Open Play, kids can explore this safari-themed indoor playground for an affordable price. There is no shortage of entertainment for little animal lovers. Kiddos can race on a track, tunnel through a giant toucan, and ascend a gorilla. Parents can hang out in the lounge to work and watch over the kiddos from the second floor. While snacks available for purchase, feel free to bring peanut-free snacks for the kids when they need a break and don't forget the socks!
This giant inflatable playground has slides, tunnels, bounce houses, and ample ways to have fun. While mainly a party space, an open jump is offered with a 15-kid capacity, and registration is required to secure a session (you can even book a private open play if you have a group of kids needed to get out and do something active). Adults are free, so you only need to pay for little ones.
Active play is the goal of this Daly City indoor playground, with ocean-themed play structures that kids can climb, jump, swing, and crawl through. There's also a dedicated space for toddlers. Best of all, this indoor playground happens to be located right inside Serramonte Mall, so if you need to do some shopping, you are already in the right place.
South Bay Indoor Playgrounds
The Plex in San Jose has endless things to do, making it an easy favorite for South Bay parents, with bocce ball, open skate, drop-in volleyball, cornhole, and even an arcade. We especially like the Kids Corner for little ones that need an outlet to run and play. With inflatable jumpers, a rock climbing wall, a basketball half-court, a craft area, and a lounge for parents, kids can hang out for an hour or all day.
Kids can immerse themselves in the world of superheroes and become protectors of the world at Funtropolous. Older kids can test their skills at laser tag in a jungle-themed experience or see how many holes-in-one they can accumulate in mini golf. Kids can also play on the four-level play structure with a lava-themed ball pit, trampolines, and impressive wave slides.
With two levels of indoor play structures including crawl tubes, slides, and tunnels, as well as kiddie rides and arcade games, Luv2Play has it all. A toddler area for children (ages one to four) has soft play equipment and sensory wall panels. A baby area is separate from the main playground for a calmer play experience. There is also a relaxing area for adults and nursing moms. Finally, there's an eating area for when those appetites grow after all the jumping and climbing.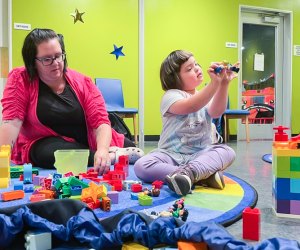 Imagination is endless with LEGO sets. Photo courtesy of the Legoland Discovery Center in Milpitas
Have a little LEGO master? LEGOLAND Discovery Center in the Great Mall in Milpitas is perfect for three to ten-year-old kids to build their best day ever. Children can climb aboard the Imagination Express train, see LEGO characters at the 4D Theater, and assemble epic creations with more LEGO bricks than you can imagine. We wish you luck leaving without purchasing a kit for your kids (or yourself).
While this San Jose indoor play space is typically for private parties, open play is available on select days when registering online. Little ones can hang out in themed rooms like the farm or beach room, outfitted with kid favorites like a life-size barn and indoor sandbox.
Indoor Playgrounds in Marin/North Bay
If you are familiar with the Play-Well Program, a LEGO-inspired program for K-8, then you'll want to check out the Marin Activity Center. A drop-in grants kids access to droves of LEGO sets to build, create, and play from 12pm-6pm, seven days a week.
Bring your seven-year-old and under crew to play at Sausalito's indoor bounce house at the MLK Gym. With play cars, hippity hops, and plenty of balls to throw and catch, kids love this place. The drop-in program is open on Mondays, Fridays, and Saturdays, and registrations are encouraged online.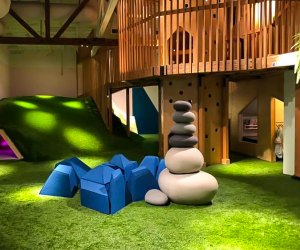 A gorgeous indoor play structure that kids and parents will love. Photo courtesy of Fox & Kit
For parents who love their coffee but also need a place to let the littles run around and play, head over to Fox & Hound in San Rafael. While the kids slide, climb and run on beautifully designed structures that you'll want to incorporate into your home, you can indulge in delicious pastries, premium coffee, and some quiet time. Bring some mom friends along for a breakfast playdate.
The founders of Popytots Cafe have curated a modern collection of soft play structures and equipment so your little ones (up to five years old) can play safely and freely. While parents sip coffee and catch up on work, kids can explore their creativity and imagination.
Sign up for the Mommy Poppins Newsletter today!