Exploring San Francisco's Presidio Tunnel Tops with Kids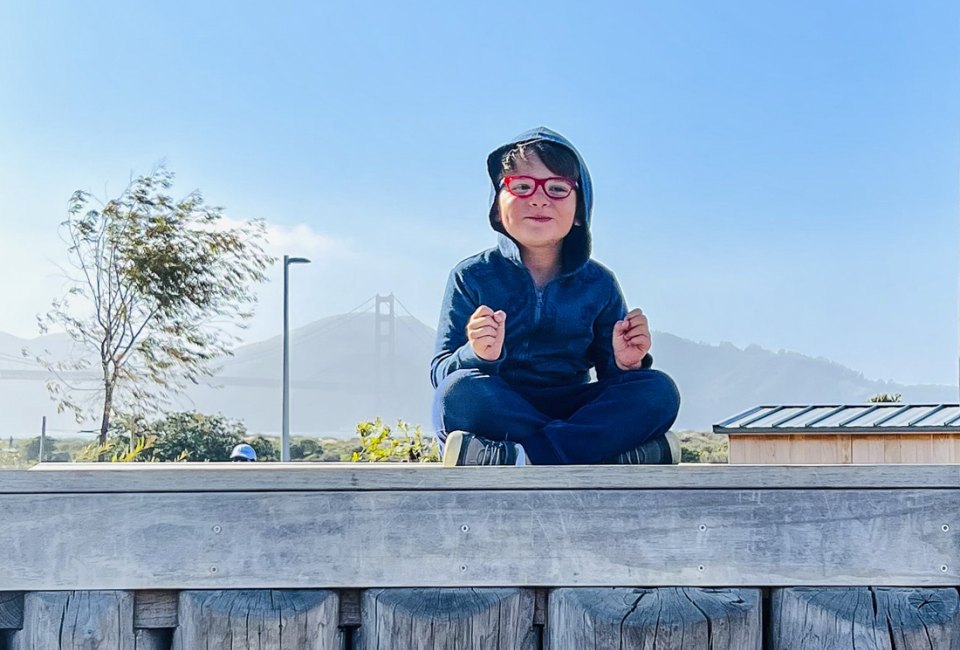 7/31/22
- By
Sandra Lee
The Presidio Tunnel Tops opened to the public on July 17, 2022, after almost a decade of planning and building. Was it worth the wait? You'll find the long answer below, plus tips on how to have the best time and get the most out of your visit with kids. But the short answer is: Oh, yeah! We've broken down all the details from where to park to what to bring and everything in between, so you can have a great time with kids of all ages. All that's left to do is to find a day to enjoy this wonderful new gift to the Bay Area community.
Read on to discover how to get there, where to park, when to visit, and why you'll need to pack an extra set of clothes at this instant new favorite San Francisco tourist attraction.
Who wants a room with a view, when you could have a swing with a view?
The Presidio Tunnel Tops were built on top of (you guessed it) the Presidio Parkway tunnels, offering unbelievable views of the Golden Gate Bridge and San Francisco. It's a great addition to the Presidio National Park and is open every day, free to the public. With so many things to do, events to attend, food to eat, and green space to explore, it's a must-visit for anyone living in or visiting the Bay Area. This would be a great place to bring out-of-town grandparents on a sunny day!
Things To Do with Kids at the Presidio Tunnel Tops
If you've got the little ones in tow, make your first stop the Outpost Play Area for a unique playground experience that was thoughtfully designed and developed. You won't see any colorful plastic here, as all the play structures are made out of wood and metal, which gives a subtle, beautiful nod to the natural environment. At a whopping 2 acres, it's the largest Bay Area playground, and it features slides, a rope swing, a fallen tree, giant boulders, and a tree stump staircase leading up the most Instagram-worthy picture of your kids playing with the Golden Gate Bridge in the background. The playground is suited for kids ages 2-12. There are also two discovery stations where kids can build and interact with natural elements, like water and tree parts.
RELATED: Top San Francisco Restaurants Where Kids Can Play While Parents Eat
Nature is incorporated into everything at the Presidio Tunnel Tops.
As if the playground wasn't enough to inspire a visit, there are loads of free events and places to walk around or sit and enjoy a picnic or the view. The Field Station is a great spot for little scientists to learn how to identify different plants, use tools like microscopes, and create their own adventure maps. There are also self-guided experiences and kits that can be chosen from a menu that changes with the seasons.
The Campfire Talks is another fun event led by National Park Service Rangers. These 30-minute talks about the different people that have passed through the Presidio take place every Friday-Monday at 4pm through September 5. The Campfire Circle is best geared towards older kids, as little ones may wander off to play.
If visiting on a Sunday, check out First Sunday Afternoons at the Tunnel Tops. These afternoons offer up food, music, activities, and performances for the whole family.
Essentials: Packing To Visit the Presidio Tunnel Tops
The first rule of exploring the Bay Area is to bring a jacket. The Presidio can get windy and cold once the fog rolls in, and if you are going to be there all day (which is very likely), bringing layers for when the weather changes keeps kids from getting chilly.
RELATED: Top Rated San Francisco Tours For Families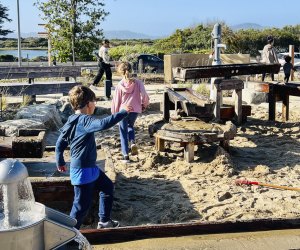 Water, sand, open spaces: there are so many ways to play.
If your kids love water and want to play at the water station, you probably want to pack a change of clothes (including shoes). The water station is super fun, with plenty of fountains and metal water pumps to explore. While you don't need to pack a bathing suit, water shoes that can be used to play at the outpost and water station are a good idea.
Parking at the Presidio Tunnel Tops
Public transportation is an option, with the convenience of not having to pay for parking or find a parking spot. Since it's right across the street from the Presidio Visitor Center, pick-up and drop-off are right there. The Presidio Go Shuttle can take the whole family to and from the Transbay Terminal, Embarcadero BART, and Van Ness/Union St. for free, 7 days a week. The Muni 30 bus takes you right to the park, too. If you opt to drive, there is plenty of paid parking at the Visitor's Center and the neighboring areas. Make sure you look at the sign for restrictions—some spots are paid parking even on Sundays!
RELATED: Best Cooking Classes in San Francisco Bay Area for Kids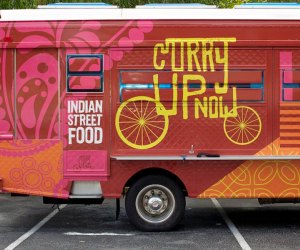 Bay Area favorites included in the rotation include Curry Up Now! Photo courtesy of Yelp
Eating at the Presidio Tunnel Tops
Packing a picnic and having breakfast or lunch on the brand-new lawns and picnic tables is a cost-effective way to enjoy the space. There are even grills that can be reserved for a cookout lunch. If you don't want to pack a lunch, or make an impromptu visit to the Tunnel Tops, it's food trucks to the rescue. There is a rotating schedule of food trucks and pop-up restaurants 7 days a week from 9am - 6pm. Bay Area favorites included in the rotation include Curry Up Now, El Porteno Empanadas, Red Bay Coffee Company, and Whipt. There are also plans to have a restaurant on site later this year, which I can't wait to try!
Spectacular views, 365 days a year.
The Presidio Tunnel Tops is located at 210 Lincoln Blvd. in San Francisco and is open daily, year-round. Visiting is free and open to all. With or without kids, it's a must-visit for anyone living in or visiting the Bay Area.
All photos are courtesy of the author unless otherwise indicated.
Places featured in this article:
Sign up for the Mommy Poppins Newsletter today!