Best Cooking Classes in the San Francisco Bay Area for Kids: Calling All Little Foodies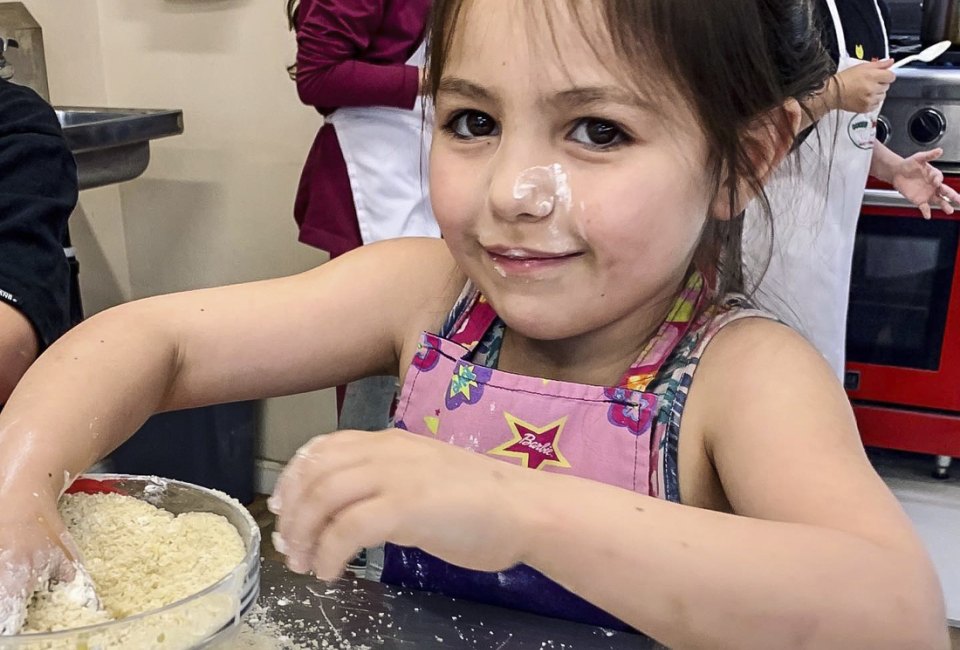 7/3/22
- By
Sandra Lee
If you've got a little kitchen helper on your hands, it might be time to find one of the best cooking classes in the San Francisco Bay Area for kids! Cooking not only helps with math and problem-solving skills, but it's also a great confidence booster and bonding activity. We've rounded up our favorite cooking classes for kids in the Bay Area that run the gamut from nut-free kitchens to classes that teach yoga and breathing alongside cooking, for a whole body approach. Most schools offer not only cooking classes for kids, but also camps and birthday parties—so you can get your young chefs in the kitchen for any occasion.
Then bring all that sous chef energy home and get cooking with our 100 Top Easy Recipes for Kids and all our favorite recipes in our Guide to Easy Recipes for Kids.
Best Kids' Cooking Classes in San Francisco

Kids can take classes alone, or the whole family can learn together. Photo courtesy of Culinary Artistas
1. Culinary Artistas — Ghirardelli Square, San Francisco
For kids 4 and up
Hosted in popular Ghirardelli Square, the cooking school is all about empowering little ones to have a positive relationship with food. Have a "Plate Date" cooking class for the whole family, or opt for a single day "Edible Arts" camp where kids make their own breakfast, lunch, and snack. After school, summer camps, and field trips are available as well.
2. Cozymeal — Multiple Locations
All Ages
For those looking for a variety of cooking experiences, check out the array of classes at Cozymeal. Whether you want to find a location that is hosting a class, want the class to come to you, or prefer a no-drive-time virtual class, it's all available. Check out the family-friendly classes like tasty tapas or fresh cookies.
Best Kids' Cooking Classes in Oakland and Berkley
For kids 5 and up
​Want a total body and mind connection with food? Bliss Belly Kitchen in San Francisco focuses on food that is organically sourced, plant-based, and nutritious (even chocolate). With yoga, breathing, and mindfulness lessons built in, kids learn not only where food comes from, but how it nourishes the body as well. Rainbow roll, anyone?
For kids 5 and up
With the goal of educating and inspiring young learners to grow their own food and eat sustainably, FarmCurious makes the connection between where food comes from and what we eat. Kids can take high-end culinary classes like cheese making and Charcuterie, with popular ones like unicorn cheese (colored ricotta cheese). *Note that classes are currently offered as private events only.
All Ages for virtual classes, ages 15 and up for in-person classes
The award-winning cooking school has classes that any kid would love. From a fresh pasta workshop to elegant cupcake decorating, the classes are a favorite for teens. Have a little one? Check out the pie-making class, which is suitable for all ages.

Learn the culture and traditions of other countries through food. Photo courtesy of Cooking Round the World
For kids 3 and up
Travel the culinary world without leaving the Bay area with classes from Cooking Round the World. The company is dedicated to sharing culture and traditions of different countries through food. Classes are taught in public spaces or at schools with themes like Peace Through Food, Cooking Round the USA, and Mommy & Me classes. The school also offers birthday parties and summer camps.
Best Kids' Cooking Classes in the North Bay
For kids 9 and up
Catered to both the novice chef and ones that want to perfect their skills, this Marin cooking school offers after school classes, summer camps, birthday parties, and themed classes. Classes are held in the owner's home in beautiful Corte Madera. Recipes like cinnamon rolls, cauliflower pizza, and churro make it fun for the whole family to enjoy.
Best Kids' Cooking Classes in the Peninsula
For kids 5 and up
With locations all over the Peninsula, Junior Chef Stars is a popular one for its versatility and upscale culinary menus—sesame tahini crab poke bowls, anyone? The school offers camps, after-school classes, parties, and even private sessions for that future kitchen star. The programs are popular and fill up quickly.
For kids 2 and up
Great for kids who are just learning how to cook, the lessons at Taste Buds Kitchen are fun, interactive, and delicious. Catered to even the youngest of chefs, the staff makes mixing, kneading, and decorating a stress-free process. Camps, parties, and parents-night-out are all available at this nut-free facility.
Best Kids' Cooking Classes in San Jose

Kids love drop-in pizza night, where they can learn to make their favorite treat. Photo courtesy of Cucina Bambini
All Ages
Since its opening in 2008, Cucina Bambini (Kid Kitchen) has helped kids foster a love of cooking with easy and fun classes. Our favorite is the drop-in pizza night where kids and family can attend together to make a pizza all on their own with toppings of their choosing. It's a great starter class for beginners and a fun way to make some foodie memories.
11. Sur La Table — Multiple Locations
For kids 7 and up
Offering in-store and online classes, Sur La Table offers kids a chance to go to Chef School and learn the basics in the kitchen or take a baking workshop to hone their decorating skills. With classes like Ombre Icing and Cheesy Monkey Bread, parents can reap the rewards as well. Camps are available when school is not in session.
Sign up for the Mommy Poppins Newsletter today!