100 Top Easy Recipes for Kids: Kid-Friendly Recipes for Every Meal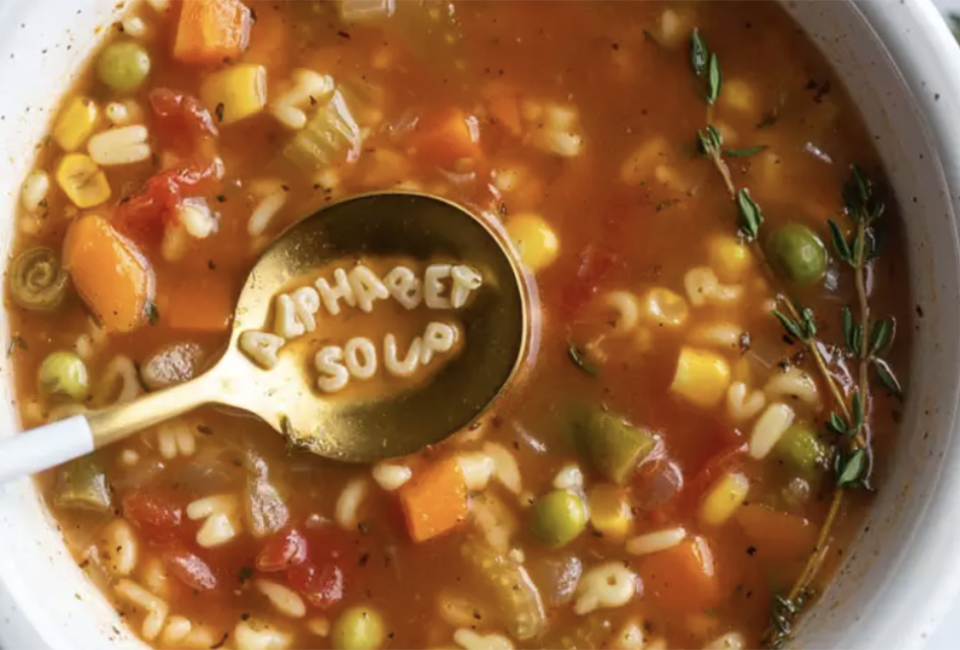 5/24/22
- By
Maureen Wilkey
As a parent, I've spent a good chunk of my life searching for kid-friendly recipes. There are three meals every single day and I need easy recipes for kids—that they will actually eat—for all of them. And while I don't mind making toast for one kid while pouring a bowl of cereal for another, I'm only cooking one family dinner, which means easy kid-friendly dinner recipes are like gold.
You know where I find the best recipes? Right here. The kid-friendly recipes on Mommy Poppins are all parent-tested and kid-approved. These 100 kid-friendly recipes are the most popular, both among readers and our staff. So if you need to add to your repertoire with some new easy recipes for kids, look no further. All of these recipes, and so many more, can be found in our Guide to Easy Recipes for Kids.
Have requests for recipes? Or recipe favorites of your own to share? Come chat on our Facebook or Instagram pages! And subscribe to our newsletters to get more articles like this delivered right to your inbox.

Homemade Pop Tarts start every morning off right. Photo by Ally Noel
Sweet Breakfast Recipes & Treats
Pick your own flavors to encase in pastry for a yummy breakfast treat. These can be made with jam, Nutella, chocolate, or cinnamon sugar.
It's breakfast on its own, or dessert when served with whipped cream or ice cream! Dutch Babies are on our list of favorite apple recipes.
These pancakes are a clone of the ones from The Cheesecake Factory, and they are a huge favorite for breakfast. They're just one of the recipes in our roundup of tasty taste-alikes.
The pre-Pumpkin Spice Latte crowd can get their fall fix with this orange breakfast treat.
Cinnamon, sugar, refrigerated biscuits, and butter: this recipe we discovered for Mother's Day is easy enough for kids to make without mom!
Yogurt parfaits are already fun to assemble. Use homemade granola for an extra-creative treat.
It starts with waffles, butter, and syrup—then add peanut butter, Nutella, blueberries, whipped cream, chocolate chips, pecans, honey, strawberries, and bananas for a choose-your-own-adventure breakfast or brunch.
Got a family that can't decide on their favorite fall fruit? Satisfy everyone with this crowd-pleasing muffin recipe.

Spinach Cake Muffins are so sweet, kids won't mind eating their greens. Photo by Meghan Rose
Savory Breakfast Recipe Standbys
This egg, hashbrown, and sausage dish works for breakfast or dinner.
If you put eggs on it, it's breakfast, right? This healthy vegetarian dish makes a fun weekend breakfast treat.
Skip the batter and just put an egg straight onto the waffle maker! This recipe hack came to us from TikTok, and it's a hit with kids.
Make a whole batch of this casserole on Sunday to last the whole week.
It's an egg and toast in one!
The ultimate in hiding veggies, these breakfast treats include applesauce and spinach for a light, sweet treat any time of day.
This delicious gluten-free breakfast is perfect for Easter or any other special occasion.
These cute breakfast packages are easy to grab on the go, as well as being tasty and filling.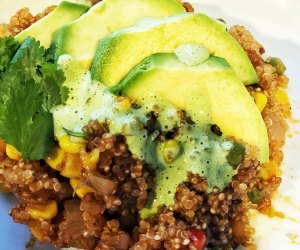 Mexican Instant Pot Quinoa warms on a chilly night. Photo by Ally Noel
Meatless Kid-Friendly Dinner Recipes
Are you the mom who loves to brag about your kids eating quinoa? Well, you will be, with this kid-pleaser.
Use this hack to dress up Trader's Joe's fried rice for a vegetarian dish, or add chicken strips to make it an omnivore-friendly meal.
Grilled cheese tastes best with lots of butter, but you can reduce the butter without reducing the flavor with this recipe.
Use your Instant Pot for this lightened-up family favorite.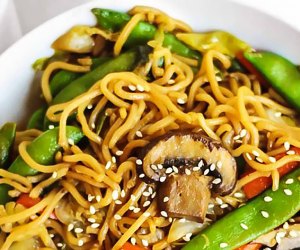 Enjoy vegetable chow mein without all the added sodium of takeout. Photo courtesy of rhubarbarians.
Introduce new veggies in a light sauce with noodles in this favorite vegetarian recipe.
Everyone gets their favorite toppings with these hummus and veggie bowls.
This vegetarian dinner can be put together in about 10 minutes with items from Trader Joe's.
Add some fall color and flavor to your favorite shape of pasta with this savory/sweet recipe that hits the spot any time of year.
Low-carb and veggie-heavy, this recipe helps you cook non-soggy zoodles!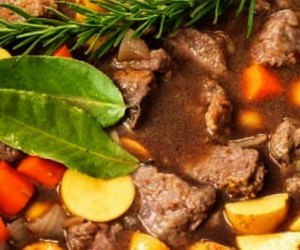 Beef stew is the perfect easy meal on a chilly evening. Photo courtesy of The Cozy Cook
Kid-Friendly Recipes for Soups and Stews
Get cozy this fall or winter with this simple and filling recipe.
Pre-cut mirepoix cuts some of the chopping out of this recipe, making it a semi-quick meal for a weeknight that appeals to both kids and grown-ups.
A healthy, soothing favorite for kids and adults, the Instant Pot cuts down on prep time.
Put aside the rule about not playing with your food for one night to let kids enjoy spelling their names in noodle letters!
This Panera copycat pairs perfectly with grilled cheese.

Turkey teriyaki meatballs mix up expectations deliciously. Photo by Ally Noel
Kid-Friendly Dinner Recipes: Winner, Winner, Chicken Dinner
Sweet and garlicky sauce lends kid-friendly flavors to this lean protein dinner.
Tender, fully cooked chicken breasts make this version of a classic a weekday favorite.
One of our favorite TikTok recipes, this recipe is delicious and there's virtually no clean-up.
Use our favorite pizza dough recipe to make this surprisingly healthy and kid-pleasing pizza dish.
High-quality protein and healthy grains make a tasty alternative to a sandwich in this idea from our best lunches post: it's #96, so keep scrolling!
Season your chicken, then make a pico de gallo to complete these healthy tacos.
Dump four ingredients in the crock pot and turn it on. One hour before serving, shred the chicken and add the cheese. It doesn't get much simpler than that!
Kale, spinach, or even Romaine would also work for this filling and fruit-laden salad from our favorite TikTok recipes.
Why should tomato sauce have all the fun? The turkey makes it healthy, the Instant Pot makes it fast.
Combining lean turkey with healthy mushrooms, this recipe is filling and hearty. It's one of our favorite meatloaf recipes.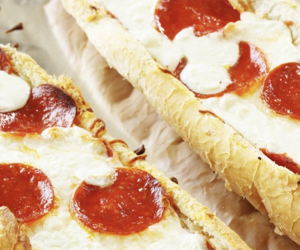 French bread pizza is always a pleaser. Photo courtesy of favfamilyrecipes
Kid-Friendly Dinner Recipes from Land and Sea
Pork loin, a bag of potatoes, a bag of beans, garlic butter. That's all there is to this genius dinner from our Trader Joe's favorites.
Meat, carb, and veggie all cook together at once in this easy sheet pan dinner.
This delicious fish dish is a crowd-pleaser for grown-ups and kids of all ages.
Want the meatballs without wandering through IKEA? We sussed out how to make a pretty tasty version.
Combine two kid-favorite meals with this recipe from our list of quick and easy pizza recipes.
There is a right and a wrong way to make crispy, cheesy, delicious French bread pizzas! This is the right way.
Kids who don't love sandwiches might like this zesty tortilla wrap from our top lunch ideas post.
Leftover macaroni and cheese and ham bring a fun twist to lunch or dinner.
Whether it's Tuesday or not, seafood-loving kids will enjoy this simple and delicious taco recipe.
This weeknight favorite gives families a hamburger taste without all the grease.
Use leftover ham, or just order a thick slice from the deli counter and dice it!

Nutella, mini marshmallows, raisins, and peanuts are among our favorite apple ring toppers. Photo by Audrey Trieschman
Scrumptious Snack Recipes
This three-ingredient recipe is good for breakfast or a snack. They're gluten-free to boot.
These choose-your-own-adventure snacks are great for incorporating both healthy and yummy elements, and easy enough for kids to make.
These no-bake vegan snacks can be made in lots of different flavors.
Vegetarian, gluten-free, vegan, plant-based, and dairy-free!
You don't have to be very hungry to devour one of these cute snacks.
It's easy to add a little Disney to your day with these salty or sweet snacks.
These easy three-ingredient bars are from our list of favorite breakfast recipes, but they are also perfect morning or after-school snacks.
Too much sugar in the store-bought bars? Make your own.
This recipe from our top 100 lunch ideas can add protein and vitamins to your child's snack routine.
Fruit and peanut butter create a healthy low-carb snack for your kids' lunchboxes at school or at home for an after-school snack.
This Australian treat is basically white bread slathered in butter and rolled in sprinkles. While this version (at #63) was one we tried for Halloween, you could make this for any holiday or just with favorite colors.
Any snack is more fun when you add candy eyes to it! Slice apples and strawberries and use peanut butter as glue to make these whimsical crafty snacks. They're great for Halloween, but make kids smile as a surprise at any meal.
Make these fun snacks your own by combining your kids' favorite fruits into a salad. Then put it in a waffle cone.
Who says muffins have to be sweet? These savory snacks pack some veggies for a perfect summer camp snack.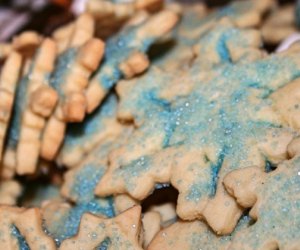 Martha Stewart's Sugar Cookies makes great holiday cookies or anytime treats. Photo by Meghan Rose
Easy Baking Recipes for Kids: Cookies
A fall favorite that combines apple and cinnamon, this recipe is one of our favorites.
This one is from our list of favorite Christmas cookies, but who doesn't love a sugar cookie any time of year? Top with frosting for decorating fun.
Got impatient kids? Make these cookies in your air fryer for a batch that will be out in just five minutes!
Freeze balls of Nutella and then wrap them in chocolate chip cookie dough for a treat that is as yummy as it is fun to make.
With just three ingredients and a pinch of salt, this recipe is easy to make and easy to love. No need to wait for Girl Scout cookie season, either.
This gluten-free seasonal favorite has just five ingredients and is easy and fun to whip up.
Choose from lots of different fillings for this traditional Jewish cookie for Hanukkah! It appears on our favorite holiday cookie list.
Chocolate and pumpkin meet for this decadent dessert with just two ingredients!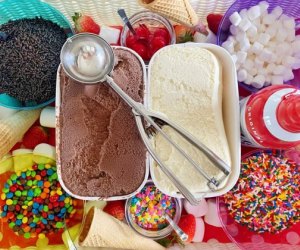 Ice cream dessert boards turn any day into a celebration. Photo by Ally Noel
Frozen Fun Recipes
These patriotic treats are great for Memorial Day or the Fourth of July. Enjoy a popsicle without any high fructose corn syrup!
We found this recipe on Disney's blog and can't stop making it. It's a taste of Disney at home.
A little fruity and a little creamy, these fun treats are a hit for kids and for parents who remember going to Orange Julius at the mall.
Forget the cheese board, this is the board that's a hit with the kid crowd.
Don't eat the yellow snow! But you can eat white snow combined with cream and maple sugar in this delicious winter recipe.
For a taste of winter in the summer, enjoy these frozen pops with creamy chocolate and marshmallows.
We've come up with two ways to make a creamy frozen treat without an ice cream maker: Whether you choose the bag method or the jar technique, it's delicious.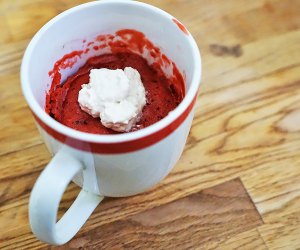 Red velvet mug cake is ready in minutes. Literally. Photo Jody Mercier
More Easy Dessert Recipes for Kids
Layer Nutter Butters with chocolate pudding and whipped cream for an easy no-bake dessert.
Sweet, tart, and light green, this crowd-pleasing dessert requires no baking, making it perfect for kids to help make.
This satisfying treat is paleo-friendly and gluten-free, plus it includes delicious fresh fruit. Check it out on our list of favorite mug cakes.
Kids too young to grill on Father's Day? Make him these adorable hamburger cupcakes instead.
Layer upon layer of dessert goodness, this recipe combines graham crackers, cream cheese, whipped cream, pineapple, cherries, and of course, bananas.
You can be eating this tasty treat in minutes!
Who doesn't love funfetti cake with a mermaid theme? You can make a single-serving portion for unexpected special occasions with this kid-pleaser.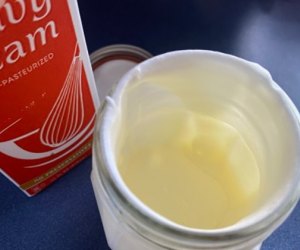 Homemade butter is science and a tasty treat. Photo by Ally Noel
Crafty and Messy Dessert Recipes
You don't need much time or a kitchen free of toddlers to make this classic and yummy Oreo and chocolate pudding dessert.
So easy and fun! You don't even need to read the directions, just watch the TikTok video for a fast treat for the whole family.
It's a science experiment and a recipe!
These fun and spooky treats are tween-pleasers, and that's saying a lot.
This is one of our most popular recipes ever.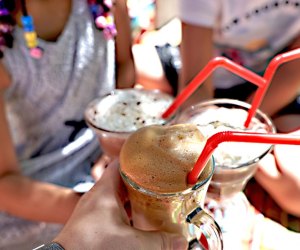 Cheers with some sweet frozen drinks! Photo by Jody Mercier
Sweet Sips & Mocktails
While grown-ups muddle a pitcher of mojitos, kids can enjoy these sweet-tart citrus sippers.
Who can forget their first kiddie cocktail at a family wedding? Re-create that experience for your own kids.
It's like a homemade frappuccino!
This one is a favorite of Harry Potter fans the world over.
Customize your own fillings for a surprising winter treat that doubles as a great gift.
This healthy favorite breakfast drink also makes a great snack or treat with plenty of Vitamin C and protein.
Lemonade, ice, and ice cream make a dreamy sweet treat for a hot summer day.
Celebrate Pride, St. Patrick's Day, or any day with this fun multi-colored beverage.
Click Here to Sign Up!
i