5 Best Mini Meatloaf Recipes: Kid-Sized and Kid-Approved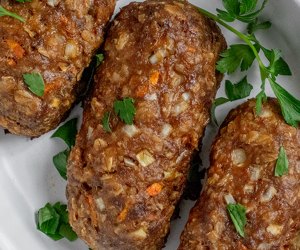 1/6/22
- By
Lauren LaRoche
Meatloaf is a savory and comforting dinner classic. On a busy weeknight with picky kids, it might not be possible (or necessary) to spend an hour in the kitchen making a full meatloaf when everyone is hungry and tired. This is where the kid-sized mini meatloaf comes to the rescue. Kids eat anything when it's mini, right?
Here's our roundup of five kid-sized and kid-approved mini meatloaf recipes. All of these recipes can be prepared ahead of time for a quick dinner you can pull out of the freezer. For even more recipes kids will love, check out our favorite kid-friendly recipes of 2021.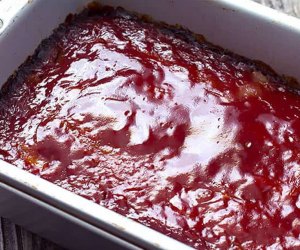 This classic meatloaf recipe from the Wholesome Dish has a delicious, tangy topping. Photo courtesy of the Wholesome Dish
For this classic meatloaf recipe from the Wholesome Dish, you can use simple ingredients that even the pickiest eaters will enjoy. The tangy ketchup topping will give kids their favorite hamburger taste without all the grease.
Ingredients
1 pound lean ground beef
1 cup dried breadcrumbs
1/2 cup diced yellow onion
1/2 cup milk
1 large egg, beaten
2 tablespoons ketchup
1 tablespoon Worcestershire sauce
1 teaspoon dried parsley leaves
3/4 teaspoon salt
1/2 teaspoon garlic powder
1/4 teaspoon ground black pepper
For the Sauce Topping:
1/4 cup ketchup
2 tablespoons packed light brown sugar
1 tablespoon red wine vinegar
Instructions
In a large bowl, use a fork and your hands to mush the ingredients together. Using your mini loaf pans, pat the meat down into even an even layer. Mix the topping ingredients in a small separate bowl. Pour the sauce on top and bake them. This recipe will yield one large meatloaf that cooks for 55 minutes or three mini loaves. The smaller loaves will take closer to 30 minutes to cook. Make sure to let the meatloaf rest before serving or it may fall apart. This recipe has a softer texture.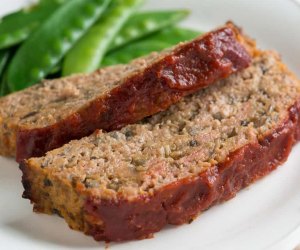 Use ground turkey in place of ground beef for a leaner meatloaf. Photo courtesy of Inspired Taste
This turkey meatloaf recipe from Inspired Taste offers that classic meatloaf taste with a lighter twist. Kids will love the flavor and you'll enjoy a healthier meatloaf you can feel good about serving.
Ingredients
1 ¼ pound ground turkey
8 ounces mushrooms, finely chopped
1 medium onion, finely chopped
2 garlic cloves, minced
1 tablespoon oil
3/4 teaspoon fine sea salt
1/2 teaspoon ground black pepper
1 tablespoon Worcestershire sauce
7 tablespoons ketchup, divided
1 cup panko (or homemade) breadcrumbs
1/3 cup milk
2 large eggs, lightly beaten
Instructions
This recipe kicks off by simmering the onions, mushrooms, and garlic together. Once these are cooked down, you can use your hands or a fork to mix these along with the rest of the ingredients together in a large bowl. The mixture can be divided into three mini loaf pans or one large individual loaf pan. This recipe is baked for 30 minutes in mini loaf pans and 50 minutes for a large pan.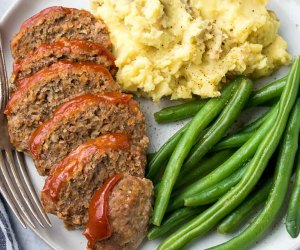 Mini meatloaves made with ground beef and turkey are lighter and faster to cook than larger, all-beef loaves. Photo courtesy of Simply Whisked
This traditional meatloaf recipe from Simply Whisked is designed specifically for individual mini loaves. It features both ground beef and turkey, making it lighter and faster to cook than a larger heavy loaf.
Ingredients
1 pound ground beef
1 pound lean turkey
2 tablespoons Dijon mustard
2 tablespoons ketchup
4 garlic cloves, minced
1 tablespoon dried minced onion
1 teaspoon salt
2 teaspoons dried parsley
1 1/2 cups Panko breadcrumbs
1 egg
Black pepper to taste
For the meatloaf sauce:
1/4 cup ketchup
2 tablespoons barbecue sauce
2 tablespoons Dijon mustard
2 tablespoons brown sugar
1/2 teaspoon Worcestershire sauce
Instructions
For this recipe, instead of using mini loaf pans, you can use a baking sheet lined with parchment paper. Using one large bowl, mix together all of the ingredients. Divide up the meatloaf into eight mini loaves. Space them evenly on a baking sheet and start mixing the meatloaf sauce for the top. Mix the sauce ingredients in a separate small bowl and spread half over the top. Keep half the sauce for later, adding the second layer. Mini meatloaves will cook for 30 to 35 minutes.
This recipe from Quaker Oats uses rolled oats instead of breadcrumbs to make your mini meatloaf gluten-free. With only five ingredients and ketchup for the top, this recipe is as easy as it is delicious.
Ingredients
1 cup Quaker® Old-Fashioned Oats, uncooked
12 ounces lean ground beef
½ cup diced onion
¼ cup shredded carrot
1 egg
3 tablespoons BBQ sauce or ketchup
Instructions
Heat oven to 350°F. Mix all ingredients together in a large bowl. Divide mixture into four parts and shape into mini loaves on a sheet pan. Bake for 25 to 28 minutes or until meatloaf centers are no longer pink. Brush BBQ sauce or ketchup over the top of the mini meatloaves and serve.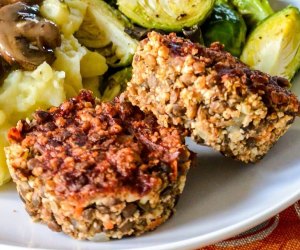 Swap beef for lentils and you'll still have a delicious meatloaf—hold the meat. Photo courtesy of Veggies Save the Day
For vegans and vegetarians, this recipe from Veggies Save the Day features a hearty and delicious meat-free mini meatloaf using muffin tins. These are great for easy portioning and keeping on hand in the freezer when you're short on time.
Ingredients
1 tablespoon ground flaxseeds (flaxseed meal)
4 tablespoons water
1/2 cup diced onion
3 cloves garlic, minced
1/4 cup diced celery
1/4 cup diced carrots
3 cups cooked lentils (two 15-ounce cans)
1 tablespoon Italian seasoning
2 tablespoons ketchup
1 tablespoon Dijon mustard
1 cup panko breadcrumbs (gluten-free, if desired)
salt and pepper to taste
For the glaze:
1/4 cup ketchup
1 teaspoon balsamic vinegar
Instructions
For this recipe, you'll use flaxseeds as you would egg to bind your meatloaf. Cooked lentils will be the main ingredient and panko breadcrumbs will help hold everything neatly. After cooking the lentils and vegetables, you can combine all the ingredients into a glass bowl and form your loaves. These loaves bake for 25 to 30 minutes.