10 Easy Crockpot Recipes and Meals for Family Dinner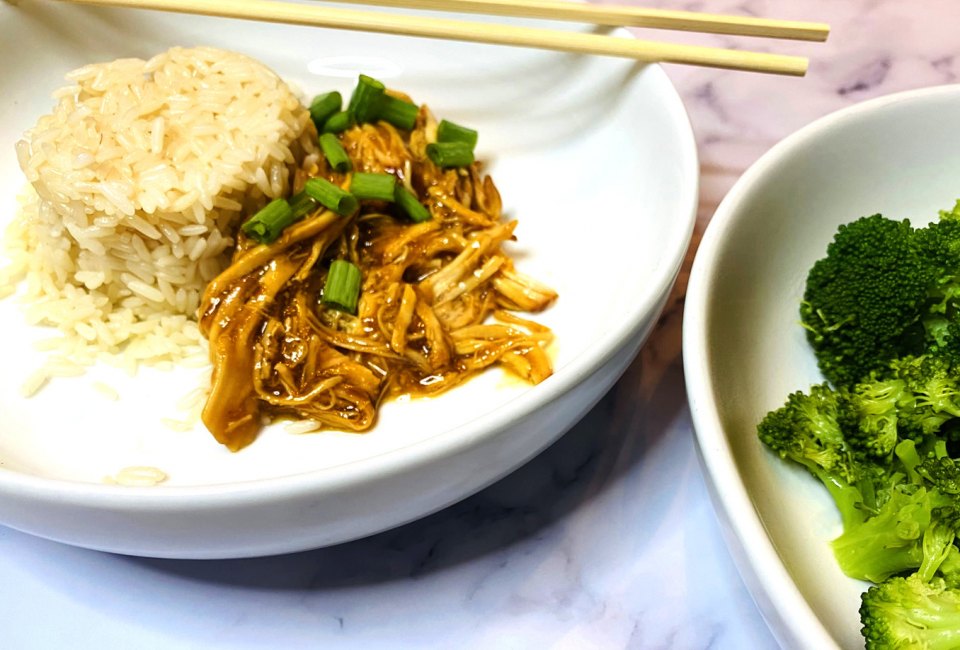 10/14/21
- By
Ally Noel
If you are a "set it and forget it" kind of chef, this list of 10 easy Crockpot recipes is calling your name. Between keeping tiny humans alive, extracurricular activities, sports, and jobs, sometimes the very act of turning on the stove can seem impossible. These easy Crockpot recipes require very little preparation—simply toss the ingredients in the slow cooker in the morning, go about your day, and return home to the delicious smell of a home-cooked meal waiting for your family. And with everything from Crockpot chicken recipes to gooey mac and cheese on this list, you'll find easy crockpot meals to please everyone in your family.
But these Crockpot meals are not the only way to save time on dinner. Check out our guide to easy recipes for kids, where you'll find everything from tasty Instant Pot recipes to quick sheet pan dinners that kids love. With so many simple and delicious options, you'll never have to worry about what's for dinner again.

Chili is always a crowd-pleaser. Photo courtesy of damndelicious.net
One of my favorite go-to Crockpot recipes is chili—it's always a crowd-pleaser. Once you get the hang of what your family likes, it's easy to customize a basic chili recipe and make it your own. Whether you use ground beef, ground turkey, or stick to a mixture of beans, there truly is nothing more comforting than a warm bowl of chili any time of year.
After coming home from a long day of errands, there is nothing better than walking through the door and taking in the delicious combination of aromas in this Real Simple recipe. Your kitchen will be filled with a unique mixture of savory citrus that will make you want to dive right into your crockpot.

Beef stew is the perfect meal on a chilly fall or winter evening. Photo courtesy of The Cozy Cook
Once the temperature hits the 50s, you can usually find me conjuring up a bit of fall with a hearty pot of beef stew on any given Sunday. Perhaps the most comforting of comfort foods, beef stew is on heavy rotation at my house during the fall and winter months.
Somehow the five simple ingredients in this recipe come together to form the most delicious combination of flavors. Perfect for weeknights, this meal can be served on its own or with tortillas. Pro tip: This recipe freezes really well, so be sure to make extra so you'll have leftovers. Your future self will thank you!

Sometimes canned chicken noodle soup just won't cut it. Photo courtesy of the author
I love a good bowl of homemade soup, but who has time to watch the pot all day? With this easy chicken noodle soup recipe, you don't have to. Just dump all the ingredients into the Crockpot and let time work its magic. It's the perfect meal to warm your family up on a chilly evening.

Chicken and rice with veggies checks all the boxes for a nutritious, balanced meal. Photo courtesy of The Recipe Rebel
Easy + cheesy is a magical combination for just about anything, and this Crockpot chicken and rice recipe is no exception. Plus, it checks all the right boxes—great source of protein (check!), one-pot meal (check!), sure to please even the pickiest of eaters (check!).
Garlic, ginger, soy sauce, and honey come together in the most flavorful of ways in this slow cooker chicken recipe. Serve it over rice with a side of string beans or broccoli to give your family a fully balanced meal.

Beef Stroganoff is a delicious, hearty meal that everyone will love. Photo courtesy of thewholesomedish.com
When you are craving a nice hearty meal, this beef dish hits the spot. Let savory chunks of slow-cooked beef, mushrooms, and onions simmer away all day in the Crockpot. We love to serve this recipe over a generous portion of egg noodles or a good slice (or two) of crusty bread.
Save your stovetop from the splattering of frying chicken cutlets with this yummy recipe. Perfect for any busy weeknight, this recipe aims to please with its lightened-up version of an Italian classic. Serve over a side of your favorite pasta.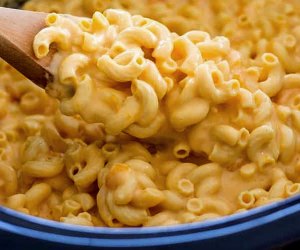 What kid (or grown-up) doesn't love a gooey bowl of mac and cheese? Photo courtesy of Amanda's Cookin
No need to wait for those noodles to boil with this yummy Crockpot macaroni and cheese recipe. Simply add uncooked elbow pasta, cheese, milk, and a few seasonings into the slow cooker, and let time do all the work! This recipe travels really well, so it is perfect for any potluck dinner party.
Click Here to Sign Up!
i