Sheet Pan Dinners That Kids Love (No Cleanup!)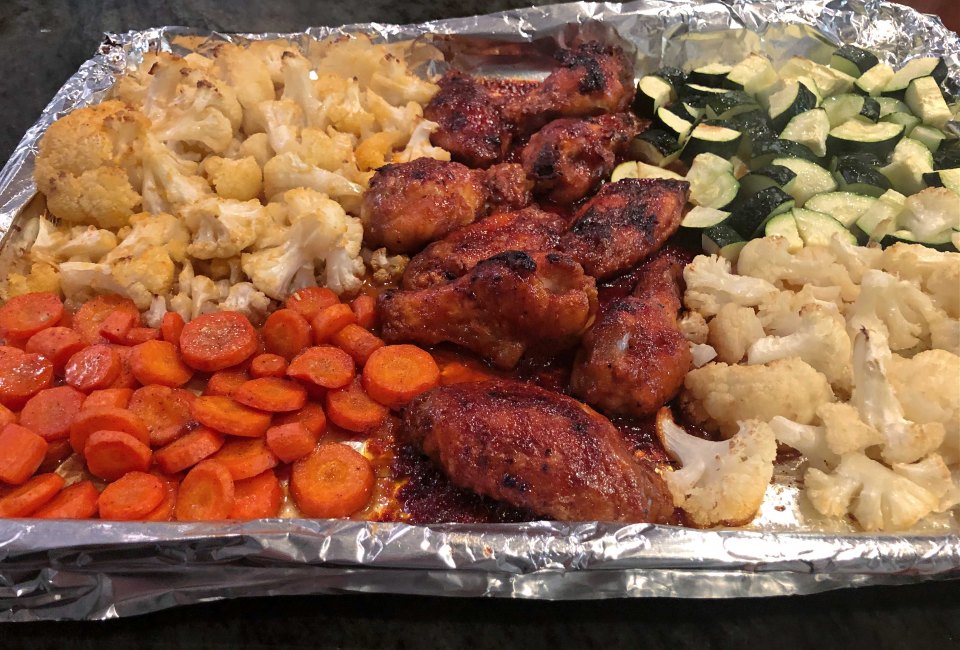 2/11/21
- By
Meghan Rose
Some people swear by their favorite Instant Pot recipes. Or their Grandma's Crock Pot recipes. Me, I love sheet pan dinners. Not only do they require minimal prep (basically, put on your favorite podcast and spend a few minutes chopping), these easy weeknight dinners take no (or minimal) effort once they're in the oven. And the best part? Line your baking tray well, and there is zero cleanup. Let me say that again: Zero. Cleanup.
Find more yummy (and quick) things to make with or for kids in our Easy Recipes Guide.
The other thing I love about a sheet pan recipe is that it is a very easy dinner to cater to picky kids. We play "Choose Your Own Adventure" night at our house, and my anti-spice daughter and carrot avoiding son are equally happy. These sheet pan dinners make weeknights a (delicious) snap.
Tips for Sheet Pan Dinners
Use more aluminum foil than you think you need, making sure every surface is covered. When you're done, you can just peel up the foil and not have to scrub the pan. (If you don't use enough, something will leak through the cracks, or splosh over the side, and you are stuck cleaning.)
Cheating is OK! Using microwave rice or a quick salad can round out a meal without more cooking or pans. Otherwise, you have potatoes at every meal. (Speaking of potatoes, sometimes I cheat and use frozen ones like hash browns or french fries. The latter won't oxidize like fresh potatoes, and of course, my kids like them because french fries.)
Always put the veggies on the tray first for these sheet pan dinners. Drizzle olive oil over them, and work it in with your hands, making sure every bit of the vegetables AND tray are equally coated. This makes sure your veggies don't dry out, seasonings adhere, and anything else you add to the tray won't stick.
RELATED: One-Pot Meals for Simple Family Dinners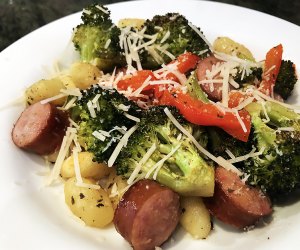 Chop, toss with olive oil, sprinkle with salt, and in the oven it goes. Buon appetito!
1. Gnocchi with Sausage and Broccoli
This is the easiest of the recipes and takes no intervention once it goes in the oven. Cooking gnocchi in the oven instead of water gives it a chewy in the middle, crispy on the exterior texture that I prefer (plus, no pot to clean!).
Ingredients
1 pound gnocchi (you can use frozen, but may need to cook it a little longer)
12 ounces pre-cooked sausage
6 cups vegetables, chopped
Olive oil
1/4 cup melted butter
3 tablespoons broth
½ teaspoon each salt, garlic powder, basil, and sage
Grated parmesan cheese to taste
Instructions
Preheat the oven to 450º and cover a sheet pan with aluminum foil.
Put your veggies on the pan. With this meal, my kids like broccoli, and I add chopped red pepper for a little color (on one corner of the tray, so my son doesn't have to eat it!). It's also great with any combination of onions, mushrooms, or cherry tomatoes thrown in the mix. Drizzle the vegetables with olive oil and rub it in well, making sure you get oil all over the pan, too. Scoot the veggies to one side of the pan, and put the sausage (we like smoked chicken apple sausage because it's sweet, but you can use any flavor your kids like), sliced into ¾ inch chunks in one corner. In the other corner put your gnocchi. Drizzle the gnocchi with melted butter and then broth, and sprinkle the salt and spice mix over the vegetables and gnocchi.
Bake for 20 minutes, and serve it sprinkled with cheese.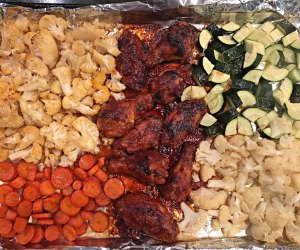 Everyone is happy when you put a protein in the middle, and then cook separate veggie favorites.
2. Choose Your Own Adventure Sheet Pan Dinners
This meal originated this way: My son asked for wings for dinner. I don't like them, but it made me crave buffalo cauliflower. My husband won't eat anything spicy, so he requested plain cauliflower. My kids don't like cauliflower, so my daughter asked for honey glazed carrots. My son only eats raw carrots, so he asked for zucchini. I said if I could cook it all on one sheet, everyone could have what they wanted—and it worked! You can use your favorite veggies in the four corners to customize this into several sheet pan dinners (and can even use chicken breast in place of the wings).
Ingredients
1 ½ pounds chicken wings and drumettes
1 cup flour
½ teaspoon garlic powder
½ teaspoon smoked paprika
1 teaspoon salt
½ cup BBQ sauce
¼ cup honey
Your favorite vegetables, prepared as you like them, one for each person in the family. (I brush my cauliflower with a mix of melted butter and Frank's Hot Sauce to taste, mix 2 tablespoons melted butter, 1 tablespoon honey, ¼ teaspoon each cinnamon and salt over sliced carrots for my daughter, and put plain olive oil and a sprinkle of salt on cauliflower and zucchini for the boys.)
Instructions
Preheat the oven to 425º and cover a sheet pan with aluminum foil. Spray it with cooking oil.
Mix the flour, salt, garlic, and paprika in a bag and shake your wings in it to coat. Spread the wings out on the pan and bake them for 25 minutes. After 25 minutes, take the wings out of the oven, toss them in a bowl with BBQ sauce and honey, and put them back in a line down the middle of the tray. Put your vegetables, seasoned to taste, in each corner, and return it to the oven for another 25 minutes. Serve with a side of rice.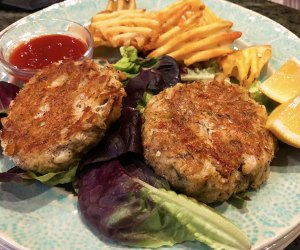 Just like eating by the sea, but you know, in your kitchen, and with 10 minutes of work.
3. Crab Cakes and French Fries
This meal feels fancy, and is actually so, so easy. It's another one we eat once a week. (I mentioned we eat a lot of sheet pan dinners, right?) I love it when we can get fresh jumbo crab, but it's pretty darn tasty with the less fancy (and less expensive) wild claw meat typically available at the grocery store. I've simplified this recipe down to using dried parsley and onion so no cutting boards or knives need to be dirtied; if you prefer fresh, use 2 Tablespoons of each, minced.
Ingredients
1 egg
⅓ cup mayonnaise
1 teaspoon each Old Bay Seasoning, dried parsley, dried onion, and Dijon mustard
1 pound crab meat
½ cup crushed crackers or panko (my kids prefer crushed honey wheat pretzels or crushed Ritz)
Your favorite frozen french fries
Instructions
Preheat the oven to 450º and cover a sheet pan with aluminum foil. Spray it with cooking oil.
Spread the fries out on the tray and bake for 15 minutes. While baking, whip the egg and mayonnaise together with the spices. Fold in the crab (pick it over for shells) and crushed crackers. When the french fries are ready, pull the sheet pan out of the oven and move the fries to half of the tray. Shape the crab into 6 big or 8 medium-sized cakes. Put the tray back in the oven and bake for 13-15 minutes, depending on the size of the crab cakes. Serve the crab cakes on a bed of lettuce with either a squeeze of lemon or some cocktail sauce. (And ketchup for the fries, of course!)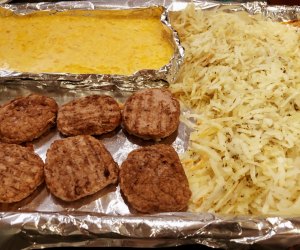 Construct a tray within a tray, so there are no pans to clean (and everything is ready at the same time!)
4. Sheet Pan Breakfast for Dinner
Why scrape eggs out of a frying pan if you don't have to? In this recipe, everything cooks on the sheet pan. If you want to make this easy dinner a little fancier, my husband and I often skip out on the sausage and serve the hash browns with sour cream and lox, latke style.
Ingredients
1 pound frozen hash browns
3 tablespoons melted butter
½ teaspoon salt
¼ teaspoon each thyme, basil, garlic powder, and oregano
12 sausage patties (you can make homemade, or just use your favorite turkey or pork pre-cooked sausage patties)
8 eggs
1 cup grated cheese (any kind you like, my kids pick cheddar)
3 tablespoons milk
½ teaspoon salt
Dash of pepper
Instructions
Preheat the oven to 400º and cover a sheet pan with aluminum foil. Spray it with cooking oil.
Melt the butter and add spices and salt, stirring together. Put your frozen hash browns on the tray, and drizzle the butter mixture evenly across them. Bake for 15 minutes. While it's cooking, whisk together the eggs, cheese, milk, salt, and pepper. Use two sheets of aluminum foil to create a small tray, about 9 x 5 inches. When the hash browns are ready, pull the pan out of the oven, and scrape them to one half of the sheet. On the other side of the tray, put your aluminum foil tray, and spray it with oil. Pour the egg mixture into the tray, and arrange the sausage patties alongside it. Slide this back in the oven for 20 minutes, and you have breakfast for dinner, with no pans to clean. Our family likes this with some fruit on the side.
RELATED: 8 Mug Cake Recipes for Quick Kids' Desserts
Tossing in purple potatoes and kale make this easy meal look like it came from a restaurant.
This one, I'm just going to link to, as the recipe is perfection in itself. I add fingerling potatoes (chopped into ¾ inch pieces) and some roughly chopped kale around the salmon with the tomatoes, so a whole balanced meal cooks together on one sheet pan. You just need to chop the potatoes smaller like this so they cook at the same time as everything else. Some of the kale crisps up like kale chips. It's delicious, and like everything sheet pan, you can cook each element on a separate part of the tray, or toss them all together. I call this "The Salmon Everyone Eats," because it's the only salmon my daughter, who hates fish, will eat. We have served it to company (when we used to have company), and I've shared this with many parents of salmon hating kids—everyone always adores it. It's magic.
All photos by the author
Click Here to Sign Up!
i