Best Museums in Houston for Kids and Families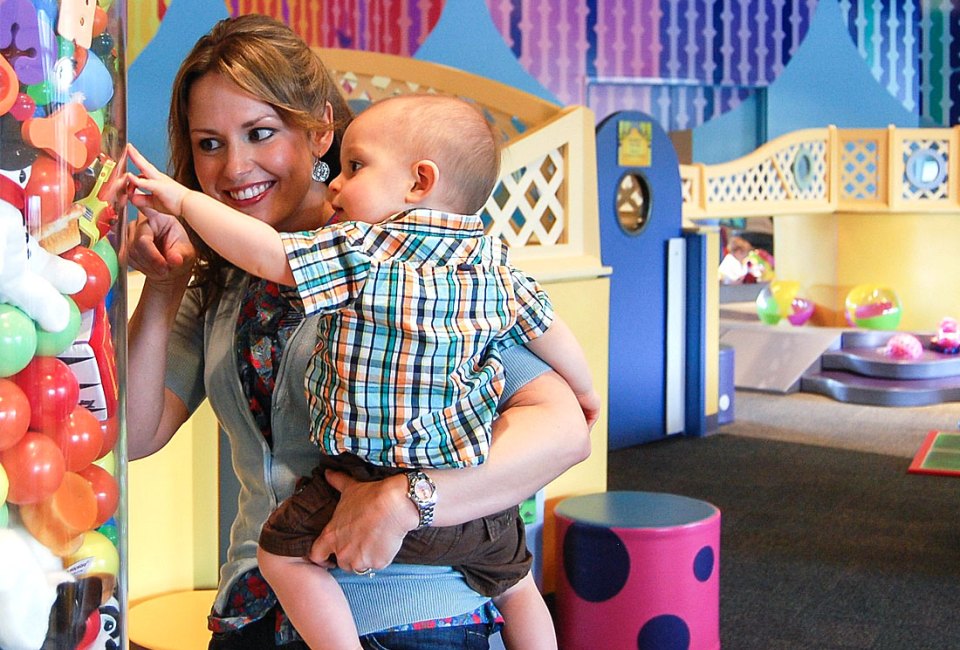 7/21/23
- By
Rebecca Matheson Ortiz
Museums in Houston are a great way to beat the Texas heat, escape rainy weather, or just get out and learn something new with your kiddos. And Houston has a lot of museums to choose from. While there are a handful of children's museums in Houston that little ones will love, there are tons more that the whole family can enjoy. And quite a few of the museums on our list offer free days or extra-special events you won't want to miss. See prehistoric beasts, priceless works of art, and vehicles that have soared through space at a Houston museum near you.
We've narrowed the list down to the top 12 must-visit museums for families, but with so many to choose from, we added on a few more at the end. For a comprehensive list, browse our Houston Museum Guide.
Best Kid-Friendly Museums in Houston

Houston has the largest children's museum in the country. Photo courtesy of the Children's Museum of Houston
Let your kiddos get hands-on for learning and play at the Children's Museum, where they can do everything from sampling careers at Kidtropolis, a pint-sized city run by kids for kids, to creating their own inventions and artwork, splashing as they learn about the properties of water in the outdoor FlowWorks exhibit, and climbing to the heights in the PowerPlay climbing structure. For the littlest ones, the Tot Spot features soft play structures and interactive experiences for infants and toddlers under 3. To save money on several museums, check out the Kids Choice: Museum Pass, which includes this museum.
Plan to spend a day (at least) at the Houston Museum of Natural Science, where dinosaur skeletons depict lifelike interactions in the Morian Hall of Paleontology, a massive pendulum keeps the time, and halls upon halls of fascinating natural history await. Spark interest in the cabinet of curiosities, which showcases an eclectic collection of natural and manmade artifacts, from a narwhal horn and giraffe skeleton to ancient pottery and antique divers' gear. Kids can open drawers and peer in to see teeth, eggs, shells, feathers, and more as they find new fascinations in every corner. And don't pass the dazzling hall of gems and minerals, where kids are wowed at the gold nuggets and shimmering stones. Extend your experience with a visit to the Cockrell Butterfly Center, where a three-story rainforest centered around a large waterfall is host to a colorful kaleidoscope of butterflies. To save money on several museums, check out the Kids Choice: Museum Pass, which includes this museum.
Take a hike through a 10-foot brain filled with memory games, stare into an eyeball that's taller than you are, and more at the interactive Health Museum. Along with these larger-than-life exhibits in the Amazing Body Gallery, kids (and grownups, too!) can learn about the body, from the lungs and the importance of clean air to how epidemics spread and the wonders of the human microbiome while having a blast. To save money on several museums, check out the Kids Choice: Museum Pass, which includes this museum.



Space Center Houston is fun for the whole family. Photo by Rebecca Matheson Ortiz for Mommy Poppins
Home to more than 400 space artifacts and tons of cool exhibits, Space Center Houston is perfect for anyone, children and adults alike, interested in learning more about the Final Frontier. See the actual SpaceX Falcon 9 rocket, walk through a space shuttle replica, practice docking on the International Space Station, test your mettle against Mars, and so much more as you learn about the past, present, and future of space flight history in the U.S. An optional tram tour is available for those who'd like to see more of JSC during their NASA visit. Purchase tickets here.
This beloved Galveston museum is dedicated to giving children a hands-on experience that allows for fun and learning through play. Little ones can cast a line from a pretend fishing boat, take care of a baby doll at the KidsClinic, create something cool on the LEGO wall, put on a puppet show, and more. An outside space lets you explore the outdoors and an art center and Tinker Workshop lets little minds create whatever they can come up with.


Lone Star Flight Museum has a special section for kids, but the whole museum is kid-friendly. Photo courtesy of the Lone Star Flight Museum
Whether you're an airplane aficionado or encouraging your child's pilot dreams, you'll enjoy your visit to the Lone Star Flight Museum in the Clear Lake/Webster area. Spot historic warbirds that flew in WWII, try your skills in a fully-interactive flight simulator, and visit the space gallery for an inside look in a replica space shuttle. If flights are happening while you're there, you may even get to see planes take off and land. When it comes to fun things to do at this museum, the sky's the limit. To save money on several museums, check out the Kids Choice: Museum Pass, which includes this museum.
All aboard! Next stop: fun. Visit Galveston's Railroad Museum and your little train lover is sure to be wowed. Not only will they get to see around 40 rolling stock, including cabooses, passenger and freight cars, and locomotives on the five-acre railyard, but they'll also get a glimpse into the golden age of the railroad with the Depot, featuring alabaster statues depicting life as it was in a 1932 train depot. After you explore all the sights and take a walk through the steam trains, hop aboard the Harborside Express caboose for a 15-minute train ride your little one will never forget!
A branch of the Houston Children's Museum, this suburban find features some of the same exhibits as the downtown location, like Kidtropolis and the Tot Spot, and some exciting exhibits of its own, but without the huge crowds. Explore the Gullah culture in the Cum Yah Gullah exhibit, where folktales and songs take you on a cultural journey that preserves this important African heritage. And the all-new Amazingly Immature exhibit is a hit, with opportunities for kids to learn obscure, fun skills like how to pull a tablecloth out from under a set table without spilling a drop, juggle, turn money into origami jewelry, and more.



The Houston suburbs also have children's museums. Photo courtesy of the Woodlands Children's Museum
The number one rule at this children's museum is to play! Tiny tots (3 and under) can explore and play in the soft Little Ocean Wonders exhibit, while bigger kids can play pretend in a play house, "dine" and serve food in a cafe, put on a show on a performance stage, scoop for dinos and surprises in a foam dig pit, splash in the water area, create at the art bar, and so much more. There really is something for children of all ages to engage the mind and the imagination in a super fun way.
Take a tour, enjoy a sculpture garden, and get inspired by art from across time at the Museum of Fine Arts. When visiting with kids, I highly recommend one of my family's personal favorite activities - take a notepad so they can create their own art as inspiration strikes or try their hand at creating their own interpretations of their favorite pieces. With about 70,000 works of art on display ranging from antiquity to modern art, they're sure to find something that speaks to them, and you'll likely appreciate the quieter scene.
Is it a museum? Is it a playspace? It's both! This children's museum is an indoor play area that's designed for kids to imagine, explore, and learn through interactive play. The space features kid-sized spaces and places, so they run the show as they navigate the world in a unique way. For additional fun, the Craft Co. lets them try their hand at pottery painting, canvas painting, slime making, and dip dying. (Weekend visits are available by reservation only.)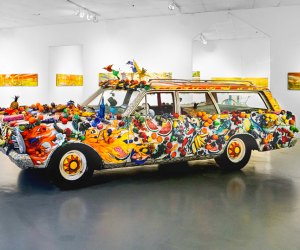 The Art Car Museum is free. Photo courtesy of the Art Car Museum
An H-Town institution, the Art Car Museum is the place to be to see cool cars and bold, contemporary art all at once. Gawk at the Roachster, a car designed to look just like a larger-than-life roach, watch your kids light up at the sight of a colorful cat-covered Cadillac, and admire other creative designs, like a car decorated in a broken mirror mosaic. They even have an airplane! Admission is free, but buy appointment only, so don't forget to call ahead to schedule your visit.
Additional family-friendly Houston museums:
Disclosure: We may earn a small commission if you click through our link and make a purchase. This revenue helps us maintain this site, so thank you for supporting us.
Click Here to Sign Up!
i