Why Kids Love Houston's Cockrell Butterfly Center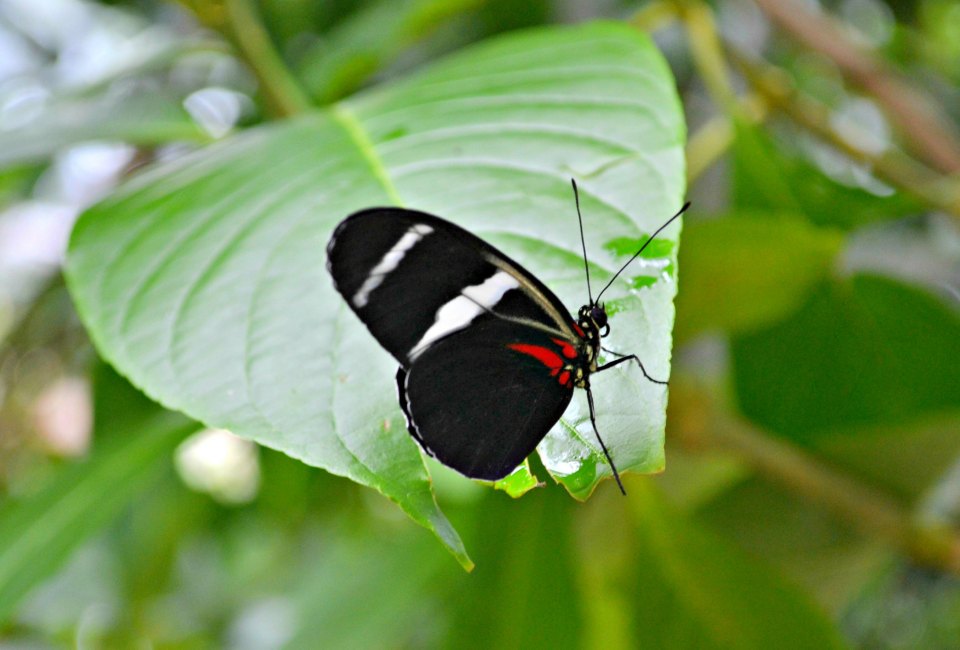 9/18/16
- By
Rachael Cherry
The Houston Museum of Natural Science is known for having a variety of both permanent and traveling exhibits to visit throughout the year. One such museum constant is the Cockrell Butterfly Center, which is an indoor exhibit that consists of the Brown Hall of Entomology and the Rainforest Conservatory. Brown Hall houses a wealth of interactive information about various insects, and conservatory is a living habitat that houses hundreds of different butterflies.
I visited the Cockrell Butterfly Center with my toddler, and we arrived about an hour after the center opened. We nearly had the entire place to ourselves, which is something that any mom of a talkative toddler can appreciate. We started our tour by heading upstairs to the upper level of the Brown Hall of Entomology, known as The Amazing World of Arthropods!, and spent the first portion of the morning looking at the different living and mounted insects on display. There are also interactive games to get the kids more engaged in learning about the insects.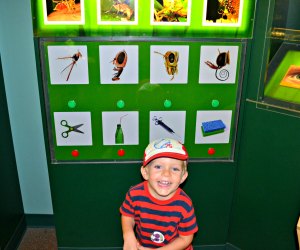 While most of the detailed information at each station went over my toddler's head, he thoroughly enjoyed trying his hand at the activities. We played matching games (well, I tried to match things up, and he pushed all the buttons at random), and listened to the different sounds of each insect. We also admired the live beetles, cockroaches, spiders, and other insects enclosed in glass cases. In fact, he was so enthralled with the interactive portions of the exhibit that he insisted on walking through twice.
Once I was able to pry him away from making us listen to crickets again, we headed into the conservatory. Entering was like stepping into a different world, and we were immediately greeted by several butterfly species flying around us.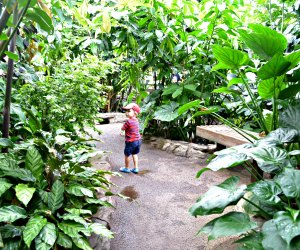 The conservatory is three stories of a simulated rain forest and features a 50-foot waterfall in its center. We started on the top level and gradually worked our way down as hundreds of butterflies greeted us along the way. When you first walk in, there is a laminated guide to the different types of butterflies you may see throughout the exhibit, and we tried our best to find as many as possible. Seeing so many exotic varieties was breathtaking, and my son was thrilled with how close they let him get. He was also excited to discover that the rainforest is home to a small aquarium of fish and two enclosed green pythons.
Once we made our way through the conservatory, we re-entered Brown Hall at the Insects and Us! exhibit on the lower level. Here, museum-goers will learn how insects impact our lives. There is an entomologist's lab as well as the Insect Vending Machine, which features snacks with insects as the main ingredient. They are actually quite good! We didn't spend very long in this portion of the hall, though, as it is definitely geared toward older kids.
Our last stop of the day was on the main level of the hall, referred to as The Land of Beeyond. This was arguably one of my son's favorite parts of our visit because it is perfectly suited for the younger kids.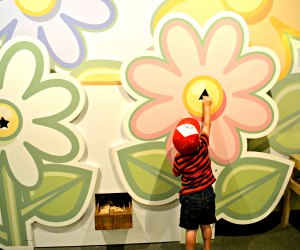 The main level is home to a giant beehive that kids are able to run around in, which is a good way to expend any excess energy before leaving. There is also a sitting area with books about insects and larger-than-life wooden flower displays that have different shapes cut from the center. The flowers supplied my son with endless entertainment, and we spent a fair amount of time matching up the wooden blocks to the different shape cut-outs and pushing them through. Despite the fact that much of the information is aimed at older kids, there is so much to do and see that my toddler never got bored.
Helpful information for your visit:
The museum has a parking garage on site. Parking is $5 for museum members and $10 for non-members. There are also free parking lots around the Museum District and Houston Zoo if you don't mind walking.
Member ticket prices for the Cockrell Butterfly Center are $4 for both adults and children. Non-member ticket prices are $9 for adults, $8 for children (ages 3-11), seniors, and students with a college ID. Children 2 and under are free.
Cameras are allowed in the Butterfly Center.
Hours are from 9 a.m.-5 p.m., Monday through Sunday.
All photos by Rachael Cherry
Places featured in this article:
---
Houston Museum of Natural Science

Sign up for our free
newsletters.
Mommy Poppins is a family activity website that helps people find things to do with kids.
©
2023
MommyPoppins. All Rights Reserved.
mp-prod4-v4.32.99
We use cookies and other data collection technologies to provide the best experience for our customers.
Learn More