Fun Atlanta Restaurants with Cool & Unique Experiences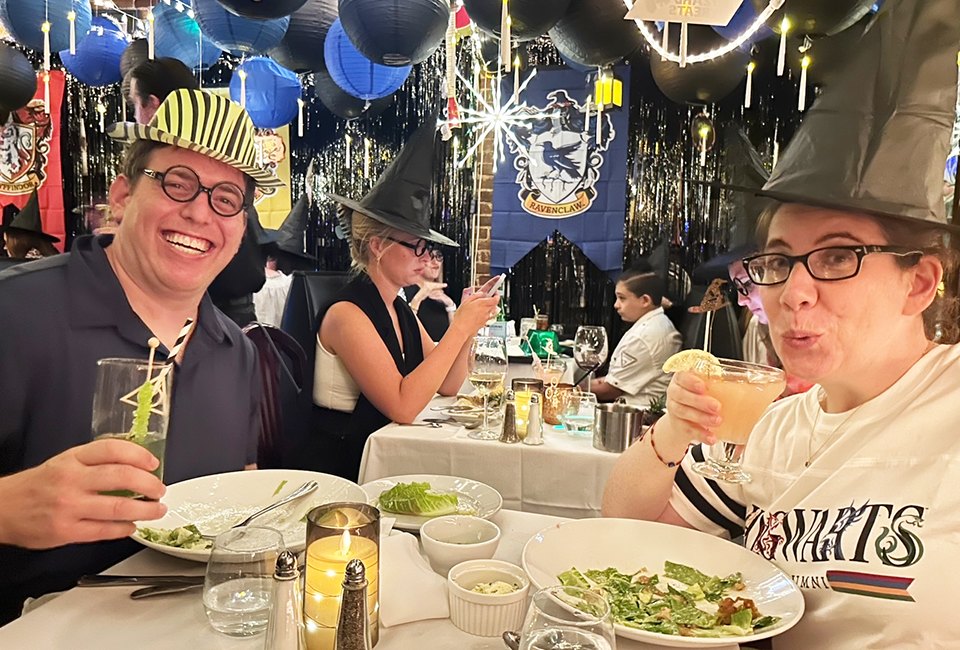 9/1/23
- By
Melanie Preis
Atlanta restaurants with delicious food are great; Atlanta restaurants with delicious food AND one-of-a-kind experiences are fantastic! Keep kids engaged at the dining table at these unique Atlanta restaurants that offer the best in "eatertainment" and quirky menus. Take a look at our favorite, mind-blowing restaurants in Atlanta sure to bring smiles to your children's faces!
Fun Atlanta Restaurants that Go Beyond the Food

Who doesn't want to be served drinks by a robot AND earn prizes for eating sushi at Kura Revolving Sushi Bar!
The only thing better than a fun meal out is one that involves revolves around sushi! Kura Revolving Sushi Bar welcomes hungry diners with sushi plates that travel through the restaurant (covered with ventilated lids) on a conveyor belt. When your family spots something that looks good, grab the plate and enjoy! As plates accumulate, shoot them down the tableside slot and gain points to earn prizes like stickers, keychains, and more. Diners can also order from the table touchpad for specific items, that magically arrive at your table. And there's a drink robot —need we say more?!
RELATED: Best Atlanta Restaurants with Play Spaces for Kids
If you have wiggly kids that can't stop moving, Punch Bowl Social at The Battery Atlanta may be the perfect dining experience. This hybrid restaurant/game facility houses tons of activities, including bowling, ping pong, foosball, an arcade, billiards, karaoke, and much more. Oh yeah...and there's great food! In fact, the menu features an entire section just devoted to specialty French fries -- don't worry, balance all that delicious, greasy fare with healthy options like salads, fresh juices and more!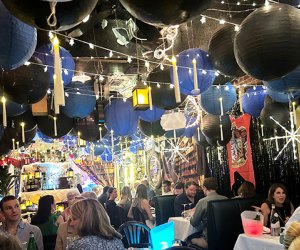 My kids and I are obsessed with Harry Potter so it was a delight to feast during Amore e Amore's special themed night.
Enjoy Italian food at the ultimate party atmosphere! Amore e Amore may offer one of the most fun dining experiences in Atlanta. This Atlanta restaurant chooses a theme -- The Wizard of Oz, Harry Potter, Alice in Wonderland, holidays, and more -- then goes nuts! Amore e Amore decks the space out in the current theme, creates a special menu, plays fun music, and just makes the entire experience so memorable. I seriously didn't want to leave the restaurant after our Harry Potter night!
We can't have an article about eatertainment in Atlanta and not include one of the OGs --Medieval Times! Go back about 600 years to the times of knights and fair maidens at the ultimate dinner and a show. Kids don't need to worry about table manners as this hearty meal includes no pesky silverware. And as families feast upon roasted chicken and corn, they get to witness (and be a part of) a knightly cometition, involving jousting and combat, atop live horses.
RELATED: Best High Tea and Tea Party Places in Atlanta for Kids
Kids love visiting Dr. Bombay's Underwater Tea Party for the chance of a true tea party experience. This beloved Candler Park eatery feels like you've entered the world of Wonderland, with its quirky decor of hanging umbrellas, lampshades, bird cages, and paper cranes, as well as bookshelves bursting with books, comfy chairs, and of course, endless choices of tea.

Combine the best of both worlds--sweet cereal and ice cream--at Cereal and Cream. Photo courtesy of Cereal and Cream
My kids are obsessed with cereal and ice cream, so they love heading to Cereal and Cream which is the best of both worlds. The dessert shop started as a food truck and eventually opened a brick-and-mortar location in Grant Park, serving the most creative, delicious combinations of sugary cereals and silky ice creams. Customize your own dessert by choosing one base (i.e. vanilla ice cream) then any three mix-ins (cereals, candy, toppings); or order Cereal and Cream mix-in combos named after Atlanta neighborhoods (my favorite is the Midtown, with Apple Jacks, Fruity Pebbles, Corn Pops, and honey). Kids can also create cereal-infused waffle sundaes and milkshakes.
Families with online gamers or those who just love an old-fashioned board game will love eating (and playing) at Battle and Brew. Visitors can play, digital and physical, at game consoles, PC gaming stations, duo tables, and tabletop games. Feed your appetite as you play by ordering "geek-themed food" with a press of the button. Yummy options include Peter Parker's Pickles, Dragon Talons (chicken tenders), and The Ghost Buster burger. Learn more about price rates, game play times, and more by contacting Battle and Brew.
Though kids might be entranced by The Sugar Factory's enticing dessert menu and its signature floor-to-ceiling candy wall, this fun Atlanta restaurant is a full-service cafe with normal food...served under a unique gummy bear chandelier. Kids will love the insane milkshakes, pink unicorn hot chocolate, and slices of rich cakes; parents will love the fantastical cocktail menu (most items can be made non-alcoholic).
Click Here to Sign Up!
i