Best Restaurants in Atlanta Where Kids Can Play While Parents Eat
Looking for a meal out with the family? Restaurants with play spaces make it easy—no matter how restless the kids become! Atlanta has a great range of restaurants to suit your budget and family preferences.
From dining spots where toddler play space is the priority, to places with go-karts and games for older kids, Atlanta has it all. Your kids can even get served by a robot or pretend to be air traffic controllers between bites.
Read on for the full list of restaurants with play spaces in Atlanta. Sign up for our weekly newsletter to stay in the loop on the best things to do with kids in Atlanta.
Souper Jenny - 130 West Paces Ferry Rd NW, Buckhead
Souper Jenny serves up a tasty range of healthy soups, salads, and sandwiches for breakfast and lunch in a cafe-style setting; simply order at the counter. The Buckhead location in the Atlanta History Center has a toy kitchen to keep the kids amused while you finish your coffee.

Kids will have free run of the play space which is packed with various age-appropriate activities.
Hippo Hop - 1936 Briarwood Ct NE
This indoor play area is chock-full of areas for kids to explore, and parents love it for its various age-appropriate spaces, including a soft floor for the littlest crawlers. The Hippo Cafe offers a range of healthy snacks for the kids and coffee for the adults.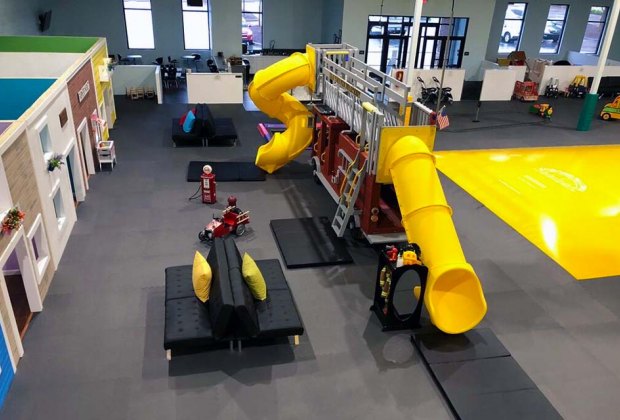 Bean Town is a fun indoor playground that is an ideal place for kids to play, learn, and explore.
Bean Town - 3775 Windermere Parkway, Suite J
Local parents rave about this new indoor play space for kids in Atlanta, which features a series of different play spaces for kids of different ages and even an art station, and which encourages parents to play alongside their kids. The Bean Town cafe serves coffee and healthy snacks, and welcomes pizza deliveries from next door. Bean Town makes extra effort to cater to kids with special needs. The restaurant is nut-free and closed on Mondays and Tuesdays.
Downwind Restaurant and Lounge - 2000 Airport Road
Watch airplanes take off and land at this family-run restaurant adjacent to Peachtree Dekalb Airport. The restaurant serves up kid-friendly meals and offers plenty for plane-obsessed little ones to watch. There's also an outdoor playground.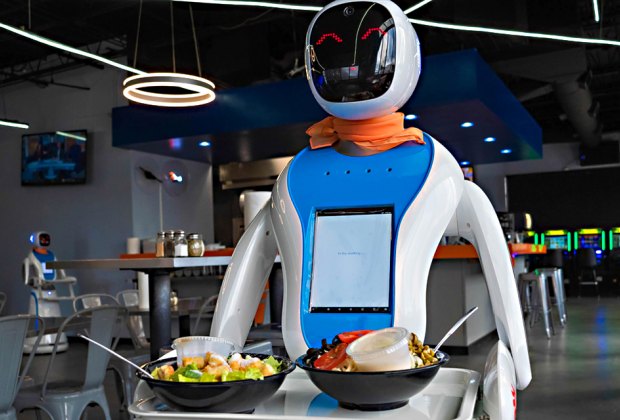 It's an out-of-this-world experience to have a robot serve you dinner at Big Bang Pizza.
Big Bang Pizza - 3043 Buford Hwy NE, Brookhaven
Got a robot lover in the family? This is the place for you. The pizzeria has no designated play area, but the food is brought to your table by robots Pepper and Amy. Open for lunch and dinner daily.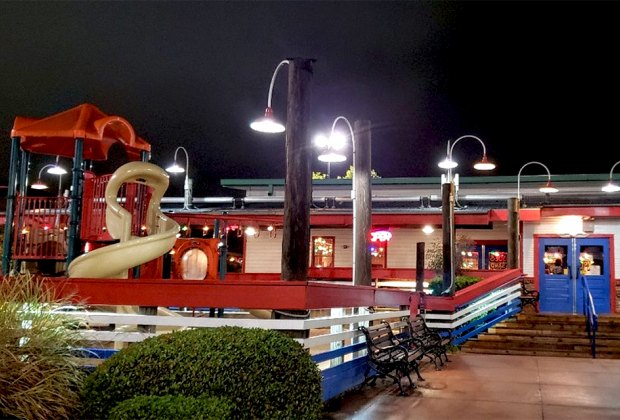 Kids can enjoy playing in the fresh air at Joe's Crab Shack.
Joe's Crab Shack - 1965 Mt. Zion Rd
Seafood rules the menu at this family-friendly chain of restaurants, but even the pickiest toddlers should find something that satisfies on the kids' menu. Joe's Crab Shack has an outdoor playground for the little ones to blow off some steam after their meal.
Atlanta Food Truck Park - 1850 Howell Mill Road
It may not be exactly a restaurant, but the food truck park, located on the site of an old hotel, boasts a dynamic line-up of food trucks as well as activities like cornhole, bocce ball, and a small playground to keep kids occupied.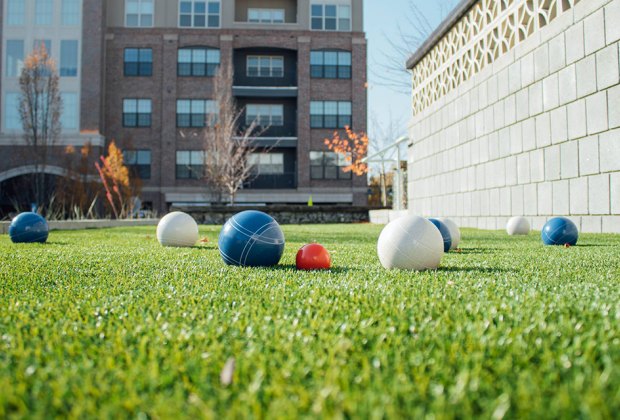 It's getting cold, but pretty soon you'll be able to warm up with a game of bocce at Howell's Kitchen and Bar!
Howell's Kitchen and Bar - 1962 Howell Mill Road
At Howell's Kitchen and Bar, kids can have fun in at the bocce ball court while you wait for the food to arrive.
Chick-Fil-A - 1901 Peachtree Rd NE
Hometown favorite Chick-Fil-A has several locations around town with nice play areas, including Peachtree at Collier, Cleveland Avenue, and Glenwood Place. These restaurants are closed Sundays.
The Pullman - 1992 Hosea L Williams Dr
This gastropub provides a relaxed atmosphere for a family meal, serving up dinner every day and a bluegrass brunch on weekends. The setting is welcoming for kids, and the restaurant offers toys to keep them entertained.
Andretti Indoor Karting & Games - 11000 Alpharetta Hwy, Roswell
Andretti is an indoor entertainment center with a large range of exciting activities for older children—from karting to virtual reality games and a ropes course. And when you need a break from playing, the restaurant offers a full menu of food and drink.

Photos courtesy of the restaurants/play spaces