Atlanta Food Halls That Really Hit the Spot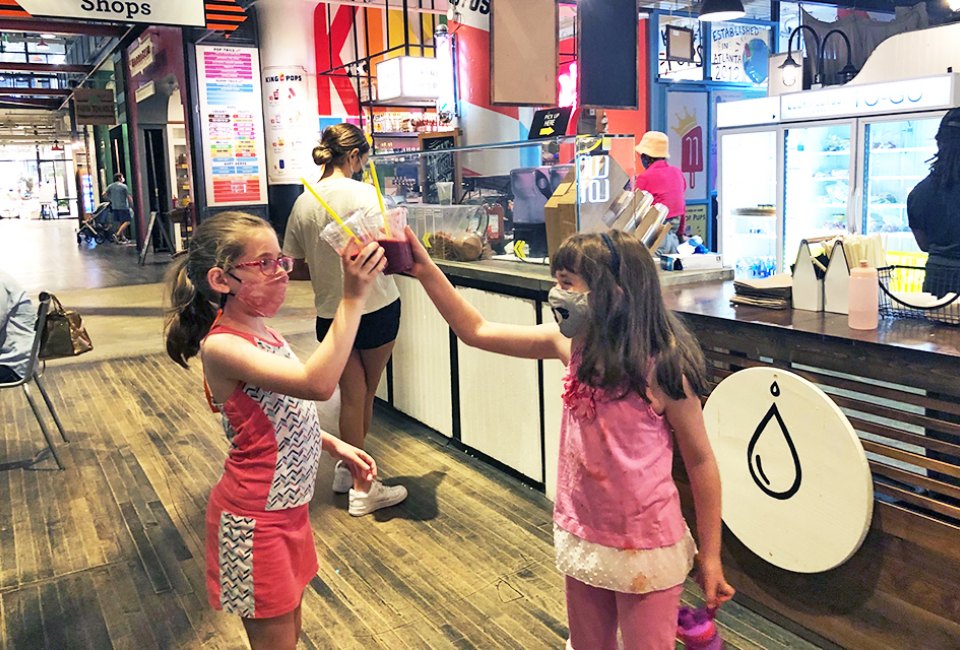 2/18/22
- By
Melanie Preis
Let Atlanta's great food hall expansion continue! Whether you live ITP or OTP, we guarantee there is a food hall in your vicinity...or at least one about to open. Atlanta seems to be going through a food hall renaissance, with delicious spots intown as well as in the surburbs. And these delicious food halls are perfect for families, especially those with picky eaters, varying dietary needs, and kids who just need to move around in a big space at mealtime!
So what is a food hall? It's sort of an elevated version of the mall food court you may have hung out in your teens, except better and more creative cuisine, upscale setting, and no Orange Julius. Or think of it as mini restaurants built as individual stalls? However you define them, food halls offer hungry patrons a chance to eat amazing dishes from a variety of chefs in a centralized locale.
Here in Atlanta, kid-friendly food halls offer both indoor and outdoor seating at large tables —great for meeting new people or dining in a large group. Some even have communal games, like corn hole and oversized chess sets, that kids can play and safe areas that younger diners can explore while their parents eat. Food halls offer a great opportunity to expose children to different cuisines...and if necessary, bribe them with something sweet as almost every food hall has at least one dessert stall.
Grab your appetite and fork because here's a look at kid-friendly food halls in Atlanta!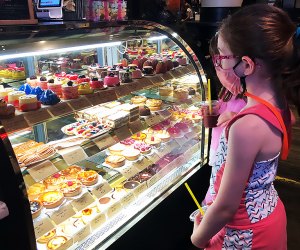 My kids could stare at the dessert options from PCM's St. Germain's Bakery forever.
Atlanta Food Halls for Kids: Intown
Voted as one of the "The World's Best Food Halls" by Travel + Leisure, Krog Street Market (KSM) raises the bar on the food hall experience for Atlanta families. Beloved food stalls include Yalla (Middle Eastern), Recess (plant-based), Suzy Siu's Baos (Asian steamed buns), and more; for dessert, try Jeni's Splendid Ice Creams. Buy a tasty souvenir at retail stalls Sweet Inman Candies or XocolATL Small Batch Chocolate. KSM is on the Atlanta BeltLine, so after you've filled up, take the kiddos on a nature walk or a bike ride to continue the fun of exploring Atlanta's intown neighborhoods!
Located smack dab on the BeltLine, Ponce City Market's (PCM) food hall is bursting with amazing flavors and tastes. Located on the ground floor, the PCM food hall offers everything, from vegan fare and cookie dough, to ramen and Indian street food. Treat your kiddos to a cold treat from King of Pops or Honesuckle Gelato, while you perk up with an artisan coffee from Spiller Park. FYI, spend the day at Ponce City after you dine by heading upstairs to The Roof's Skyline Park for rides, mini golf, and games.
Politan Row is popular with the Midtown workers of Atlanta, but it's also a great place to grab lunch for families sightseeing and hanging out in the area. There's sushi, burgers, pizza, tacos, a cold-pressed juice bar, and much more. My kids' personal fave is the strawberry milk tea with boba from Unbelibubble Tea House.

​Let your kids run around the outside of Chattahoochee Food Works​ after they're done eating.
This 25,000-square-foot food hall is part of the new mixed-use development, The Works, and has delicious options for eaters of all ages to explore. For example Dash & Chutney's vegan Indian cuisine happens to be my husband's favorite (and he's normally a hard-core carnivore). There's also ramen, empanadas, the best mac and cheese from Delilah's Everyday Soul, desserts, and much more. There's indoor seating and a TON of outdoor seating for the kids to run around, including outdoor games to play.
Located at Tech Square, off the Georgia Institute of Technology campus, The Collective food hall is a diner's oasis smack in the middle of Midtown. Food stall Poke Burri makes delicious, creative sushi burritos, sushi donuts, sushi pizza...you get the point. There's also tasty stops like El Burro Pollo Burritos, Mediterranean bites from Aviva by Kameel, and more. Stop at The Collective before or after you take the kids to a Georgia Tech game!

Before you choose your dish, make sure you peruse all the food stalls at Marietta Square Market.
Atlanta Food Halls for Kids: Suburbs
My family and I are always eating at Marietta Square Market (MSM)—after we visit Marietta Square Farmers Market on Saturdays, hang out in the square for a festival, shop for toys and tricks at the magic shop, and just when we're super hungry. Kids will spot MSM by the iconic trolley car sitting out front, and fill up on Cuban, Middle Eastern, Italian, Japanese, and other cuisine. Sit outdoors and enjoy the heaters and fans, and listen for the nearby trains running through downtown Marietta.
Halcyon is a super, kid-friendly spot that's always hosting family events, so enjoy a quick and easy meal at The Market. Kids will love the Chinese dumplings from Gu's Dumplings, as well as options like tacos, pizza, shwarma wraps, poke bowls, and of course, ice cream and fudge from the various food stalls.
The Battery's food hall has a bit of a twist, as there's an overall theme: "Far East street feast." Offering Atlantans a wide perspective of Asian cuisine, Ph'East serves bubble tea, ramen, sushi burritos, and Cantonese and Thai fare. Try Ph'East after or before an Atlanta Braves game!
Located near the Mall of Georgia, The Exchange Food Hall is expected to open late this year with more than 10 food stalls. Offerings will include French crepes, noodle bowls, loaded hot dogs, tamales, and more. If you just can't wait to visit the development, Exchange at Gwinnett does have Andretti Indoor Karting & Games and Topgolf already open.
The Hall at Ashford- Dunwoody (scheduled to open spring 2022)
There's not a lot of details of which vendors will be a part of The Hall at Ashford, Dunwoody's newest mixed-up development, called Ashford Lane. But if they're cooking up something tasty, I know that my kids are ready to chow down.
Photos by the author
Places featured in this article: