Artificial Intelligence with Scratch Online Camp
Young Gates - Kids Online Personalized Classes

Online Robotics Camp
Young Gates - Kids Online Personalized Classes

Spark Math: Free Trial Class
Virtual
Sign up for our free newsletters.
Where To See Cherry Blossoms near Atlanta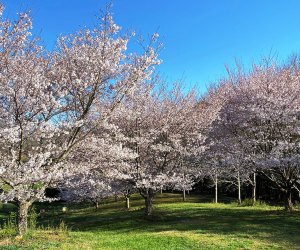 3/17/23
- By
Melanie Preis
Catching the blooms of cherry blossoms is a blink-and-you'll-miss-it moment, which perhaps is part of what makes these delicate flowers so very special. The beautiful varieties of pink and white flowers only bloom for about two weeks in early spring (mid-March), depending on weather and other factors, so its a fleeting moment of spring magic to witness cherry blossoms at their peak.
Throughout Atlanta and Georgia, there are great spots to see cherry blossoms and celebrate the rebirth of spring. From parks and gardens to entire festivals devoted to cherry blossoms, we've collected some lovely places to enjoy and see cherry blossoms near Atlanta.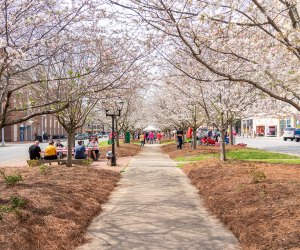 Macon, Georgia's International Cherry Blossom Festival is a sight to behold. Photo by Larry Najera Jr., courtesy of the festival
Macon, Georgia is home to more than 350,000 Yoshino cherry trees -- in fact, Macon has one of the most magnificient displays of colorful blooms in the world. In order to celebrate this pink explosion every spring, the city puts on the Cherry Blossom Festival for 9 days! In addition to the beautiful flowers, the festival celebrates spring with dog contests, cherry blossom royalty, nightly concerts, delicious food, family-friendly shows, and much more. March 17-26, 2023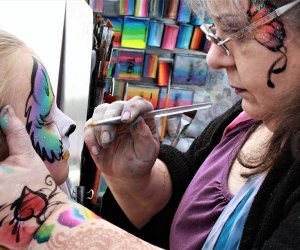 There's more than foliage at the Brookhaven Cherry Blossom Festival. Photo courtesy of the City of Brookhaven
The Brookhaven Cherry Blossom Festival celebrates one of the most delicate blooms in nature each spring at Blackburn Park. The city's festival features two free days of music, art, food, cars, kids events, and lots more. March 25-26, 2023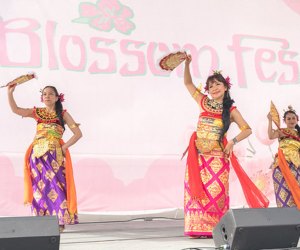 Conyers Cherry Blossom Festival is a cultural celebration of spring. Photo courtesy of the festival
For more than 40 years, the city of Conyers has been celebrating the return of spring with its cherry blossom festival. This free event seeks to pay homage to the short-lived beauty that is the cherry blossom through international music, dance, games, food, and crafts. March 25-26, 2023
Gibbs Gardens in spring is a floral kleidoscope, and this gorgeous garden features hundreds of Yoshino cherry trees (the same that bloom in Washington D.C.) as well as Kwanzan cherries, which bloom slightly later and have double pink blooms. Besides the delicate cherry blossoms, witness the blankets of daffodils blooming about the same time.
RELATED: Everything's Coming Up Roses at These Stunning Atlanta Gardens
Hosting Macon's annual Cherry Blossom Festival, Carolyn Crayton Park (previously Central City Park) is bursting with gorgeous cherry blossom trees. It's a lovely place to wander as this is the largest park in Macon and provides a picturesque view of local nature.
Atlanta's green jewel is midtown's Piedmont Park. This massive park offers hundreds of different species of trees, including Yoshino and black cherry trees. The best place to spot these cherry blossoms in Piedmont Park are the north woods and the northeast corner of Lake Clara Meer.