Everything's Coming Up Roses at These Stunning Atlanta Gardens
4/8/22
- By
Melanie Preis
Atlanta gardens offer the chance to observe and appreciate the wonder that is Mother Nature. Whether bursting with vibrant spring blooms, subdued fall colors, or bright summer florals, each Atlanta garden reminds visitors of the power of plants. The grass is (literally) greener at these Atlanta gardens, where adults and children can enjoy a short visit or spend an entire afternoon.
Before you head out to the Atlanta Botanical Garden or any of the other Atlanta gardens included in our list, make sure to plan ahead. When perusing colorful flowers and stunning Atlanta gardens, wear a comfortable pair of sneakers or outdoorsy shoes. Also, bring sunscreen, insect repellant, hats, water, and snacks (if the kids get fussy). In addition, make the most of your viewing pleasure by packing a pair of binoculars and/or magnifying glass—kids will love examining any surrounding wildlife and foliage.
Mommy Poppins Atlanta has even more awesome outdoor ideas for the family! Get tips about the best way to camp near Atlanta with our feature, Atlanta Camping and Campgrounds to Take the Whole Family; unleash kiddie thrillseekers at the Best Atlanta Ziplines and Ropes Courses; and enjoy a group walk with these 14 Family-Friendly Atlanta Hikes.
Colorful Atlanta Gardens to Visit
The jewel of Midtown sits the Atlanta Botanical Garden, an urban paradise of flowers, plants, trees, and more. Families enjoy more than 30 acres of lush gardens, located right next to another beloved greenspace, Piedmont Park. In addition to features like the Rose Garden, Japanese Garden, Skyline Garden, and Fuqua Orchid Center, make sure to bring the kids to the Lou Glenn Children's Garden so they can climb, play, and splash at the splashpad. Take in the entire property by strolling along the Kendeda Canopy Walk, a suspension walkway 40 feet in the air. Atlanta Botanical Garden plans LOTS of events throughout the year, including special family activities during Halloween, spring break, and Christmas, so make sure to check the online calendar for special fun!
Atlanta Botanical Garden doesn't allow outside food and beverages; however, visitors can fill up on tasty food at the on-site eateries—Longleaf Restaurant, Longleaf Quick Cafe, and snack bar. Visitors can buy single-use entry tickets or annual memberships, depending on potential usage.

Callaway Resort & Garden's Spring FlowerFest runs March-May and is an explosion of floral hues!
Located about 1.5 hours southwest of Atlanta, Callaway Resort & Garden is an attraction that families will love visiting. The sprawling property includes 2,500 acres of beautiful gardens and woodlands, in addition to the butterfly center, manmade lakes and beach, zipline course, Ida Cason Callaway Memorial Chapel, a bird show, golf, biking, hiking trails, and more. When it comes to Callaway Garden, you're going to want to give yourself at least two days to discover all its features; which is perfect because lodging includes options like the resort and spa, villas, and cottages, as well as many on-site dining options.
Make sure to visit Callaway during the holiday season, for the epic Fantasy in Lights show, as well as other seasonal activities like Spring FlowerFest!, Blue Morpho Butterfly Month, Summer Family Adventure, and more.

Witness the beauty and charm of Georgia's native vegetation at Chattahoochee Nature Center.
Learn about local vegetation and wildlife at Chattahoochee Nature Center (CNC), home to over 600 native plants. Sitting on 127 acres in Roswell, CNC showcases grasses, wildflowers, shrubs, and trees native to Georgia, as well as birds, reptiles, and small mammals. In addition to the local foliage, there is an amazing zipline and ropes course for older kids, five wooded hiking trails (perfect for beginners), and canoe trips for families looking to bond upon the Chattahoochee River. During the summer, CNC opens its Butterfly Encounter, so visitors can get up close to these delicate creatures and learn more about them.
Pack a lunch and snacks to enjoy at one of the many uncovered picnic areas. The CNC has great events happening throughout the year—it's a good idea to check the online calendar for upcoming fun, like winter's Enchanted Woodland Trail, featuring gnome and fairy houses created by local artists, and summer's Sundays on the River Concerts series.
RELATED: Mini Golf in Atlanta Is a Hole in One for Fun
The free Downtown Daffodil Project is a beautiful living memorial—more of a shrine than garden. Part of the worldwide Daffodil Project, this botanical project aims to "build a living Holocaust memorial by planting 1.5 million daffodils around the world to remember and represent the 1.5 million children who died in Nazi-occupied Europe and bring awareness to those currently suffering human rights crises throughout the world."
The golden daffodils grow throughout downtown Atlanta, stretching between the Center for Civil and Human Rights and the King Center, creating a "ribbon of consciousness" for everyone in the city. The Project is a helpful way to talk to children about a difficult historical event.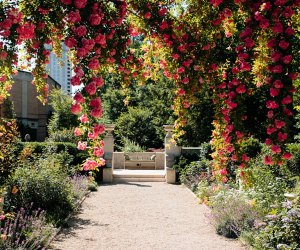 Visit the Atlanta History Center and stroll through Goizueta Gardens.
Head to the Atlanta History Center and visit the Goizueta Gardens, part of the 33-acre property that includes various plant and tree collections. Located in Buckhead, Goizueta features nine distinct gardens, each with a personality of its own. Standouts include ornamental Olguita's Garden, full of fragrant and flowering plants; Quarry Garden, bursting with native species and quiet waterfalls; and Smith Farm Gardens, with heirloom plants and animal breeds.
Visitors can see the gardens and walk the trails by buying tickets for the Atlanta History Center. In addition to the lush gardens, ticket holders learn about the history of Atlanta with tours of four important homes and signature exhibits.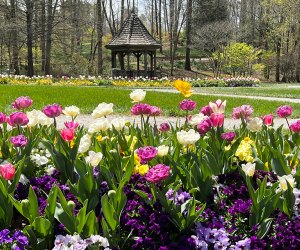 Gorgeous Gibbs Gardens is worth the drive from Atlanta to see the power of nature.
About an hour north of Atlanta sits the majestic Gibbs Garden, featuring more than 300 acres of stunning flowers, plants, trees, and all-things nature. Designed and created by Jim Gibbs with the purpose of growing a world-class garden, Gibbs Garden includes 24 ponds, 32 bridge crossings, and 19 waterfalls, as well as Japanese gardens, daffodil gardens, waterlily gardens, rose gardens, sculpture garden, and much more.
No outside food and drinks are allowed, but visitors can purchase yummy snacks and meals at the on-site Arbor Cafe.
Learn about conservation, horticulture, and historic preservation at Smith-Gilbert Gardens in Kennesaw. Enjoy 17 acres of inspiring gardens, all wrapped around the historic Hiram Butler House (dating back 150 years). More than 20,000 daffodils dot the landscape, surrounding various sculptures by local and regional artists. The bonsai exhibit is dutifully maintained by volunteers to invoke peaceful vibes. During the summer, visitors can make friends with native butterflies at A Garden With Wings butterfly house, connecting near the pollinator garden. There are also various play structures throughout the gardens, like the Noodle Forest, that kids enjoy as they walk the trails.
Families can bring food to the site and picnic on one of the grassy areas or benches—just make sure to clean up after yourselves and keep the space tidy for all creatures passing through.
Photos courtesy of the gardens