16 Atlanta Farmers Markets for the Whole Family
6/23/23
- By
Rebecca Ruffin Leffler
Atlanta farmers markets are popping up all over the region, helping families embrace farm-to-table cooking and afternoons spent outdoors. Farmers markets in Atlanta allow families to select fresh, locally-grown produce at reasonable prices; support the local economy; teach kids about food; and bring the whole squad together for a day of outdoor fun!
Farmers markets aren't limited to selling only produce and prepared foods. Today, these produce oases offer an outdoor experience for the entire family—with kid-friendly features like arts and crafts, bounce houses, water play, and much more. Read on for a list of the best Atlanta farmers markets that appeal to kids, as well as parents.
With all your healthy farmers market purchases, use these kid-friendly recipes with your little ones. And be sure to check out our Pick Your Own Guide to Farms in Atlanta for great u-pick strawberry, blueberry, peach, and apple spots.
Kid-Friendly Farmers Markets in Atlanta
Why Kids Love It: Playground, Green Space, Walking Trails
Market held Fridays, April-October
Acworth Farmers Market, held on Fridays 8am-noon at Logan Farm Park, is a great spot to let kids burn off energy at the playground and green space. After getting your fill of Georgia-grown produce and other items, enjoy the walking trails and check out the historic downtown area.
Why Kids Love It: Splash Pad, Green Space
Market held Saturdays, April-November
One of the largest farmers markets is located at Alpharetta City Center on Saturdays 8:30am-12:30pm. Kids love jumping in the Town Green Fountain, as well as playing and running around the large green space. Find a diverse selection of produce, meat, cheeses, flowers, spices, and craft items, in addition to food vendors selling breakfast and lunch items.
Why Kids Love It: Fun Events, Live Music
Market held Saturdays, April-November
Located near the Brookhaven/Oglethorpe MARTA station, this farmers market features special events throughout the season. For example, kids love story time with Santa Claus during Christmas in July. Check the market's website for upcoming events, as well as live music schedules.
Why Kids Love It: Kid's Booth and Story Time
Market held Wednesdays, March-November
Children find activities at the kid's booth at the Decatur Farmers Market on Wednesdays 4-7pm. At 5pm, Little Shop of Stories hosts a story time. Vendors sell fruit, vegetables, beef, and pasta. Parents can skip cooking dinner by purchasing prepared foods.
Why Kids Love It: Playground, Dog Park, Zipline
Market held Saturdays
The DHA Farmers Market occurs on Saturday 9am-noon at Brook Run Park. In addition to perusing local honey, seafood, produce, and other products, let the kids hit the playground and the dogs run through the Brook Run dog park. For an extra treat, sign up for a zipline session at TreeTop Quest!
RELATED: Best Playgrounds Near Atlanta for Kids and Families
Why Kids Love It: Eclectic Vibe, Edible Learning Garden
Market held Thursdays, March-November
On Thursday evenings, head to the East Atlanta Village Farmers Market for vegan popsicles, cruelty-free skincare products, and grass-fed beef along with fruits, vegetables, and ethically produced meals. Children's activities include the EAV Edible Learning Garden, live chef demonstrations, and tasty free samples. In addition, East Atlanta is just a cool, eclectic neighborhood to grab coffee or tea and hang.
Why Kids Love It: Children's Garden, Play Area
Market held Sundays
Visit the Grant Park Farmers Market across from the Beacon, near the soon-to-be-completed Southside trail of the Atlanta BeltLine. The adjacent Nest Preschool offers a children's area with a garden and an area to ride tricycles, allowing parents time to sample food, watch live demos, and shop.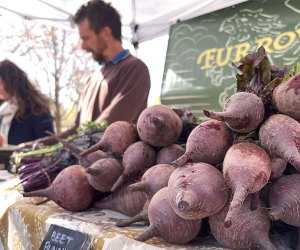 Stock up on fresh local produce while the kids play at the fountain in Piedmont Park. Photo courtesy Piedmont Park Conservancy
Why Kids Love It: Playgrounds, Splash Pad, Atlanta BeltLine, Dog Park
Market held Saturdays, March-December
The Green Market at Piedmont Park allows kids to explore two playgrounds and splash in the Legacy Fountain. Bring your furry friends to visit the dog park, too! With stroller-friendly walking trails (including the Eastside trail of the Atlanta BeltLine), parents can also get exercise after stocking up on goods.
Why Kids Love It: Cool Downtown, Bouncy House (select dates)
Market held Mondays, April-September
Kennesaw Farmers Market helps families start the week with seasonal fruits and vegetables. Shop from the 20 vendors on Mondays 3:30-7pm. Occasionally, the farmers market features a bouncy house for kids, so check social media for updates. After shopping, explore the walkable downtown area.
Why Kids Love It: Free Food Samples, Tractor Rides (select dates)
Market held Fridays, May-August
Kick off the weekend on Fridays 4-7pm at Good Shepherd Presbyterian Church for the Lilburn Farmers Market. Allow kids to taste samples and select healthy locally-grown food. Check the market's calendar/social media for musical entertainment, upcoming chef demos, and occasional tractor rides.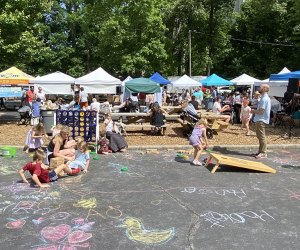 Kids can play while parents shop at the Peachtree Road Farmers Market. Photo by Bill Leffler
Why Kids Love It: Children's Area, Playground, Story Time (select dates)
Market held Saturdays, March-December
PRFM encompasses over 50 producer-only vendors selling certified organic or certified naturally grown items at the Cathedral of St. Philip parking lot. Held on Saturdays 8:30am-noon, the market features live music, pop-up demonstrations, and a children's area with playground, chalk art, and outdoor games. Kids also enjoy story time hosted by Alliance Theatre twice a month.
Why Kids Love It: Playground and Face Painting (select dates)
Market held Saturdays, April-October
Bring the family to Roswell Presbyterian Church on Saturdays, 8am -noon. On select dates, Twisted Bristles offers face painting for kids. In addition to hosting 30 vendors selling items from eggs, beef, and vegetables to jewelry and other crafts, RFAM offers live entertainment, free yoga sessions, and a playground for kids.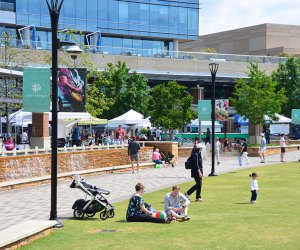 More than 40 vendors offer local foods and goods at the Sandy Springs Farmers Market. Photo by Bill Leffler
Why Kids Love It: Fountains, Splash Pad, Green Space
Market held Saturdays, April-November
Spend a relaxing morning at Sandy Springs Farmers Market. This farmers market is held on Saturday mornings at City Springs, where kids can play among the fountains, swinging park benches, and large green space. In warmer months, bring a bathing suit for kids to frolic in the splash pad.
Why Kids Love It: Filming Location, Baby Chicks (select dates)
Market held Saturdays, March-December
Besides live music and food trucks, the Senoia Farmers Market features produce and artisan items every Saturday 8:30am-1pm. Check the market's Facebook page for the schedule as kids love visiting the baby chicks from Farmhouse of Blessings Farm. Located in a warehouse used in the TV show The Walking Dead, the market sells bloody marys to adults stocking up on healthy fresh items.
Why Kids Love It: Children's Activities
Market held Thursdays, March-November
Since its inception in 2021, VAHI Farmers Market has gained popularity on Thursday evenings. Head to the info booth for a kid's activity sheet. Activities, such as scavenger hunst, vary each week and kids earn a $5 token to purchase fruits and vegetables upon completion. Visitors also enjoy free samples, chef demonstrations, live music, and a rotating selection of vendors.
Why Kids Love It: Fascinating Foods
Market open every day
Your Dekalb Farmers Market exposes kids to an inordinate variety of international fruits and vegetables in its 140,000-square-foot store. Live lobsters, fresh-baked pastries, and exotic flowers provide a feast for the eyes. In addition to international food, kids will get a kick hearing different languages spoken since the market employs staff from over 40 countries!
RELATED: A Guide to Truist Park & The Battery Atlanta for Little Atlanta Braves Fans
16. The Battery Atlanta Farmers Markets - Atlanta
Why Kids Love It: Baseball, Petting Zoo, Bark Market
Market open select Sundays, June -September
Shop from a variety of local vendors selling prepared foods, produce, bread and baked goods, wellness products, and more. Catch the Atlanta Braves away game on the Georgia Power Pavilion screen, check out the petting zoo at every market. New for 2023: Introducing the Bark Market, a fun section of the farmers market focused solely on furry family members.
Tips for Visiting Atlanta Farmers Markets
Wear a hat and sunscreen.
Confirm payment options and plan accordingly.
Check each market's individual website or social media for last-minute announcements regarding inclement weather, seasonal produce, vendor lists, special events, and entertainment.
Most outdoor farmers markets allow well-behaved dogs on a leash.
Take your time at a farmers market. Purchase a meal to eat on the grounds, listen to entertainment, talk to vendors, and explore a new neighborhood.
Unless noted, photos by the author
Click Here to Sign Up!
i