A Guide to Truist Park & The Battery Atlanta for Little Atlanta Braves Fans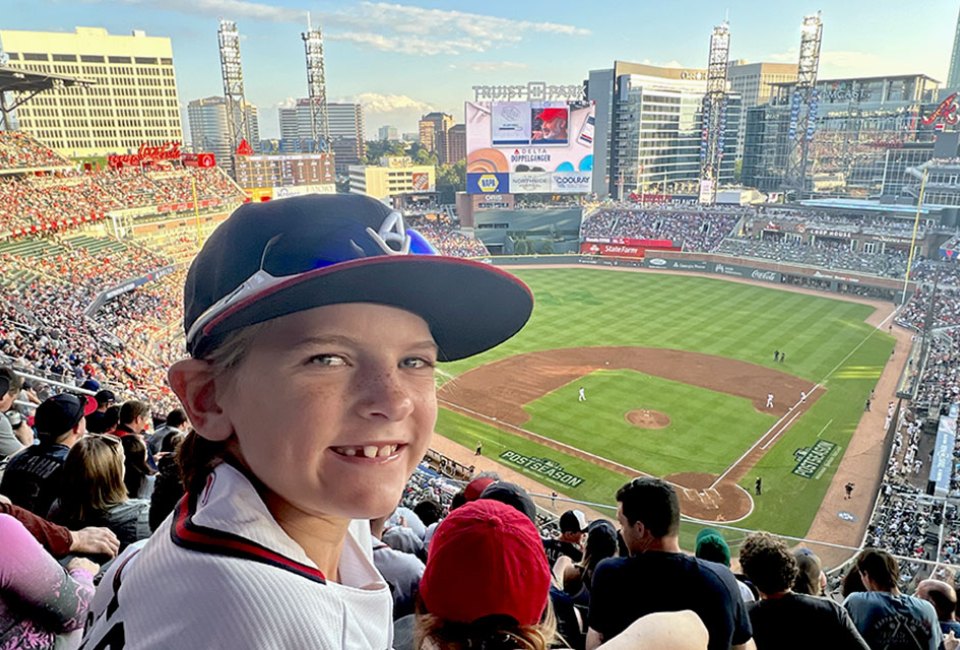 3/10/23
- By
Elsa Simcik
When families visit Truist Park for an Atlanta Braves game, it's like living the song, "Take Me Out to the Ball Game," except so much more! Sure, the Truist Park has peanuts, Cracker Jacks, and a crowd, but it also has Chick-fil-A, pizza, and an interactive kids' zone. Visiting Truist Park for an Atlanta Braves game is an amazing experience on its own, and baseball fans (and non-sporty people) have an additional option to have fun at the surrounding Battery Atlanta. This entertainment district provides loads of fun for Atlanta families and visitors alike.
Located in the Cumberland neighborhood of Cobb County, Truist Park (originally SunTrust Park) opened in 2017 as the new home ballpark for Major League Baseball's Atlanta Braves. This state-of-the-art facility sits next to The Battery Atlanta, which is open year-round for dining, shopping, and entertainment.
As baseball season approaches, cheer on the Atlanta Braves (winners of four World Series) with our helpful guide to Truist Park. And keep the party going by hanging at The Battery...or skip the sports part and just enjoy Atlanta's ultimate entertainment district!
For more family fun ideas, check out our Spring Fun Guide for Kids and Families in Atlanta. See what else we recommend visitors check out in Atlanta by perusing our Mommy Poppins Atlanta Visitors Guide!

The Pop Flyer is a 100-foot zip line that sends kids and adults flying through the air. Photo courtesy of Mommy Poppins
Enjoying an Atlanta Braves Game at Truist Park with Kids
Kids' Play
For families with kids, stop by Hope & Will's Sandlot (sponsored by Children's Healthcare of Atlanta) as a must, pre-game activity. The interactive kids' zone is located near the Chop House gate and includes arcade games, a rock wall, and a batting cage. Guests may even spot Braves mascot Blooper around the kids' zone! The most popular attraction is Pop Flyer, a 100-foot zip line —after purchasing $1 tokens for games and activities, be sure to grab a spot in the line for Pop Flyer to avoid long wait times. Tip: Visit Hope & Will's Sandlot during the game for shorter lines.

Dress in your Braves gear for Kids Club Day! Photo by Claire Robinson
Join the Club
Consider signing up your Atlanta Braves fans for the free Braves Kids Club (ages 14 and under), which features monthly giveaways to redeem at the game in Hope & Will's Sandlot. Kids Club members are also treated like VIPs at The Battery Atlanta with special offers from retailers. Every year Truist Park holds Kids Club Day, with discounted tickets.
Tasty Foods for Kids
Sandlot Snacks is conveniently located in Hope & Will's Sandlot and serves faves like pizza and hot dogs. (Bonus: Everything there is peanut free!) Other popular stops for kids include Atlanta's own Chick-fil-A (section 143) and Waffle House (section 311). To satisfy a sweet tooth, Truist Park has plenty of options like King of Pops, Mayfield Ice Cream Creamery, and Dippin' Dots. Visitors are permitted to bring in their own snacks, but there are limits: Food must fit inside a clear, gallon-sized plastic bag and bottled watter must be sealed. One bag of food and one bottle of water per ticket is permitted.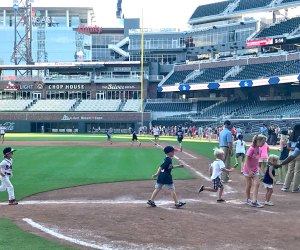 Kids can run the bases on most Sundays. Photo by Claire Robinson
Best Days to Cheer on the Braves
Sundays are family favorite days because kids, ages 4 to 14, are invited onto the field after the game to run the bases. No need to make a reservation; just head to section 135 (the third base ramp) at the bottom of the 7th inning and get your cameras ready. Young Braves fans who love free stuff (who doesn't?) also prefer Sundays because the first 3,000 kids get cool things like bobbleheads, Blooper beach towels, and Braves sunglasses. Since attending a major league baseball game can add up, check the Braves' ticket specials like Coca-Cola Wednesdays ($18 tickets) and value pack offers (ticket, snack, and a drink for as low as $25).

Get ready to cheer on the Atlanta Braves with this list of game tips! Photo by Leslie Fowler
Know Before You Go:
Parking: Reserve parking online in advance to avoid long lines on the day of the game. Fans can also drop off their crew near Third Base Gate at The Battery Delta Deck, located off Battery Avenue.
Bag Policy: The only bags allowed for the 2023 season are: small, single compartment clutches no larger than 5x9 inches; medical bags; breast pumps; and diaper bags for guests carrying infants or toddlers.
Restrooms: Family restrooms are located throughout the park (sections 120, 143, 140, 148, 152, 313, 323, 329, and 346) and all restrooms have changing tables.
Nursing: Mothers will find a comfortable nursing lounge on the lower level, section 141, near the left field gate. This dedicated space is staffed by a guest services ambassador, air-conditioned, and stocked with rocking chairs and a changing station.
Shopping: Buy Braves gear for children at the Braves Clubhouse Store for Kids (section 152 in Hope & Will's Sandlot).
Two-and-under tickets: Children ages two and under do not need a ticket, but must sit on an adult's lap during the game.
Strollers: Parents may bring in strollers but should fold them up under their seat during the game or check them at Guest Services (section 111).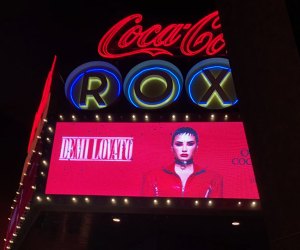 The Coca-Cola Roxy offers a cool venue to see live music acts and more! Photo by Melanie Preis
Anchored by Truist Park, neighboring Battery Atlanta is an awesome destination for family fun in Atlanta. This cool entertainment district is open year-round, regardless of game days and baseball season, and features great dining, shopping, music, special events, and more.
My kids love running around The Battery on any random weekend, with Jeni's ice cream cones in hand and mischievous smiles on their faces. This open space allows kids to run out their energy, and attend community-wide events hosted at the venue.
Fill Up at The Battery
There are so many tasty spots to hit up at The Battery, it's hard to squeeze them into one article. Of course, kids will love the frosty treats at Jeni's, but for a more substantial, kid-friendly meal, try Goldberg's (bagels, perfect for lunch), Antico's (pizza), PH'EAST (Asian street food), Superica (Mexican), and H&F Burger. There are MANY more restaurants at The Battery, so check out the spots before you make a decision.

Get your game on at Punch Bowl Social. Photo courtesy of the venue
Games, Music, Movies, and More
The Battery Atlanta offers some of the coolest entertainment spots both kids and parents will love. Punch Bowl Social has bowling, arcade games, karaoke, board games, and much more; The Escape Game Atlanta is an escape room for all skill levels; Coca-Cola Roxy offers a cool music venue to see live music acts; and more!
Spend even more time at the attraction by visiting Live! at The Battery during the day for special events and sporting games (after 10pm is only for 21+ ages). Older kids and teens who love sports can head to the area for an immersive spectactor experience at Sports & Social.
Shop 'Til You Drop
Check out cute shops at The Battery that offer everything from sports memorabilia to gourmet olive oil! Fill up candy jars by shopping at River Street Sweets; get Atlanta Braves swag at The Clubhouse Store; take home America's pasttime at Baseballism; add charm to your home from the merchandise at Sugarboo & Co.; and much more.
Additional reporting by Melanie Preis
Places featured in this article:
---
Truist Park
---
The Battery Atlanta
Click Here to Sign Up!
i