Best Atlanta Playgrounds for Toddlers to Climb, Run, and Explore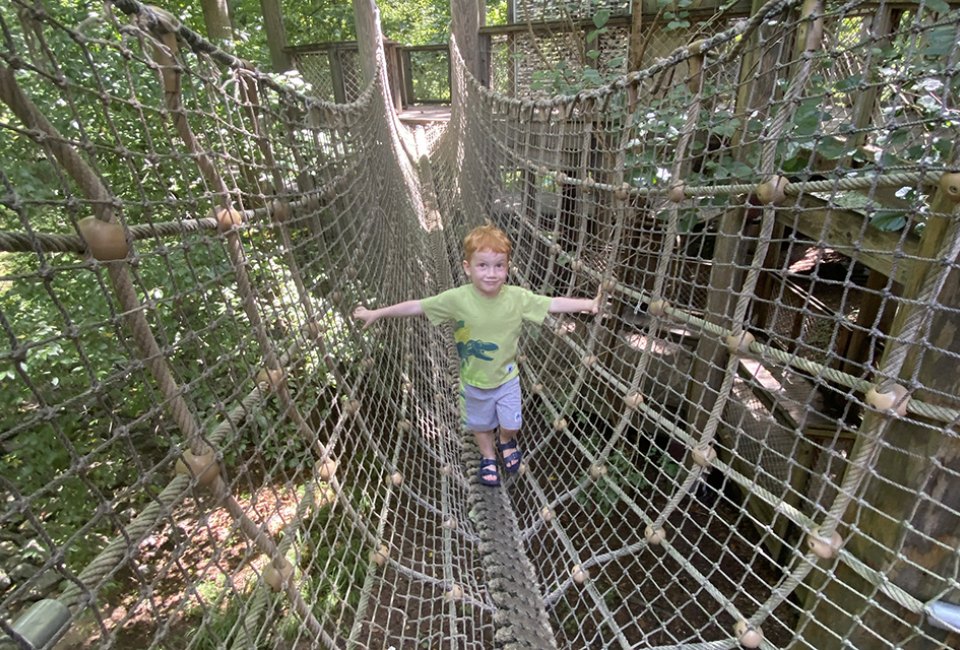 2/6/22
- By
Elsa Simcik
Playgrounds for toddlers in Atlanta mean smaller slides, lower ladders, and bucket swings. (And if it has a perimeter fence to secure toddler escape artists, even better.) We're lucky to have gorgeous parks and playgrounds in Atlanta, as well as green space galore right in the heart of the city. Many of these parks offer playgrounds with slides, rope courses, swings, even a splash pad; but if you have toddlers, parents need to be more playground particular. That's why we have scoured Atlanta for toddler playgrounds that suit the under-three set.
Looking for more fun for your little ones? Check out our ideas for 25 Great Things To Do in Atlanta with Toddlers and Preschoolers as well as Easy Toddler Games.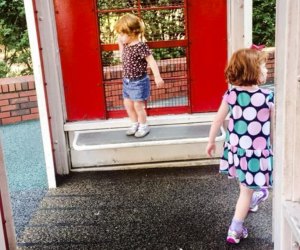 Glover Park is one of those great playgrounds for toddlers in the heart of Marietta.
Awesome Atlanta Playgrounds for Toddlers
This Atlanta playground at Marietta Square is popular for festivals and events. Kids, especially young ones, always flock to the train playground.
This intown, enormous park features two separate playgrounds for toddlers with a pirate ship theme. The Mason Mill Park playground for toddlers and preschoolers is enclosed and has its own swings.

Toddlers are never bored at Morgan Falls Overlook Park.
We appreciate Morgan Falls' soft, synthetic grass and ample sunshade over the playground. We also love that it has a separate toddler play area with tiny climbing structures, small slides, and bucket swings.
This Atlanta playground requires admission to the Fernbank Museum of Natural History, and it is worth it! Kids and toddlers of all ages can explore the outdoor obstacle course, with a canopy walk as the highlight.
This large, shaded, Atlanta playground has three separate areas, one of which is specifically for the younger set. The toddler area is enclosed (yay!) and has a fun, mini-sized playground, swings, and seesaws.

Toddlers and older kids love the saucer-style swings at Historic Fourth Ward Park.
This Atlanta playground is one of several situated along the Atlanta BeltLine. The unique toddler playground includes options for little ones like saucer-style swings, a mini trampoline, and smaller slides. Kids of all ages love the adjacent sprayground during hotter months.
This popular and large park in Dunwoody features playgrounds separated for older and younger children, with several sets of monkey bars, slides, and swings in various sizes. Kids also love Brook Run Park's multi-colored tunnel and nearby babbling brook. Parents appreciate the shaded areas and seating.
Parents like Cobb Park, just west of downtown Smyrna, for Kidscape Village, containing colorful play structures for kids of all ages. The toddler playground offers swings and slides, plus a play train and telescope. Most of the playground is shaded with giant umbrellas.
Chastain Park has been around a long time, but its playground equipment was recently upgraded. Little ones enjoy a sensory tunnel, musical equipment, and toddler playhouses.
Logan Farm Park sits among 120 acres of greenspace in the heart of downtown Acworth. The Atlanta playground features amenities for older kids and a smaller, toddler-sized section with mini-slides and bridges. Much of the playground is shaded and features rubber flooring.
The children's area at Atlanta's newest greenspace is amazing. There are so many play structures, several of which are built into the hill and landscape. Atlanta toddlers will enjoy saucer swings, smaller slides, and percussion equipment.
Best known for its impressive wooden playground, "Wacky World," Wills Park has options for toddlers, including a section of the wooden playground with a sandbox and the "yellow" playground with smaller slides and climbing structures.
When it comes to playgrounds for toddlers, families love PlayTown Suwanee, featuring a wooden kingdom that includes plenty of toddler-sized fun (all fenced in). Young kids also love the colorful cows and sandbox.
McDaniel Farm Park is full of history as it was once a working farm in the early 1900s, and still has the original farmhouse on property. There's a farm-themed playground with a smaller climbing and sliding structure perfect for toddlers.

All aboard Smyrna Community Center Playground!
This Atlanta playground is great if you just have toddlers in tow, as the train structure is ideal for their size. Families can visit the village green and library, then let little ones climb the train. Bonus: It's shaded!
Residents think of this as the home of the Dream Dog Park, but Newtown Park also has great options for two-legged creatures. With two separate yet adjacent playgrounds (one for big kids, one for toddlers), families can spend hours at this shaded park.
Home to the Luther Holt All Children's Playground, a place where kids of all abilities can play, sits Picnic Park. Atlanta toddlers can climb and slide on the smaller play structures. Parents appreciate the scenery of the nearby lake and the safety of a fenced enclosure.
Families love East Cobb Park for its shaded walking trails and two separate playgrounds. The park boasts an enclosed toddler playground with soft surface ground cover, small slides, and toddler swings.
Photos by Kristin Kneeland