Best Things to Do in Atlanta this Easter Weekend with Kids: Egg Hunts, National Parks, Artsapalooza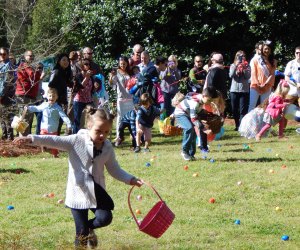 4/13/22
- By
Elsa Simcik
Looking for the best things to do in Atlanta this Easter weekend? Here are some family-friendly events and activities to add to your weekend list!
Hop all around Atlanta this Easter weekend for egg hunts, holiday brunches and an art festival. Grab the kids' baskets and bounce over to one of many egg hunts happening Saturday, including the Hop-a-Long Easter Egg Hunt at Avalon, where children collect eggs and trade them in for treat bags. Head over to Blackburn Park in Brookhaven for the Easter Egg Scramble, which is free and includes a light breakfast along with your egg hunting. Add a little color to your family's outdoor adventures this Easter weekend with Sandy Springs' Artsapalooza, which has hundreds of artist vendors, a children's play area, and yes, another Easter egg hunt.
We are full on into spring in Atlanta, which means you might want to stop and smell the flowers at Stunning Atlanta Gardens. Another fave fam spring activity? Traveling! We have a great list of Atlanta Campgrounds if you're an outdoorsy family, or check out our picks for the Best Kid-Friendly Spa Resorts and Hotels Near Atlanta, if that's more your style.