25 Great Things To Do in Atlanta with Toddlers and Preschoolers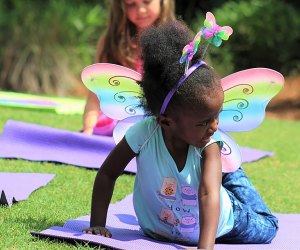 10/22/21
- By
Kendra Pierson
When my children were toddlers in Atlanta, I absolutely loved getting out and exploring all the things there are to do with kids in Atlanta. I created this list of things for children to do before they start school because I'm ready to do it all again—as a "glam-ma." There are so many things to do in Atlanta through my granddaughter's eyes...a common storytime can become something different when you place it in a garden or railway museum. One other advantage: When kids are younger, often parents are the only ones who have to pay. So enjoy! Consider this your Atlanta toddler bucket list—my favorite 25 things to do in Atlanta with kids 5 and younger.
Whatever you do, know that your friends at Mommy Poppins Atlanta are scouring the area for the best family happenings. Check our events calendar for awesome events in Atlanta and beyond, and remember to sign up for our FREE newsletters to receive posts such as this right to your inbox.

Underwater adventures await at the Georgia Aquarium. Photo courtesy of the aquarium
Great Things To Do Indoors with Atlanta Toddlers and Preschoolers
1. Group Storytime
Atlanta toddlers enjoy Fernbank Museum's storytime and a special presentation by one of the staff.
2. Legoland Discovery Center
Build with Duplo bricks at the center in Phipps Mall. There's also a play structure to climb, made entirely from Legos, and a gorgeous bird's-eye view of Atlanta.
3. Georgia Aquarium
Kids can swim with the fishes (or at least imagine doing so) during toddler time at the aquarium.
4. Brave and Kind Books
Wander in and find the perfect book with the help of the staff at this neighborhood bookstore for kids.
RELATED: 50 Fun Things to Do in Atlanta With Kids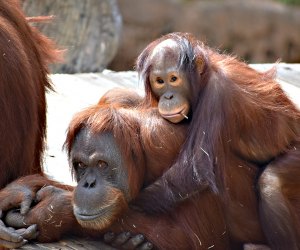 Get up close and personal with the "residents" of Zoo Atlanta. Photo courtesy of the zoo
Great Things To Do Outdoors with Atlanta Toddlers and Preschoolers
5. Fairy Trail
Atlanta toddler time is best spent on the Chattahoochee Nature Center's Enchanted Woodland Trail, featuring lots of creative fairy homes and whimsical objects.
6. Atlanta Beltline
Atlanta toddlers and preschoolers love running/scootering/biking across the 22 miles of Beltline that weaves its way throughout the most beloved intown neighborhoods.
7. Tiny Toons
Treat your child to his or her first roller coaster ride in the Tiny Toons section of Six Flags Over Georgia.
8. Old Fourth Ward
Splash down at the Old Fourth Ward splash pad (one of many in Atlanta) on a hot day. Before or after playing in the splash pad, check out the playground as well.
9. Zoo Atlanta
Visit the animals in their natural habitats. From alligators to zebras, with elephants and panda bears in between, Zoo Atlanta teaches kids the importance of being good stewards of the land.
10. Atlantic Station
Visit the hip attraction of Atlantic Station for movie events during the summer months, and "snow" days during the winter. Either time is a great time to visit!
11. Lantern Parade
Make your own lantern and walk in this art scene parade, which is fast becoming an Atlanta tradition. This event has been temporarily suspended due to Covid precautions.
12. Butterfly Center
Head to Callaway Gardens and visit the Cecil B. Day Butterfly Center, where more than 1,000 butterflies flutter free in the conservatory.
RELATED: 10 Amazing Playgrounds Near Atlanta for Kids and Families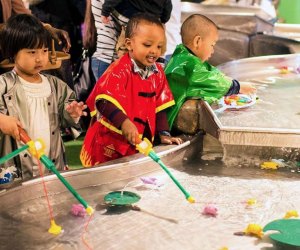 Kids can learn AND play at the Children's Museum of Atlanta. Photo courtesy of the museum
Museums and Learning for Atlanta Toddlers and Preschoolers
13. Gaze at the Stars
Talk a walk through the observatory at the Tellus Science Museum on any other clear night. Closer to home, you also can see the stars inside at the Fernbank Science Center planetarium.
14. MLK Jr.
Introduce your toddler to one of Atlanta's most famous former residents at the Martin Luther King Jr. National Historical Park. Walk in the footprints of the civil rights legend outside the event center.
15. Southeastern Railway Museum
Cultivate a love of trains in your child with a visit to the iconic Southeastern Railway Museum. Little kids will especially enjoy its Second Thursday Pre-School Program.
16. Greene Family Learning Gallery
Create with your inner artist at the Greene Family Learning Galley of the High Museum. The museum hosts a weekly toddler art program that includes touring the galleries before participating in a hands-on project.
17. Puppets and More Puppets
Treat your kids to a show at the Center for Puppetry Arts. Don't forget to take a tour of the museum afterward to make the puppets a little less scary.
18. Children's Museum of Atlanta
Kids can learn through the power of play at this Atlanta institution. There's a special area for babies younger than 2, and plenty of areas to learn, grow, and climb through the toddler years.
19. Little Shop of Stories
This Decatur mainstay continues to entertain kids of all ages. Little Shop of Stories offers their famous storytimes and circle times through Facebook Live because of Covid precautions.
20. Smith Family Farm
Kids can pet the sheep, chase a chicken, or moo with the cows as they learn about life on a farm at the Atlanta History Center.
RELATED: Swimming Lessons in Atlanta for Kids and Babies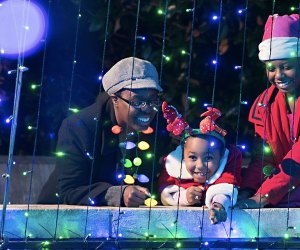 The Atlanta Botanical Garden alights with seasonal colors during Garden Lights, Holiday Nights. Photo courtesy of the garden
Holiday Experiences for Atlanta Toddlers and Preschoolers
21. Cut-Your-Own Christmas Tree
Come the holidays, smell the pine trees and pick your own Christmas tree at the Yule Forest Christmas Tree Farm. Even if you and your Atlanta toddler don't purchase a tree from there, the farm offers tours of the farm, a kids' zone, and more attractions.
22. Stone Mountain Christmas
Atlanta toddlers and preschoolers will be swept away with the holiday magic that is a Stone Mountain Christmas, featuring festive lights, music, and shows with their favorite holiday characters.
23. Garden Lights, Holiday Nights
Come winter, Atlanta's best holiday light show, Garden Lights, Holiday Nights, takes center stage at the Atlanta Botanical Garden. Kids also can trick-or-treat in the fall during the Scarecrows in the Garden exhibit or welcome spring with a walk through the children's garden.
Sporting Experiences for Toddlers and Preschoolers
24. Atlanta Braves at Truist Park
Cheer on the hometown Atlanta Braves at Truist Park. Arrive before the game and visit Hope & Will's Sandlot, the kids' zone inside the ballpark. Stay late and explore Atlanta Battery.
25. Road Races With the Atlanta Track Club
Run with the Atlanta Track Club. Most races include a 50-meter dash for kids younger than 5, who can enter free of charge.