Best Atlanta Summer Camps for Preschoolers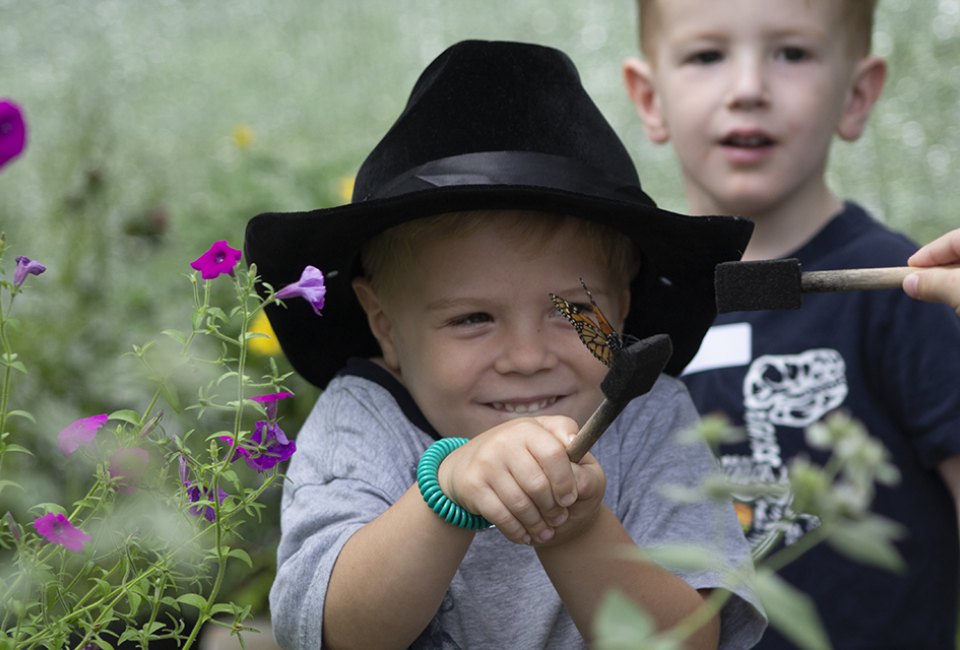 2/25/22
- By
Rebecca Ruffin Leffler
Summertime is quickly approaching and it's time to start making summer camp plans. Parents know that kids need to stay busy and preschool camp is the perfect way to expose young kids to new interests and further develop socialization skills. Fortunately, the Atlanta area offers many summer camps geared for the younger set.
Our list of day camps for preschoolers, while in no way exhaustive, can help you choose a camp that aligns with your child's interests (and your schedule). We've included summer camps that offer a little bit of everything, as well as camps specifically for sports, dance, drama, and more. Register early: Spots fill up quickly, and some camps offer an early-bird discount.
Check out our Atlanta Summer Camp Guide for more ideas and listings for older kids, including free and affordable camps.
Best Preschool Camps in Atlanta - Nature & Outdoors
Designed for kids ages 4-6, the Habitat Explorers Camp focuses on a different area of the garden each day and includes a corresponding craft. On the last day, campers cool off in the splash pad. The half-day sessions run from 9am-1pm.
Let Mother Nature teach your children, ages 4-6, at the 30-acre Blue Heron Nature Preserve. Based on the student-directed Reggio Emilia approach, the Little Blue Herons campers discover the outdoors through sensory activities such as catching butterflies, turning over rocks, and creating art from found objects. Choose either half-day or full-day weekly sessions.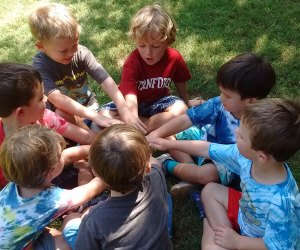 Chattahoochee Nature Center offers summer camp for all ages, including preschool age at Camp Kingfisher.
For 29 years, Camp Kingfisher has offered nature education in a traditional outdoor summer camp setting. Participating in live animal demonstrations, crafts, and swimming, 4-year-old Owlets have a blast from 8:30am-12:30pm. Full-day camps are available for kids going into kindergarten and up.
With weekly themes such as Swamp Creatures, Marvelous Mammals, and Reptiles Rock, what 4-year-old wouldn't want to spend time outdoors at Dunwoody Nature Center's half-day camp? Older siblings ages 5 and up can attend the full-day camp from 9:30am-3:30pm. Members receive discount pricing.
Marcus Jewish Community Center of Atlanta (MJCCA) Camp Isidore Alterman offers a well-rounded camp experience with outdoor activities, art, drama, science, and cooking. Enroll your rising Pre-K child in the three-week junior camp sessions. For an additional fee, camp provides bus transportation to and from over 20 locations around Atlanta.

Kids get a chance to hone their acting skills at Forefront Arts camp.
Best Preschool Camps in Atlanta - Performing Arts
Forefront Arts fosters creativity with half-day camps for 3- to 4-year-olds. Culminating with a performance for family and friends, favorites themes include Princess Camp, Christmas in July, and a musical theater camp featuring songs from Elf and Frozen. Even if your child doesn't have the acting bug, the camp builds confidence in even the shyest kids.
Kids ages 3-5 can pick between two fun half-day camps. Disney Days Ballet Camp focuses on relaying stories through movement and dance; Superhero Storytelling Camp allows campers to create their own superhero and use their voice to tell stories. Both camps offer games and crafts to match the theme.
If you need a full-day preschool camp, the Alliance Theater offers Creative Drama Camp from 9am-4pm. Working with other kids, 4-year-old campers learn about storytelling, engage in drama games, and participate in a final performance, which will be recorded for family and friends.
Best Preschool Camps in Atlanta - Dance, Sports, Movement
Alpharetta Community Center at Wills Park is the spot for half-day dance camps for girls and boys ages 3-6. With themes such as Movin' and Groovin', Knights and Princesses, and Paw Patrol, your preschooler will experience a fun-filled week combined with crafts, games, and activities. The city also offers a half-day Sportykes Camp for kids ages 3-6 and a daily, one-hour mini tennis camp for kids 4-6.
Enroll your 4- to 8-year old in one of Atlanta Playball's sports camps. Held from 9am-noon at Morris Brandon Elementary School, the camp provides an introduction to a variety of sports. An aftercare option is available until 3pm.
While not a weekly summer camp, Forsyth County Parks and Recreation offers sports lessons for preschoolers, meeting once per week for 30-45 minutes throughout the summer. Offerings include Amazing Athletes for kids 2.5 to 6-years old at Old Atlanta Park, Playball for kids ages 2-4 at Fowler Park, and Little Champ Sports for kids ages 3-4 at Central Park.
The Little Gym – Smyrna, Alpharetta,
Snellville
The Little Gym offers indoor half-day camps with plenty of physical activities (and air-conditioning) to keep your little one entertained. Instead of committing to an entire week, parents sign kids up for as many days per week as they'd like. Depending on the location, kids from 3-8 can attend summer camp, running 9am-noon or 1pm-4pm.
The Peach Pit camp counselors keep kids active with a mix of gymnastics, cheer, and activities (including jumping in the foam pit!). Half-day sessions are available for 3-year-olds, while full-day sessions (9am-4pm) are available for those ages 4 and up.
Located at Peachtree Presbyterian Church, this gym offers summer camp activities for kids ages 3-6. Running from 9am-1pm, these one-week sessions are in ballet, hip hop, tumbling, gymnastics, or cheer. Boys ages 3 -10 may enjoy the Boys Gymnastics and Ninja Camp, focusing on agility, obstacle courses, and games.
Have a little gymnast? Sign your kids ages 2-5 for the half-day Preschool Gymnastics Camp with options to attend 2, 3, or 5 days per week. Campers will jump on the trampoline, do crafts, and have storytime. The city also offers half-day Kinder Dance and Drama Camp for 3- to 5-year olds at Roswell Area Park. Kids learn puppetry and acting skills. Morning and afternoon options are available.
Designed for kids ages 3-5, the Tiny Tykes sessions start before it gets too hot outside at 8am and last 45 minutes each day. Coaches use games, activities, and stories to engage campers and teach soccer skills. Older siblings ages 6 and up can attend half-day and full-day options.
Best Preschool Camps in Atlanta - STEM and Language
Get a leg up on math skills during the summer and register for Early Mathventures. Using Legos, kids ages 3-6 will learn numbers, measurements, and problem-solving skills while having fun. Stem Velocity also offers Early Robotics and Early Scientist preschool camps.

Each week of summer camp at Club SciKidz Atlanta has a different, exciting theme!
Sign your kids, ages 4-5, for the Little Scientist Camp or the Little Chemist Camp, where they'll make blob explosions and marshmallow catapults...and you don't have to clean it up! Other preschool camps from 9am-1 pm include Little Coder, Little Space Explorer, and Little Robot Engineer. Club SciKidz offers sibling discounts, in addition to full-day camps for rising 1st graders and up.
The Spanish Academy – Emory, Suwannee, Buckhead, East Cobb
Taught by full-time teachers, the Spanish Academy offers 2-day, 3-day, and 5-day camp options for 2-year-olds, while kids ages 3 and older attend five days. Themes for the half-day, weekly sessions include Rainforest Adventure to Spanish Speaking Countries, Little Chefs, and Lego Camp.
Best Preschool Camps in Atlanta - General Interest
Offering numerous half-day camps for 4-year-olds, Bear Camp is open to anyone in the community. Sports enthusiasts can choose from soccer, cheer, gymnastics, tennis, yoga, Playball, and ballet camps. Other camp options include art, cooking, and STEM camps. Sessions are held from 9am-noon or 12:30-3:30pm.
Your Pre-K child can attend camp at Lifetime Fitness. Themes include Ooey Gooey Fun, Prehistoric Party, and Under the Big Top. Different themes apply to the school-age and tween camps for older kids.
Open to students and non-students, McGinnis Woods offers a junior camp for 4-year-olds. Themes include Under the Sea, Summer Safari, and Shipwrecked. Campers will go on one field trip per week and spend lots of time outdoors.
Led by faculty and staff, The Walker School welcomes all kids ages 3-6 for full-day camps from 8am-2:30pm. Each week includes a science experiment, cooking, and water play relating to the various themes. Save money by enrolling in all seven weeks of camp.
Fulfilling an unmet need for their two sons with autism, Jeff and Angela Erisman opened the first We Rock the Spectrum location in Georgia in 2020. Kids age 2 and older can attend the summer camp featuring sensory-friendly equipment and arts and crafts. Options include 2-day, 3-day, and 5-day options.
Your rising Pre-K child can join the Junior Wolves at Wesleyan's summer camp. The summer camp offers both half-day and full-day options for this age group. Campers participate in sports, arts and crafts, and science activities with additional time on the playground and in the gym.
While older kids attend Camp Whitefield, Wee Whitefield caters to kids turning 4 by September 1. During the half-day morning session, the camp focuses on Christian development with music, arts and crafts, and games.
"Travel" to different continents at Camp at the Woods-- theme weeks include Nature (South Africa), Art (Europe), and Winter in July (Antarctica) and incorporate art, music, science, and sports. Kids ages 3-4 can attend the half-day sessions from 9:30am-12:30pm, with an after-care option from 12:30pm-5pm. A $30 registration fee applies to non-Wood Acres students.
While most YMCA camps start at age 5, three locations offer half-day camps for preschoolers. Camps are open to 2- to 4-year-olds at Carl E. Sanders Family YMCA in Buckhead, 3 to 4-year-olds at Cowart Family YMCA in Brookhaven, and 4- to 5-year-olds at Northeast Cobb Family YMCA in Marietta.
Photos courtesy of the camps
Click Here to Sign Up!
i