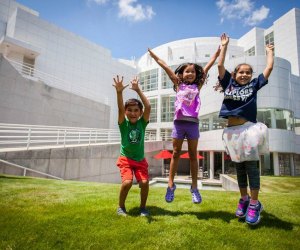 Atlanta Attractions That Offer Free Admission for Kids
We get it: We're parents, too. No matter how much we WANT to entertain our kids, sometimes the bank account doesn't allow for a big-ticket afternoon. That's when we have to search a bit harder for budget-friendly or free entertainment options.
Atlanta makes it easy with free or partly free admission at a number of fun spots, provided you know where to look and when to go. We've compiled a list of our favorite museums, sports centers, outdoors areas, nature centers, and more that will delight your kids and not dent your pocketbook.
As our Atlanta site grows, we'll be supplementing our list, so be sure to check back often. And remember to visit our Atlanta events calendar for the most up-to-date options for family fun.
Please note that during the 2020 pandemic, openings and closings are changing frequently. We recommend calling the venue to confirm before heading out.
Sign up for our FREE newsletters to receive posts such as this right to your inbox.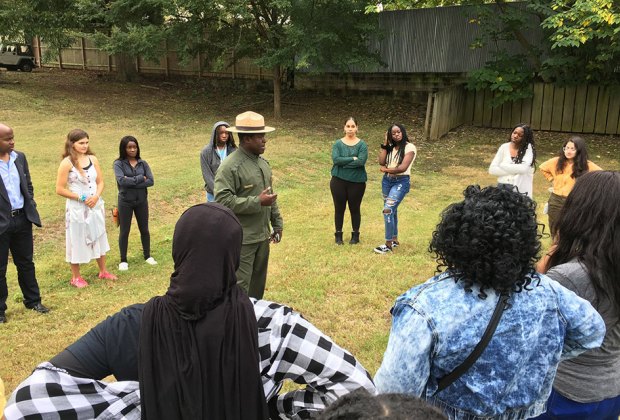 Admission to the Martin Luther King Jr. National Historic Site is free every day of the year.
Museums and Historic Sites in Atlanta That Offer Free Admission for Kids
Martin Luther King Jr. National Historic Site — Atlanta
Historians of all ages know Atlanta was front and center in the Civil Rights Movement, and King was its primary mover and shaker. The tribute to the slain leader is one of Atlanta's top tourist destinations and there is NEVER a fee to visit. Tour King's birth site with a Ranger and then follow along through Ebenezer Baptist Church, the visitor center, and more.
Jimmy Carter Presidential Library and Museum — Atlanta
Explore the legacy of the nation's 39th president (and the only Georgian ever to be president) amid a 30-acre greenspace. FREE for kids 12 and younger.
Anne Frank Exhibit — Sandy Springs
This 600-photograph and document exhibit tells the story of young Holocaust survivor Anne Frank and discusses her relevance today. FREE
Atlanta Monetary Museum — Atlanta
Kids will learn the fascinating history of money from the ancient craft of bartering to modern financial systems. Kids can even take a peek into the automated vaults. FREE
RELATED: 35 Fun Things To Do in Atlanta with Kids

Enjoy family-friendly activities at the Children's Museum of Atlanta, where admission is free on select days.
Children's Museum of Atlanta — Atlanta
This popular destination offers a select number of FAMILY FREE DAYS throughout the year. Enjoy extended hours and even more family-friendly activities.
Fernbank Science Center — Atlanta
Admission and parking at this popular planetarium are always FREE, but there are fees for sky shows. Students in DeKalb County schools have access to a host of museum experiences at low or no cost.
Georia Capitol Museum — Atlanta
Kids can learn about Georgia history and government at this popular destination. FREE
High Museum of Art — Atlanta
One of the city's most popular destinations for families, the High offers FREE admission on the second Sunday of most months from noon to 5pm. Bank of America cardholders can also visit free on the first weekend of most months.
Marietta and Roswell Fire Museums — Marietta, Roswell
What kid doesn't love fire trucks? At these similar facilities, kids can learn about the history and technology of fire fighting in Georgia. FREE
RELATED: Great Indooor Play Spaces for Kids in Atlanta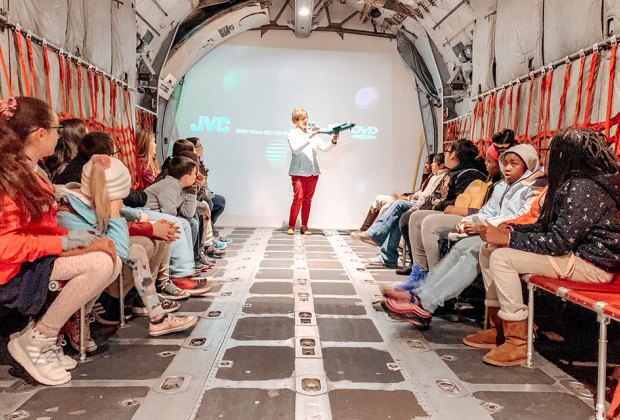 Admission and parking at the Museum of Aviation are always free.
Museum of Aviation — Warner Robins
Visit the second-largest museum in the U.S. Air Force and be treated to 20 aircraft on display and another 20 in renovation. Parking and admission are FREE.
Museum of Design Atlanta — Atlanta
MODA visitors can enjoy FREE admission on the second Sunday of most months.
Old Jail Museum — Conyers
Visitors to the Old Jail Museum on the first Saturday of each month from 10 am to 2 pm enjoy FREE admission to this tribute to Georgia law enforcement.
Arts and Sports Destinations in Atlanta That Offer Free Admission for Kids
Center for Puppetry Arts — Atlanta
The center is FREE to Fulton County residents one Saturday per month. Call or check its website to confirm the date. Kids 2 and younger are always free and the center will give one free ticket for every 10 purchased as a block.
Grandma Snazzy Storytime — Alpharetta
"Grandma Snazzy" has been entertaining kids for years at the Crabapple Kroger's with songs, stories, and more. And admission is always FREE. Sessions are held three times a week and kids can create and take home a craft.
Kids Bowl Free — Atlanta and other locations
Register your kids 15 and younger at kidsbowlfree.com for information on FREE summer games at your local alley. Participating lanes are also located in Columbus, Kennesaw, and Valdosta.
Sparkles Family Fun Center — Atlanta
Register your kids 12 and younger at kidsskatefree.com for passes and information on FREE skating sessions. Skate rentals are usually not included.
Atlanta Attractions That Offer Free Admission to Kids on Their Birthdays
Bring proof of your child's birthday (usually a birth certificate) and her or she can enjoy a FREE day at these two great Atlanta destinations.
Outdoor Markets with Play Areas in Atlanta That Are Free to Kids
We'll expand our review of the best Atlanta parks and playgrounds in the future. In the meantime, here are four of our favorite venues that are always FREE.
Atlantic Station Playground — Atlanta
While enjoying yourself in Atlantic Station, why not let the kids get their energy out at this modern and imaginative playspace.
Decatur Toy Park — Decatur
Trendy Decatur offers plenty of options for food, shopping and outdoor enjoyment. The park is loaded with toys donated by local families and plenty more.
Piedmont Park — Atlanta
Piedmont Park is the crown royal of the city's parks. Special-needs children will love its accessible park and all kids will delight in its winding slide.
Ponce City Market — Atlanta
Explore this former Sears center with the family and enjoy walks, children's crafts, food options, and more.
Nature Centers in the Atlanta Area That Are Free to Kids
Big Trees Forest Preserve — Sandy Springs
Take your kids on a hike through this 30-acre center and catch a FREE glimpse of the wildlife and plants.
Dunwoody Nature Center — Dunwoody
Introduce (or reintroduce) your kids to nature at this 22-acre green space, where admission is FREE for most activities.
Reynolds Nature Preserve — Morrow
This 146-acre facility features 4 miles of biking trails, buildings from the Civil War era, and a must-see environmental center, all for FREE.
Mall Play Spaces in the Atlanta Area That Are Free to Kids
These soft-play destinations offer kids a chance to unleash some energy during a visit to the shopping mall. Most provide bouncing and climbing fun, and crawl areas for the littleist ones. Moms and dads can "recharge" with a coffee, a seat on a bench, and phone charging stations. Here are some of our favorites. Did we mention use of these play spaces is always FREE?
Photos courtesy of the parks/museums