14 Best Indoor Playground Spaces for Kids in Atlanta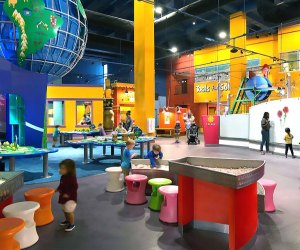 1/27/23
- By
Katie LS
Indoor playground spaces in Atlanta are crucial when temperatures drop in the winter or rain clouds appear, as most kids stop playing outdoors and have pent-up energy to burn. If you find yourself dealing with bored little ones, you don't have to stay cooped up at home. Instead, take them to an awesome indoor play space in Atlanta!
To take out the guesswork, we've rounded up our favorite Atlanta indoor playground spaces for kids to wear themselves out with jumping, running, and developing important gross motor skills. In most cases, families sign a waiver and bring a pair of socks for the kids (and sometimes adults) to wear during the entire visit.
Refer to our Winter Activities Guide for Atlanta Kids to keep your little ones entertained this season. Also, sign up for the Mommy Poppins newsletter to keep up with the latest and best things to do with kids!
Atlanta Indoor Playgrounds and Play Spaces: Inside the Perimeter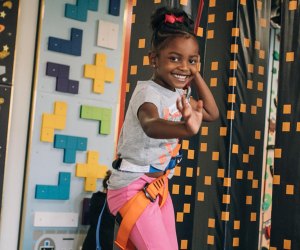 Kids can climb, play, run, and have a great time at Oodazu.
1. Oodazu - Buckhead
This Buckhead indoor playground is as funky as its name with a ripslide, gaga ball, and scaling towers. In addition to playing, children up to age 9 can learn balance and mindfulness skills with the kids' yoga program. Parents with babies can sign up for Ready Set Grow!, a playgroup led by a physical therapist, while parents with toddlers can take a 30-minute music class. Advance reservations are required.
In addition to the junior Ninja obstacle course, Boomerang offers a large slide-and-play structure with a foam ball launcher for loads of fun. Kids find the digital ball-throwing wall especially entertaining while toddlers get their own play area with slides, blocks, and a large ball pond. Best for kids up to age 14.
Playtime sessions at Ready Set FUN! last for two hours and are perfect for kids ages 6 months to 8 years. The facility offers a huge soft playground with climbing opportunities, slides, and a ball dump station. Budding artists can visit the Imagination Art area. Another cool feature is the Imagination Sand Station with a different daily theme for an uber-sensory experience. Parents can sip coffee and catch up on emails in the coffee lounge. Reserve a spot online as walk-up slots are limited.
With the mission of helping children from birth to age 8 learn through play, the Children's Museum of Atlanta provides a variety of engaging science experiments, creative activities, and hands-on exhibits. The paint wall, rocket launcher, and interactive grocery store with a delivery truck are just a few of the popular exhibits. Advanced reservations are required for the two-hour sessions.
RELATED: Stone Mountain Park: The Center of Outdoor Adventures
Parents love this environmentally-friendly indoor playground for its variety of age-appropriate spaces, including a soft floor for the littlest crawlers. After kids bounce on the balls, climb the rock-climbing wall, and run through an obstacle course, they can don a poncho for splatter painting. Hippo Cafe offers healthy snacks for kids and coffee for adults. Guarantee a spot by purchasing tickets in advance.
Lego fans anticipate the reopening of the Lego Discovery Center at Phipps Plaza this spring. After a $5 million upgrade, the renamed play space will feature immersive exhibits including an area for rocket building and launching, as well as Duplo Park for younger visitors. Kids will still have a blast with 4D Lego movies, Lego-themed rides, and interactive workshops.
Atlanta Indoor Playgrounds and Play Spaces: Outside the Perimeter

Enjoy fun, safe activities at every Catch Air in Georgia.
7. Catch Air - Multiple Locations
With five indoor playgrounds across Atlanta's suburbs (Johns Creek, Snellville, Cumming, Marietta, and Dacula), Catch Air provides convenient access to its epic inflatable wonderlands perfect for kids ages 2 to 12. Catch Air also offers interactive games, obstacle courses, music, and glow-in-the-dark play. All visitors to the indoor playground play space must wear socks.
8. Kids Empire - Marietta and Johns Creek
Children enjoy plenty of activities here including sliding, building structures, playing soccer, and challenging themselves on the maze. Kids Empire also features a snack bar as well as a separate toddler area for bouncing, dancing, and riding tricycles. Kids and adults must wear socks.
Buddy's Indoor Playhouse offers 4,000 square feet of entertainment with developmental toys, role-play stations, and a driving track. Parents love the attentive staff at this playcenter designed with younger kids (those ages 6 months to 6 years) in mind. Reservations are not required for the 90-minute play sessions.
While you may automatically associate indoor trampoline parks with older kids, think again. Rockin' Jump offers two-hour Rockin' Tots sessions specifically for toddlers and kids up to age 6. Bigger kids can try dodgeball, basketball, Ninja obstacle course, climbing wall, and soft play area. Book sessions in advance. The facility requires participants to wear Rockin' Jump socks purchased for a small fee.
Kids can "drive" and become familiar with road rules and vehicle safety at this indoor driving center. Kids ages 3-6 start on the Tiny Cars, while those ages 6-9 explore the track in Booster Cars. After passing a driving test, drivers ages 9 and up graduate to Tiny Towne's advanced track which simulates real driving complete with traffic rules, road signs, and police who give out tickets.

This indoor play gym welcomes kids up to age 13, including those with special needs. Kids can scale the climbing mountain, traverse the rope bridge, jump on the trampoline, and burn off energy on the swings. Other activities in the play area include a crash pit, zipline, and arts and crafts. We Rock the Spectrum also provides a calming room when kids need to take a break.
Gymboree offers classes focusing on motor skills, music, and art that grow with children from birth to age 5. Offered on a membership basis, most classes require parental participation which teaches fun and creative ways to interact with children in a stimulating environment.
Kids up to age 10 can play for the entire day at this facility with inflatables, slides, and climbing structures. A brightly painted toddler area offers activities suited for the younger set. Dash's Corner Café serves coffee, tea, pizza, and kids' combos with fresh fruit for those who've worked up an appetite. Both kids and adults must wear socks.
Photos courtesy of the play spaces/museums