Free Indoor Playgrounds for Kids in Atlanta to Let Loose
1/14/22
- By
Melanie Preis
Free indoor playground time in Atlanta means exciting (and warm) hijinks for the kiddos and a load off the wallet. Atlanta is boiling in the summer, icy in the winter, and a wet mess during the rainy season, so free indoor playgrounds can offer relief for kids to run around without hefty fees and entrance costs. And besides the happy moment of watching your children run off that pent-up energy in a place other than your own house, it's also a perk to have saved some cash in the process.
Here's a look at some free indoor playground spots throughout Atlanta great for young kids and families looking to escape the weather and burn out energy! To get more free fun at home and in your town delivered to your inbox sign up for our newsletters and discover all the free events and activities near you in our Atlanta Free Things To Do With Kids Guide.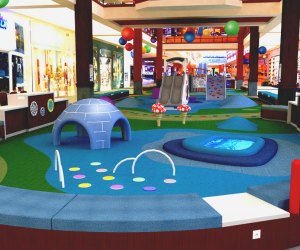 Escape the bitter cold and sweltering heat at Mall of Georgia's indoor playground. Photo courtesy of the mall
Free Indoor Playground Spots in Atlanta: Malls
Malls are a great spot for free indoor playground fun, especially the one at Mall of Georgia in Buford. This fun spot is split into three different zones designed for toddlers, young children (ages 2-5), and older children (ages 5-8), immersing kids in a multi-sensory experience with interactive technology and educational elements. Standout features include a crawl path, a cozy cocoon nook (great to decrease overstimulation), a jungle walk, spring-loaded "mushrooms," and much more.
Located off of Buford Highway, where Chamblee and Brookhaven meet, Plaza Fiesta offers kids one of the largest indoor playground spaces in Georgia. Besides the breadth of the space, Plaza Fiesta is a diverse space that features wares, foods, retail goods, and more from a variety of multicultural communities. When your kids need a break from all the climbing and chasing, stop by one of the delicious, authentic food stalls located at Plaza Fiesta.
RELATED: Best Restaurants in Atlanta Where Kids Can Play While Parents Eat
For you OTP crowd, head to Alpharetta's North Point Mall for some great indoor fun! The mall's indoor playground area is currently being refurbished to offer some great feature and should be complete by March. Until then, kids can visit the Dino Safari Exhibit (requires an admission fee) on the upper level.
This indoor/outdoor hybrid playground is a popular spot for parents and families shopping at Avalon in Alpharetta. Located next to Regal Cinemas, the children's play area offers 1,300 square feet of squirrel-themed fun for kids ages 6 and under.
Cumberland Mall always has great stuff to do, and this mall's play area will be a welcome respite during harsh temperatures outside. Located on the lower level, the indoor playground is a good spot to your kids run around, especially if you're waiting to be seated at one of the adjoining restaurants.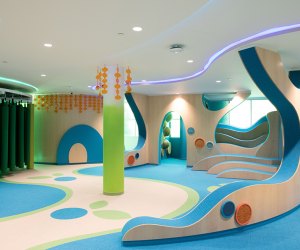 If you visit the High Museum during free admission days, you can play in the Greene Family Learning Gallery without a fee. Photo by CatMax Photography, courtesy of the museum
Free Indoor Playground Spots in Atlanta: Stores and Learning Centers
Barnes & Noble retailers in Atlanta have awesome kids areas that are full of books, toys, and sometimes even a stage. While I recognize this isn't really an "indoor playground," these B&N kids areas have saved my sanity when I've needed my kids to escape Atlanta downpours with a quiet-ish activity.
IKEA —Atlanta
Part indoor playground, part babysitting, all Swedish —the supervised child play area at IKEA is a great spot for kids. Småland is a worry-free spot where parents can shop while kids can unwind (capacity depending). IKEA Family members get an extra 30 minutes of playtime, so shopper may want to look into joining.
The High Museum's Greene Family Learning Gallery is a magical space full of color, shapes, lights, and of course, creativity. The High Museum offers FREE admission on the second Sunday of each month, as well as the first weekend of each month (part of Museums on Us). Bring your family on those free admission days and watch your child's imagination run wild in this redesigned space, full of multisensory features and hands-on activities.
Admission to Fernbank Science Center is always free and a treat for older kids to learn about science and astronomy, including attending shows in the planetarium!
Local Libraries —Multiple Locations
Libraries always have great things happening; many branches offer science and art activities for families. In-person and virtual events vary by library system, so check event calendars for DeKalb County, Cobb County, Fulton County, Gwinnett County or wherever you live.
Places featured in this article: