LEGO Discovery Center Atlanta Reopens, and Everything Is Awesome!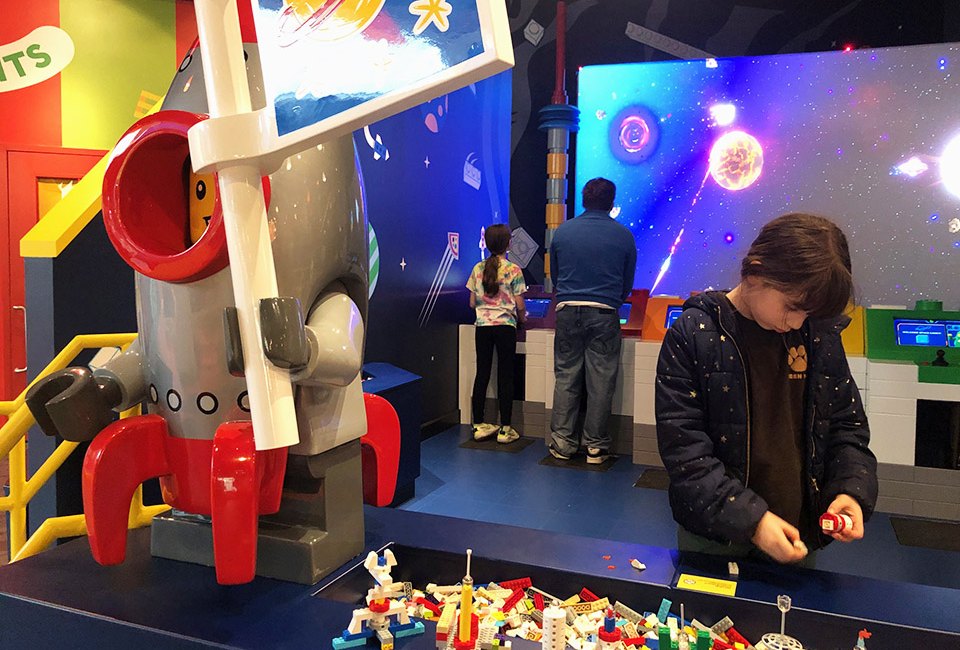 4/2/23
- By
Melanie Preis
LEGO Discovery Center Atlanta reopens to thunderous cheers of Atlanta children and families. After being closed for a year and undergoing a $5-million renovation, the new LEGO Discovery Center Atlanta welcomes Atlanta visitors and residents with new exhibits, as well as a facelift for existing play areas. Still located on the top floor of Phipps Plaza, this 35,000-square-foot, indoor play spot features fun and innovative ways to build, interact, create, climb, and even ride LEGOs. And it's the first Discovery Center in North America to earn a Certified Autism Center status.
We've got your inside look into the new LEGO Discovery Center Atlanta that just opened this weekend! LEGO Master Builders and Duplo newbies alike will love this Atlanta attraction sure to connect us all, brick by colorful brick.
Need more ideas of what to do and see in Atlanta? Take a look at our guides of Center for Puppetry Arts and Martin Luther King Jr. National Historic Park. Or get info about all the Atlanta hot spots in our 100 Fun Things to Do in Atlanta with Kids Before They Grow Up!
You never know who you'll run into at the LEGO Discovery Center!
With an emphasis on a learn-through-play model, the newly renovated attraction features hands-on activities and interactions with master model builders.
Duplo Park features soft surfaces, bright colors, and of course, Duplo bricks, geared toward young kids.
Duplo Park
Young children will flip (literally) at the new Duplo Park! This interactive area focuses on toddlers and preschoolers ready to let loose with chunky Duplo bricks and age-appropriate activities. Kids can ride the parent-powered, soft carousel; build Duplo-brick creations based on an easy-to-follow, lighted key; and slide and run across the bouncy floor.
Spaceship Build & Scan
The only thing better than building a LEGO spaceship is launching your spaceship into space! At Spaceship Build & Scan, kids (and adults) create a LEGO rocket, scan the piece into the LEGO universe, then watch as it magically appears into cyberspace on a giant screen. But here's the best part—once your customized spaceship appears on a huge screen, kids control their avatar with a joystick, while standing atop motion-sensors that give the feeling of vibrating rocket thrusters.
Minifigures can hang out in Miniland Atlanta and watch a Falcons game at mini Mercedes-Benz Stadium!
Minifigure Creator
As soon as you enter LEGO Discovery Center Atlanta, families get to customize their very own minifigures. Choose from heads, legs, torsos, and hairdos to create your own minifigure! My kids and I tried to make our minifigures look just like us...though I don't think my hair has ever looked as good as the 'do on my tiny lady.
Build your own LEGO vehicle and race it through various challenges at the new Build Adventures activity.
New Build Adventures
Put creative skills to the test by building the ultimate moving LEGO creations. Whether you want to roll, spin, drive, and race your imaginative creation down one of the many tracks at Build Adventures. Zoom past a volcano, race through an Egyptian pyramid, and jump through a jungle with your trusty LEGO vehicle.
There's fun to be had around every corner of renovated LEGO Discovery Center Atlanta.
LEGO Discovery Center Atlanta: Certified Autism Center
In addition to the new activities and renovated attractions, LEGO Discovery Center Atlanta is an official Certified Autism Center, making it the first Discovery Center in North America to earn this certification. Details of the autism certification include trained team members to assist autistic guests and those with sensory sensitivities; a sensory guide at the Center and online; posted signs at every ride and experience detailing sensory ratings; low sensory areas to take breaks; and more.
Kingdom Quest is a fun ride, where families need to save the princess from pesky trolls.
Enjoy the 4D experience of the various shows played at the 4D Cinema.
LEGO Discovery Center Atlanta: Fun Times
Many of the fun LEGO attractions from before the renovation are back, including:
Kingdom Quest: A tame ride (some darkness and flashing lights) that involves that entire family hopping on a "chariot" to rescue the princess from evil trolls.
4D Cinema: The 4D sensory cinema experience plays various shows throughout the day. Be prepared to get a little wet!
Pirate Adventure Land: This pirate-themed, indoor playground entertains kids of all ages.
The Great LEGO Race VR Experience: Enter the world of virtual reality with a LEGO race like no other.
Miniland: Discover miniaturized Atlanta made completely out of LEGOs! Try to find all your favorite Atlanta landmarks, including Stone Mountain, Truist Park, and more!
Older kids can spend time with a Master Builder to make intricate creations.
LEGO Discovery Center Atlanta: Know Before You Go
Don't worry about snacks -- the LEGO Cafe has a large menu to keep kids full and happy. Besides the standard kid foods, the cafe features an abbreviated Starbucks menu that parents will especially appreciate. No outside food or drinks are allowed in.
Purchase tickets ahead of time to select desired days and times; tickets can be purchased on site for the next available entry time.
Regular tickets are $28.99-$41.99, depending on ticket type. Guests can also purchase annual passes.
Weekdays, the Discovery Center is open 10am-5pm; Saturdays 10am-7pm; and Sundays 10am-6pm. Check the LEGO website for current opening hours.
LEGO Discovery Center Atlanta is located on the third floor of Phipps Plaza in Buckhead (across from the AMC Theater). The closest parking is in front of Davio's Italian Steakhouse on the movie theater side of the mall. There's also parking decks to leave your car.
All photos by author
Places featured in this article:
---
LEGO Discovery Center Atlanta
Click Here to Sign Up!
i