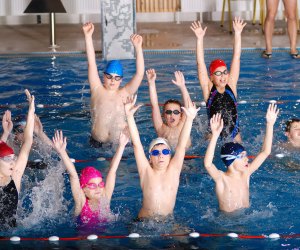 Swimming Lessons in Atlanta for Kids and Babies
Few things are as empowering for a child as learning how to swim. Families in Atlanta have a number of options to acclimate their children to the water, including individual lessons, home-based instruction, budget-friendly group lessons, and more.
We've rounded up 10 learn-to-swim options that are sure to inspire your son or daughter without denting your wallet too badly. Some of these are in Atlanta itself, some are in the suburbs. Either way, your child will emerge from these classes confident enough to dive right in once the swimming season begins.
Many of these classes can introduce your child to the water when he or she is less than a year old. But be advised, children who are not potty-trained will almost always be required to wear swim diapers. Prices listed are as of February 2020.
Check back often as we grow our Atlanta site for the skinny on all things parenting in the city, including Atlanta attractions offering free admission for kids, restaurants where kids can play, and more.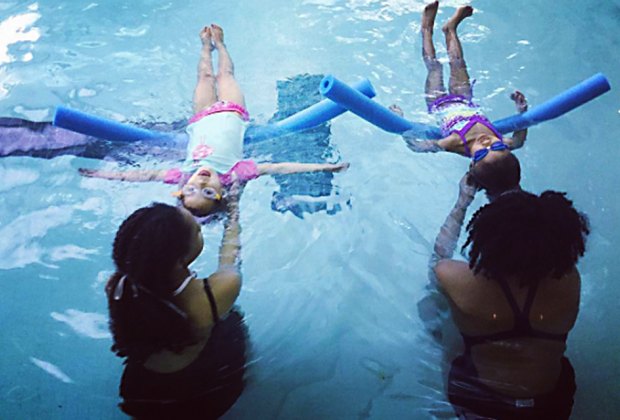 Individual, group, and semi-private lessons are available at All-Star Swim Academy.
Atlanta
Classes here are for children between the ages of 3 and 15 and offered by skill level. Beginners in the Starfish category need to be comfortable in the water without a parent. By the time students reach the highest level, Dolphin, they will learn flip-turns, diving techniques, backstroke, breaststroke, and more. Group lessons are 30 minutes long and cost $35 per session. Individual and semi-private lessons are available at a higher cost. The pool is located in the West End on Michigan Avenue NW.
Atlanta
Private and group lessons are held at the Piedmont Atlanta Fitness Center on Peachtree Road. Lessons begin at 6 months and continue past 6 years old. All instructors are Red Cross certified. Beginning at the "tadpole" level, toddlers develop a comfort level in the water with a parent. Ultimately, children gradate to the "shark" level, where they can try out for the swim team. Group lessons begin at $25 per session; private lessons start at $45 per swimmer
Atlanta
The city maintains four indoor swim instruction centers: the C.T. Martin Natatorium in the Southwest, Martin Luther King, Jr. Recreation and Aquatic Center and Rosel Fann Natatorium in the Southeast, and Washington Park Natatorium in the Northwest. Group lessons are available for children younger than 13, beginning with Aqua Tot classes (parents in the pool) through beginners and into more experienced levels. Swimmers receive one-on-one instruction from the city's certified instructors. Classes average $65 per series; nonresident tuition is higher.
Stone Mountain and elsewhere
Group, private and semi-private lessons are available at a number of pools across the county. See the website to pick a pool and schedule suitable for your child. Families can also enjoy water exercise and lifeguard training classes and other aquatic activities. Note: Some pools, including Best Friend Park, Dacula and Lenora parks, and Rhodes Jordan Park are open seasonally only. Classes begin at age 6 months with water orientation classes; children who are not potty-trained must wear swim diapers. A series of lessons ranges from $51 to $76 for county residents; nonresidents tuition is higher.
Dunwoody
Private and small-group lessons are available here for children of all ages, including toddlers, and ability levels. Emphasis is placed on skills development while helping novice swimmers feel more confident in the water. Instructors follow American Red Cross teaching methods. Families must either be JCC members or purchase a swim lesson membership for $130, which is separate from the cost of swim lessons. Group lessons are $20 per child per session with a series of 10 lessons discounted to $170.
Atlanta
With Sunsational, kids don't go to the instructor, the instructor comes to them. Sunsational instructors travel to your pool for kids as young as 3 years old. Instruction comes with a "learn to swim" guarantee, where children who are unable to complete all lesson tasks are allowed to continue until they are, up to a maximum of four additional sessions. Each student receives a personalized lesson plan, and classes can be scheduled in half-hour or hourlong increments. Sessions can be booked in six-, 12-, or 18-lesson packages. Don't have a pool? Sunsational instructors will meet you at one of their approved pools for an additional fee per session.
Atlanta, Cumming, Dacula, Lawrencville, Suwanee
Lessons at these facilities are designed to make children lifelong fans of the water. SwimAtlanta says it taught 10,000 students in 2018 alone and many of its students join competitive swim teams. Private, semi-private, and small-group lessons are available and instructors are available seven days a week. SwimAtlanta's city facility is at Georgia Tech.

Class sizes are small at Swimmerman Swim School.
Atlanta, Jonesboro
Kids small-group classes here begin as early 3 months of age (Baby and Me) and continue through age 12. Class sizes are small, sometimes as few as two students at the introductory level, and gradually grow as kids become more experienced. Classes are 25-50 minutes long and more experienced kids can qualify for the club's swim team. Lessons are available for adults and children with special needs. Classes begin at $20 per session.
Atlanta, Decatur
Water acclimation courses here begin at 2 years old. Kids graduate into a basics class and then a more advanced strokes class. The schools boast of their 2-to-1 staff-to-student ratio. Private lessons are also available. Classes meet year-round at the Highland Athletic Club on Parkway Drive Northeast and seasonally in outdoor pools on Pine Tree Drive Northeast in Atlanta and on Trinity Place in Decatur. Multiweek sessions average $100; private and adult lessons are more expensive.
Multiple locations in the city and suburbs
The YMCA is the leading child's swim educator in the country. Multiweek classes are held in several age categories and in several ability levels. With more than 20 facilities across the Atlanta metro area, chances are you will find a class appropriate for your child. Classes begin at 6 months of age with parent-assisted water acclimation classes and progress to more advanced instruction. Sessions are reasonably priced at less than $100 for YMCA of Atlanta members; nonmembers do pay more. Hint: Lessons are often cheaper for Y members at their home facilities.
Photos courtesy of the schools/pools