We Tried Safety-First Swim Lessons and Here's What You Should Know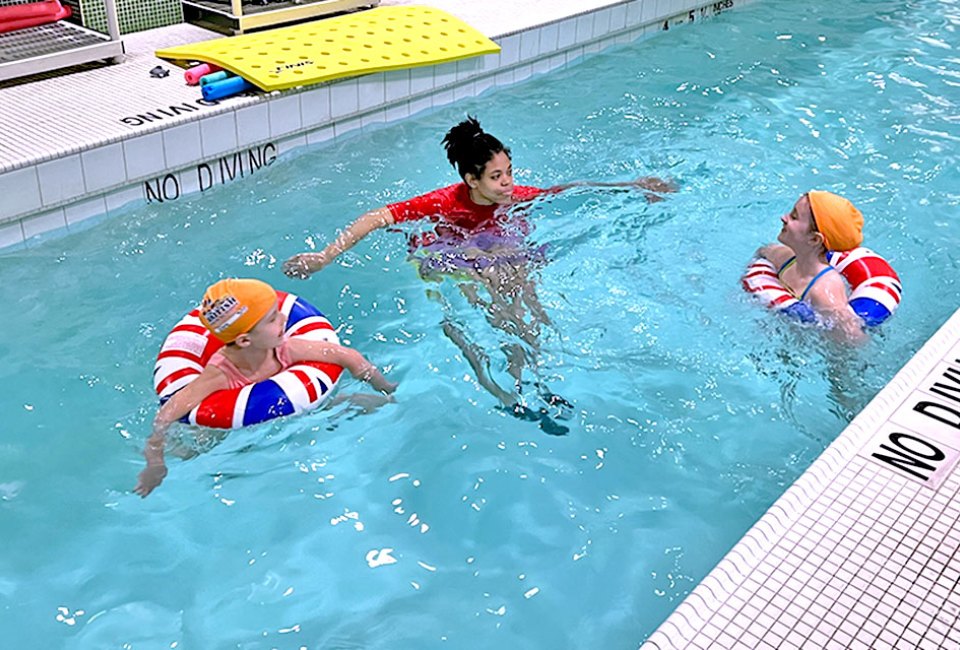 7/8/23
- By
Jessica Laird
Water safety and swimming are critical skills, which is exactly why British Swim School uses a gentle survival-first approach to effectively teach kids and infants from 3 months and up how to swim.
Between busy school schedules and jam-packed weekends, I recently found myself staring down another summer with a 4-year-old and 7-year-old who still hadn't learned the first thing about swimming. So, when I heard my kids had an opportunity to take a couple of lessons with British Swim School, I jumped at the chance to enroll them at a nearby pool.
I knew from a mom friend that British Swim School was a "survival-first" program, but it wasn't until I read more about the approach that I understood what that really meant. While many swim programs prioritize stroke development, British Swim School first focuses on water acclimation and survival skills–teaching kids foundational swimming and safety techniques that prepare them for an accidental fall into the water. Not only does this help put parents' minds at ease, but it largely impacts children's confidence in the pool.
Excited about British Swim School's approach, we embarked on four weeks of lessons and–spoiler alert–my kids made so much progress (and loved their lessons so much) that we decided to continue with the program. Read on to hear more about our experience and British Swim School's smart and effective teaching model.

Conveniently, British Swim School offers swim lessons at more than 300 locations across the country. Photo courtesy of British Swim School
British Swim School Levels and Lessons
British Swim School offers lessons for children as young as 3-months-old, and places kids into one of nine swim levels based on both age and skill. To determine your child's starting point, all you need to do is find your preferred pool and take a quick online assessment quiz. The quiz placed both of my girls in Starfish–a beginner level that focuses on water acclimation and building confidence in the pool. Each level asks kids to master five specific skills in their own time before they can move up to the next level. By week four, our instructor let me know that both of my daughters were ready to graduate to Minnow, which focuses on beginner survival skills and independence in the water.
Not only was I blown away by how quickly both of my girls picked up brand new swimming skills–from floating on their backs to confidently being fully submerged–I was really impressed by how thoughtfully our instructor Ashante worked with each child.
British Swim School has maximum student-to-instructor ratios of 4:1 and 6:1 depending on the level, and our lessons never exceeded three kids, which meant a lot of personalized time and attention. When one of my daughters was feeling very nervous about going underwater, Ashante encouraged her to practice blowing bubbles with just her chin in the water first and helped her work her way up to getting her entire head under. And when a new little boy in our lesson was too afraid to get in the pool, Ashante worked with him and his parents until he was happily splashing around. This gentle individualized guidance made a huge difference in how quickly my daughters and other children in the program built up their skills and confidence.

A few minutes of free swim at the end of each lesson was a real confidence-boosting perk for my kids.
British Swim School Locations and Pools
British Swim School offers swim lessons at more than 300 convenient locations across the country, including hotels, gyms, and private clubs. Our lessons were held in the pool of a small luxury condo building here in New York City.
In order to best accommodate families, these locations are often equipped with things like pop-up changing tents that allow kids to quickly get in and out of their bathing suits, highchairs and changing tables in the locker room to make it easier to prepare the littlest swimmers, and kid-sized equipment to be used with lessons.
The easiest way to locate the pool closest to you is to use the "Find a Pool" tool, which allows you to search British Swim School options by zip code. Once you've found your nearest pool, you can choose your child's level and view the class schedule.

With maximum student-to-instructor ratios of 4:1 and 6:1, kids get a lot of personalized time and attention. Photo courtesy of British Swim School
What to Know Before Starting Lessons With British Swim School
Lessons are offered year-round, so kids can start anytime. Swimmers can also progress through levels at their own pace, stepping up whenever an instructor feels they're ready to advance.
While it's recommended that kids arrive at the pool 15 minutes before their lesson, it's best to arrive extra early on day one. A staff member will be there to greet you and show you around the facility, so you'll want some time to get the lay of the land.
Once you've familiarized yourself with your location, you can consider how to best optimize your time with British Swim School. For example, we found that stopping at home to drop off backpacks and change into swimsuits before arriving at the pool made our routine much smoother. Having easy comfortable clothes to change into after lessons also helped.
Each child is given a color-coded swim cap with their name on it. Make sure to keep track of it between lessons, so you don't find yourself needing to purchase a new one.
Goggles are discouraged for all survival level lessons. When a swimmer becomes reliant on goggles, losing those goggles in the water can actually cause panic that jeopardizes their safety. Other swim aids are similarly discouraged.
The British Swim School app makes it easy to report an absence, schedule a makeup lesson, make a payment, and more. Be sure to add it to your phone.
Note that parents are asked to stay near the pool during their child's lesson for additional supervision and encouragement. Fortunately, this is a great opportunity to show your support from the sidelines!
If you're interested in learning more, visit the British Swim School website and find your nearest pool!
Unless noted, photos by the author
t Click Here to Sign Up!